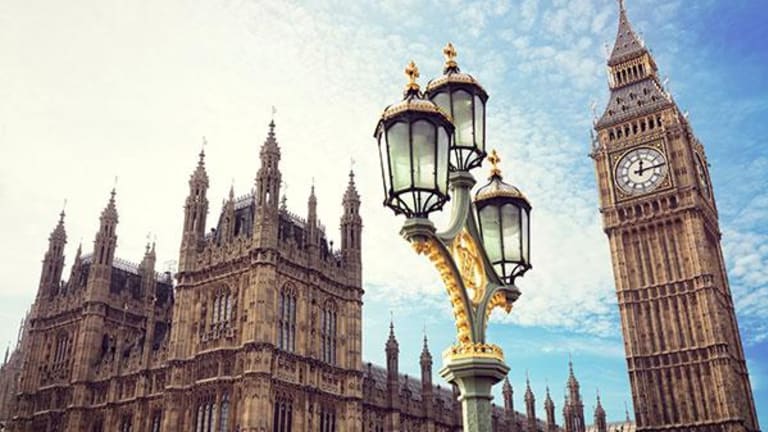 Demolished by Brexit, U.K. Developers, Construction Groups Build Gains
Home builder Persimmon and REIT Land Securities lead the charge, rising sharply in London trading.
Residential and commercial property companies rebounded with a bang in London on Thursday after positive commentary and company updates.
Early morning data showed U.K. house prices rising faster than anticipated during the second quarter, while a sanguine assessment of the property market from Macquarie analysts also lifted the mood.
The analysts poured cold water on the idea of a U.K. property meltdown on Thursday morning, writing: "We struggle to see a wholesale property crisis." The analysts said yields on commercial property looked undemanding, while a prolonged period of loose monetary policy would support the housing market.
Their comments come after the suspension of redemptions from commercial property funds by six fund managers starting with Standard Life triggered mass panic on Tuesday and Wednesday.
Half of the top ten risers on the FTSE 100 during the first two hours of trading were either commercial property-focused REITs or home builders.
Leading the charge on either side was Persimmon (PSMMF) and Land Securities (LSGOF) , which were up by 7.4% and 5.8%, respectively. The companies had shed as much as 40% and 23% of their value, respectively, during the six months leading to the end of June.
Great Portland Estates (GPEAF) , a London based REIT with a heavy concentration of properties in the premium office market, declared another quarter of healthy trading. Although management warned that the outcome of the referendum would have negative consequences for the group, the implications that were detailed in the update fell far short of a doomsday scenario.
CEO Toby Courtauld said, "We can expect London's commercial property markets to weaken during this period of uncertainty with the benefits of lower bond yields and weaker sterling offset by reduced rental growth prospects."
Rental growth prospects may have been stunted but the board also declared that it would use its strong balance sheet to capitalize on any weakness in commercial property values.
Jefferies analysts currently have an underperform rating assigned to Great Portland Estates, although their price target of 650.0 pence still implies 11% upside for the shares from their current level of 583.0 pence. The shares were up by 3.2% in early London trading.
In residential property, Bovis Homes (BVHMF) , one of the U.K.'s largest housebuilders, announced a strong average sale price and healthy completions in the six months to June 30 in a trading update on Thursday. That pushed the shares up by more than 4%. 
Noting that it is too early to assess the full impact of the referendum, CEO David Ritchie said, "Housing market fundamentals remain strong with high demand from home buyers, good availability of affordable mortgages, good land supply and cross party political support to build more homes in the U.K."
Charlie Campbell at Liberum Capital in London said,  "The sector is only for the brave given high levels of macro-economic and political risk." But he said that house builders have been oversold for a while now.
Campbell cited stable forecasts for dividends and lower share prices as having made valuations more appealing, but said his enthusiasm is limited to just three "conviction stocks," which he has rated all as a buy.
The conviction ideas are Berkeley Group, Bellway (BLWYF) and Gleeson, which Campbell projected will offer total returns, including dividends, of between 23% and 28% over the next 12 months.
Also today, data from Halifax, one of the U.K.'s largest residential mortgage providers, showed that the average U.K. house price rose by 8.4% year-on-year in the three months to June, with growth slowing less than expected from 9.2% in the three months to May.  Prices increased 1.3% in June on the month.