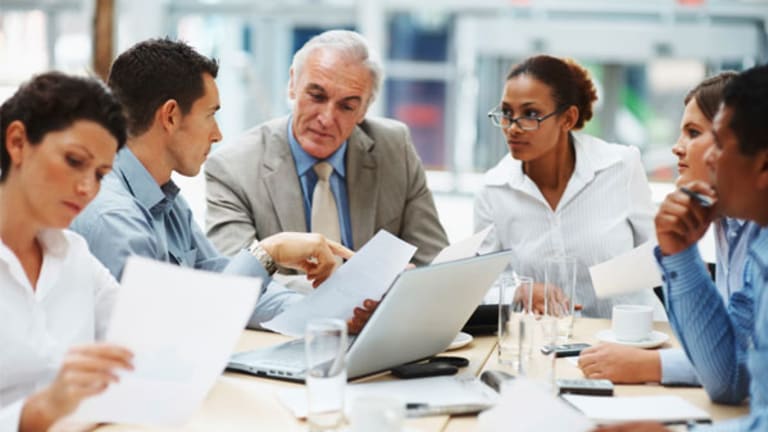 Democrats Have a Big Bank Problem: Street Whispers
The Democratic party platform falsely claims it will end the 'too big to fail' problem.
NEW YORK (
) -- The Democratic Party has a serious banking problem, and it can be found in the
party platform that was released Sunday head of the national convention.
For starters, the party blames everyone but themselves for the financial crisis that led the nation's largest banks being bailed out through the Troubled Assets Relief Program (TARP), saying that "banks on Wall Street played by different rules than businesses on Main Street and community banks."
The Democrats conveniently leave out the fact that 454 U.S. banks and thrifts have failed since the beginning of 2008 and most of these were community banks participating in the real estate bubble. Further, a great majority followed the lending guidelines of
Fannie Mae
(FNMA)
and
Freddie Mac
(FMCC)
, as the two mortgage giants continually lowered their credit standards at the behest of Democrats -- and, of course the Republicans -- in the name of making housing "more affordable."
Rather than making housing more affordable, they honorable members of Congress made it easier for mortgage borrowers to get in way over their heads, along with the nation's community banks.
The Democrats also say are "ending taxpayer-funded bank bailouts and the era of 'too big to fail.'" While this may be a laudable goal, it plays as if the Democrats didn't support the TARP, which was signed into law by President George W. Bush in October 2008, after the revised Emergency Stabilization Act of 2008 was passed, with the majority of Democrats in the Senate and the House of Representatives supporting the bailout.
As far as ending "too big to fail," there's no question that the Dodd-Frank banking reform legislation, together with the Basel III capital standards, will strengthen banks' abilities to absorb loan and investment losses, the type of crisis that destroyed Lehman Brothers is a liquidity crisis, which legislation can neither foresee nor prevent.
Meanwhile, the big banks are bigger than ever. According to a table prepared by SNL Financial and cited by the Wall Street Journal last week, the "big four" U.S. Banks -- including
JPMorgan Chase
(JPM) - Get JPMorgan Chase & Co. (JPM) Report
,
Bank of America
(BAC) - Get Bank of America Corp Report
,
JPMorgan Chase
(JPM) - Get JPMorgan Chase & Co. (JPM) Report
,
Citigroup
(C) - Get Citigroup Inc. Report
, and
Wells Fargo
(WFC) - Get Wells Fargo & Company Report
-- have a larger combined market share than they did ten years ago. The SNL data is limited to bank holding companies with deposits funding at least 25% of total assets.
JPMorgan Chase had $2.3 trillion in total assets as of June 30, nearly tripling in size over the past ten years, including the purchase of the failed Washington Mutual from the Federal Deposit Insurance Corp. in September 2008, the fire-sale purchase of Bear Stearns in March of 2008, which was brokered by the Federal Reserve. Among the largest 50 U.S. banks, JPMorgan had an 18.33% share of assets as of June 30, increasing from 12.51% in June 2002.
Bank of America had $2.2 trillion in assets as of June 30, also more than tripling its balance sheet from ten years earlier. The company is at the forefront of the legacy mortgage mess, from its disastrous purchase of Countrywide Financial in July 2008. In the wake of the Lehman Brothers bankruptcy, Bank of America also acquired Merrill Lynch in September 2008. The company's share of total assets among the largest 50 U.S. banks increased to 17.31% as of June 30, from 10.89% in June 2002.
Citigroup had $1.9 trillion in total assets as of June 30, more than doubling in size from 10 years earlier. Citigroup's TARP bailout was unusual among the largest banks, as the government's preferred stake in the company was converted into common shares, which were later sold by the U.S. Treasury. Citi's share of assets among the top 50 U.S. banks declined to 15.34% as of June 30, from 18.08% ten years earlier, according to SNL Financial.
Wells Fargo had $1.3 trillion in total assets as of June 30, which was nearly four times as large as the company's balance sheet was 10 years earlier. The company more than doubled in size when it acquired Wachovia late in 2008, after the Charlotte, N.C. lender's liquidity crisis forced the FDIC to broker a sale to Citigroup, which Wells Fargo later trumped with a higher bid. Wells Fargo's share of assets among the top 50 U.S. banks was 10.70% as of June 30, increasing from 5.76% in June 2002.
That's a combined market share of nearly 62% for the "big four" among the largest 50 U.S. banks with deposits funding at least 25% of the balance sheet, increasing from just over 47% ten years earlier.
So the "big four" are still way too big to fail, and despite the great strengthening of their capital ratios, while also repaying the government, we would be in the same pickle, bailing out the banks again, in the event of a serious liquidity crisis.
Meanwhile, Fannie Mae and Freddie Mac are operating under government conservatorship, having receiving over $189 billion in taxpayer money so far, while continuing to purchase the great majority of newly originated single-family mortgage loans. They are also too big to fail, and with neither major party wanting to be seen cooperating with the other, it will be a tall order to see Washington come up with a plan for the government to stop being the nation's main mortgage lender.
The
GOP platform is also chock full of financial platitudes.
The Republicans also bash the bailout that most of them supported, saying in the GOP platform that "the public must never again be left holding the bag for Wall Street giants, which is why we decry the current Administration's record of over-regulation and selective intervention, which has already frozen investment and job creation and threatens to make financial institutions the coddled wards of government."
The GOP says that "banks need to know that they could be at risk, and investors need clear rules that are not subject to political meddling." This is all fine and good, however, the words don't protect the U.S. economy from the dire effect a liquidity crisis could have on the nation's banks and the flow of commerce.
It's fun and easy for politicians to bash Wall Street and the banks, while patting themselves on the back for complicated "reform" legislation, but there's no denying that the big banks have gotten much bigger, that the mortgage lending market is overly concentrated, to the point that most community banks issue mortgage loans in a uniform manner dictated by the government.
The specter of a liquidity lockup in the midst of an unanticipated economic crisis is still out there. There will be more bank bailouts, no matter what the two parties say.
--
Written by Philip van Doorn in Jupiter, Fla.
>Contact by
.
Philip W. van Doorn is a member of TheStreet's banking and finance team, commenting on industry and regulatory trends. He previously served as the senior analyst for TheStreet.com Ratings, responsible for assigning financial strength ratings to banks and savings and loan institutions. Mr. van Doorn previously served as a loan operations officer at Riverside National Bank in Fort Pierce, Fla., and as a credit analyst at the Federal Home Loan Bank of New York, where he monitored banks in New York, New Jersey and Puerto Rico. Mr. van Doorn has additional experience in the mutual fund and computer software industries. He holds a bachelor of science in business administration from Long Island University.