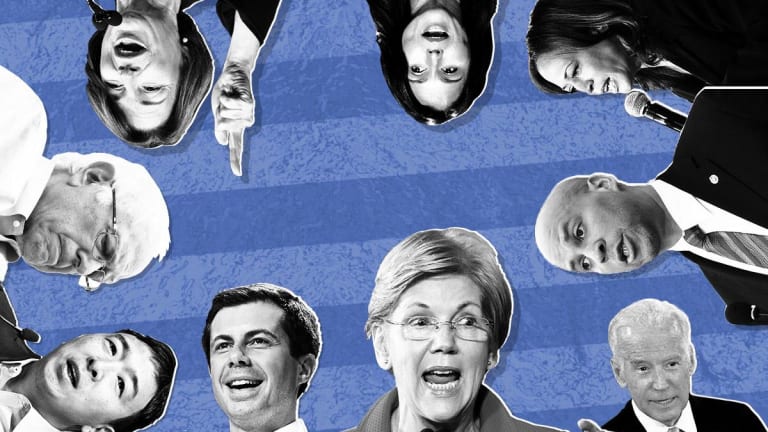 Democratic Presidential Debate - Live Blog
TheStreet's Danny Peterson and Nelson Wang break down the latest debate points on health care and taxes from the Democrats vying to become their party's nominee for president.
The Democratic presidential nomination process cranked up again on Thursday, with the top ten candidates debated key issues in Atlanta.
TheStreet's Danny Peterson and Nelson Wang live-blogged the event and helped make sense of the discussions from the Democratic party's candidates.
Unfortunately, we didn't see any particular candidate stand out tonight on the debate stage but we did have some heated exchanges from a few of the candidates.
Despite Senator Elizabeth Warren's recent attacks on billionaires, only Senator Cory Booker chose to challenge Warren on her wealth tax plan. 
Booker also challenged former Vice President Joe Biden's stance on legalizing marijuana. Booker said he thought Biden was "high" when Biden said he opposed the legalization of marijuana. With the recent turmoil in the cannabis industry, it was interesting for a candidate to take a stand against Biden on this issue. Biden responded to Booker, stating that he would "decriminalize marijuana" and believes that more research on the effects of marijuana needs to be done before he endorses legalization.
Businessman Tom Steyer joined the candidates on the stage tonight and made a push for the front-runners to have a stronger stance against climate change and the housing crisis. Biden took that challenge to attack Steyer's record on climate change, stating that Steyer "introduced more coal than Great Britain". 
Mayor Pete Buttigieg failed to build upon his recent surge in Iowa polling on the stage tonight. Later in the debate, he had a tense exchange with U.S. Representative Tulsi Gabbard about his recent comments supporting sending troops to Mexico to build a coalition with our allies south of the border. Mayor Pete hit back at Gabbard as he questioned her meeting with Syrian dictator Bashar Assad.
Businessman Andrew Yang wasn't as involved as some of the other candidates polling in single digits and was unable to find his footing tonight. He made a heartfelt plea in his closing statement to think about the world we are leaving our children and what needs to be done to help them. 
While Senator Bernie Sanders, Senator Kamala Harris and Senator Amy Klobuchar had a commendable night on the stage, none of these candidates should see a boost in the polls as a result of tonight's performance.
Tonight's debate failed to provide voters a clear picture of how a Democratic president will build upon the strong economy. The stock market hit new highs this past week and it will be important for these candidates to provide voters with a clear plan on how they will build upon our strong economy in the future.