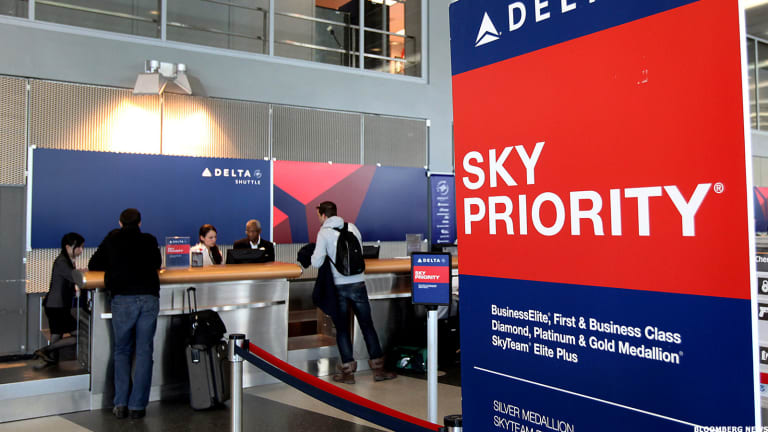 Delta Leads the Airline Pack as Third Quarter Comes to an End
Delta shares have the smallest year-to-date decline among the top four airlines, and analysts have high expectations for the carrier in the final quarter of the year.
Delta shares have the smallest year-to-date decline among the top four airlines, and analysts have high expectations for the carrier in the final quarter of the year.
Updated to include Delta's share price.
NEW YORK (TheStreet) -- Entering the fourth quarter, shares of the big four U.S. airlines are all down for the year. But Delta (DAL) - Get Report shares have declined the least and have recently been gaining support from some Wall Street analysts.
In a report issued this week, Credit Suisse analyst Julie Yates called Delta "our top pick among legacy carriers" for the rest of 2015.
"The Delta story resonates very well with EU investor, given the given the attractiveness of a lower risk balance sheet nearing investment grade metrics, mid-teens free cash flow yield & rising shareholder returns," Yates wrote, after she hosted Delta investor meetings in Europe.
Delta executives maintain the positive trends are sustainable, as are "the permanent benefits the fuel windfall has on the capital structure through an accelerated reduction in leverage & shares outstanding," Yates said. She has a $65 price target and an outperform rating on the stock.
Delta shares on Wednesday traded at $46.71, up 25 cents. Year to date, Delta shares are down 6%, Southwest shares are down 10%, United shares are down 13% and American shares are down 23%.
Besides Yates, Delta backers include UBS analyst Darryl Genovesi, who said Monday in a note that "we prefer defensive names like Delta and Alaska ALK into Q3 pre-announcements as we are generally below consensus and don't see any positive catalysts over the next few weeks." Analysts surveyed by Thomson Reuters estimate current quarter earnings of $1.70 a share, fourth-quarter earnings of $1.14 and full-year earnings of $4.54.
Credit Suisse analyst Mike Linenberg upgraded Delta shares to buy from hold on Sept. 1, citing attractive valuations and declining oil prices.
"We think at current levels they represent an attractive entry point compared to our 12 month price targets," Linenberg wrote then, adding "We think 2H 2015 EPS and 2016 EPS estimates could prove to be too conservative given the decline in energy prices over the summer." He has a $50 price target.

Some analysts are worried by the industry's recent negative passenger revenue per available seat mile numbers. For August, Delta reported a 6.5% PRASM decline, which it attributed to "recent trends of pressure from foreign exchange, lower surcharges in international markets and yields in select domestic markets," as well as a late Labor Day that confined holiday travel to September this year when some fell in August last year.
On Delta's second-quarter earnings call, President Ed Bastian said the carrier expected PRASM to decline between 4.5% and 6.5% during the third quarter. Bastian noted fourth-quarter capacity cuts "will allow us to get our unit revenue back on the right trajectory with our goal to be flat by the end of the year."
Meanwhile, American has said it expects current quarter PRASM to decline between 6% and 8%. United does not publish monthly PRASM forecasts; its second quarter PRASM fell 5.6%.
Linenberg wrote last week that "while we think system PRASM for US airlines will remain under pressure through year end (and likely into early 2016), we may be at or near an inflection point" where PRASM turns positive. That expectation, Linenberg said, is "part of our thesis underlying our recent upgrades of AAL and DAL."
This article is commentary by an independent contributor. At the time of publication, the author held no positions in the stocks mentioned.