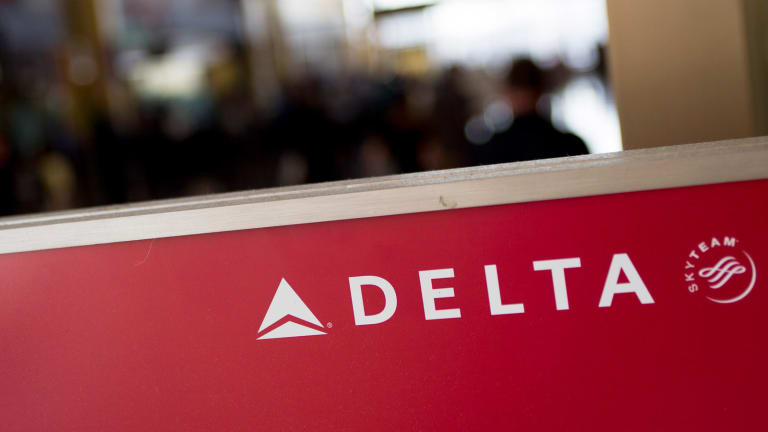 Delta Is Ready to Fly; Here's Your Options Strategy
Its technical chart shows Delta could be in its best-of-times cycle right now.
NEW YORK (TheStreet) -- Delta Air Lines (DAL)  began flying commercially in 1929. Today, DAL and Southwest (LUV)  remain my favorite airlines to fly, if given the choice.
But DAL is my favorite airline stock now.
Delta and many other big names airlines could be in their best-of-times cycle right now because commercial planes, airports, manufacturers and subcontractors are all doing quite well. Why the stock market and the fund managers -- who must know what I know -- are not warming up to this large, diversified business sector is a mystery to me. Then again, these folks move as a herd, if not a thundering herd, and at times they are a slow one to get going in the right direction.
Fundamentally, DAL should report its second-quarter earnings increased by almost 20% year over year, $1.23 against $1.04. The company reports on July 15.
As earnings possibly continue to increase well into fiscal year 2016 (ending in December), DAL could be currently trading at a forward price to earnings multiple of just 8. That 8 P/E is cheap for any sector. The shorts are not flying around the stock either, as the DAL short interest is a mere 2% of the float.
Technically, DAL has a one-year stochastic pattern that I read as bullish. Its Relative Strength Index confirms that bullish pattern. DAL has solid support above the 40 level while resistance is in the high 40s. Given this tightening of its range, the fact that DAL is starting to form into my coiling pattern is not a surprise. Thus, options pricing should be offered at lower volatility cost than is the norm for DAL.
The trade tactic I prefer now for DAL is the bullishly biased, near-the-money, vertical call spread expiring in September.
The trade is as follows: Buy 1 DAL Sep 44 call for $2.17 and sell 1 DAL Sep 49 call at $0.67.
The total risk for the spread is 1.40 points. The suggested target to close for a gain is a bid of $1.80 and the suggested target to stop out the trade is a bid of 1 point.