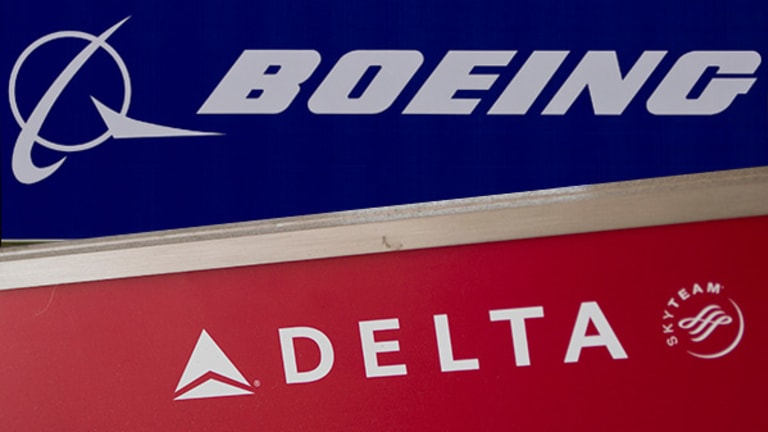 Delta CEO Is Right -- Used Boeing 777-200s Are Worth Just $10 Million, Expert Says
Delta CEO Richard Anderson's $10 million valuation for used Boeing 777s was panned by Boeing and others. It turns out Anderson was right, an expert says.
It turns out Delta (DAL) - Get Delta Air Lines, Inc. Report CEO Richard Anderson was right about the value of usedBoeing (BA) - Get Boeing Company Report 777s, according to a leading airline and aerospace consultant.
On Delta's Oct. 14 earnings call, Anderson said the used aircraft market is glutted with used Boeing 777s and becoming more so. Anderson said he sees "a huge bubble in excess-widebody airplanes around the world," creating a market for 10-year-old 777-200s at about $10 million.
The claim was disputed by Boeing CEO Dennis Muilenburg during the company's Oct. 21 earnings call and by American (AAL) - Get American Airlines Group, Inc. Report CEO Doug Parker on the carrier's Oct. 23 earnings call, while a JPMorgan report said the claim was partially right.
But in an article posted Monday in Leeham News and Comment, which he publishes, aviation and aerospace consultant Scott Hamilton wrote that Anderson is right.
"Actual market values for 10-year old Boeing 777-200ERs are around $10 million, not the $50 million-ish suggested by Boeing and professional appraisal firms," Hamilton said. "This is the conclusion of our market intelligence of real-world demand for these airplanes, not some theoretical book appraisal.
"The costs involved in reconfiguration and maintenance, repair and overhaul (MRO) simply upend traditional expectations," he said, noting that the low values apply to used 777-300ERs as well as to used 777-200s.
"These stunning conclusions are based on LNC's Market Intelligence involving advisors and lessors dealing with transactions across the globe," Hamilton said. "Simply speaking, throw the books away on the appraisals (because) airlines, or lessors to the airlines, who want to dispose of 777-200ERs aren't finding any homes for them at anything remotely close to appraised or book values."
Hamilton said "used 777-200ERs can't be given away, reducing values to scrap regardless of book values carried by owners or appraisers," while late-model 777ERs face "a sudden glut" that has reduced lease renewal rates to of late-model 777s.
Meanwhile, the Rolls-Royce (RYCEY) engines, caught up in manufacturer's maintenance programs, "make traditional engine valuations irrelevant," he wrote.
In an interview, Hamilton said: "It used to be that scrapped airplanes often had nearly all their values in engines, which could be either brought back to full value through an independent [maintenance check] or parting out. Now with engines in the Rolls Royce Total Care program, Rolls Royce controls the aftermarket."
On the Boeing earnings call, the last question addressed the 777 glut. Muilenburg responded with a reference to "the note around $10 million 777s that might be available."
"I'll say just based on our understanding of the marketplace and what we understand from our customers, that number is the wrong order of magnitude," Muilenburg said. "And, frankly, the value of the 777 is holding up very well in the marketplace. It is a unique airplane. In that 365-seat category, there is no competing aircraft out there."
On the American call, a reporter asked Parker his view regarding "statements that a glut in the market for used wide-body airplanes may be approaching." Parker responded: "We're not confirming that comment, not sure we agree. But happy to talk about the American Airlines fleet plan and where we are."
In the JPMorgan report, analyst Jamie Baker wrote, "Based on recent data and our associated channel checks, reality falls somewhere between the most bearish interpretation of Delta's comments and continued bullish rhetoric from [Airbus (EADSY) - Get Airbus SE Report and Boeing]." He added that aircraft appraisals "increasingly appear too robust."
Baker also noted that "commentary regarding a pending wide-body glut and attendant pressure on used B777/A330 values created turbulence for investors across aerospace and aircraft leasing."
Anderson's comments initially rocked Boeing shares, which fell 4% to close Oct. 14 at $134.22. The damage was not lasting. Shares closed Monday at $144.42, and are up 11% year to date.
Hamilton said "Anderson didn't pull his figures and comments out of his tailpipe. The conclusions were based on a year-long study by an independent, third-party company.
"We believe Anderson was right," he said. "The naysayers have more research to do."
This article is commentary by an independent contributor. At the time of publication, the author held no positions in the stocks mentioned.