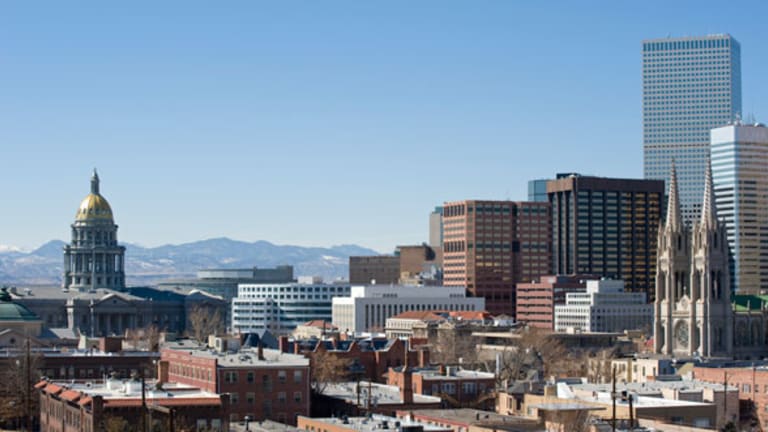 Delta and Virgin Crowd More California Flights into United's Denver Hub
United's Denver hub draws new competition to Los Angeles and San Francisco from Delta and Virgin America.
Delta (DAL) - Get Delta Air Lines, Inc. Report and Virgin America (VA) have both set their sights on Denver, expanding service from their Los Angeles and San Francisco hubs and ramping up competition with United (UAL) - Get United Airlines Holdings, Inc. Report , which operates hubs in all three cities.
It's one more sign of the strength of Denver International, the fifth-busiest U.S airport with 53.5 million passengers in 2014, which already boasts 22 peak day flights to Los Angeles and 18 peak day flights, including nine on United, to San Francisco.
The only problem is that some California companies say that with such frequent service to Denver, why bother to move there, said Tom Clark, CEO of the Metro Denver Economic Development Corp.
"We want them to locate here, but they say 'why should I do that? I can be in Denver at 9 a.m. and turn around and get home at 6 p.m.,'" said Clark. "I get that, but I resent it."
United is the principal hub carrier at Denver, but carries just 42% of the traffic, according to airport statistics. United operates 367 peak day departures to 125 cities including Tokyo. Southwest has a 30% market share and operates 190 daily departures, its fourth-highest airport total, to 58 cities. Denver-based Frontier has a 12% share.
Delta said last week that it will launch five daily flights starting June 1, 2016, "closing a key gap for corporate customers in Los Angeles." American, Frontier, United and Spirit already fly Los Angeles- Denver.
Delta's focus is on connecting to LAX international destinations including Shanghai, Tokyo Haneda and Austria via Virgin Australia flights. "We are relentless in our pursuit of becoming the airline of choice for Angelenos," said Ranjan Goswami, Delta's vice president, sales-West, in a prepared statement. Skywest will operate the flights with 76-seat CRJ-900 aircraft.
Meanwhile, Virgin America said it will begin thrice daily SFO-DEN flights on March 15, 2016. "With over 860,000 passengers annually, Denver is the largest market from San Francisco that Virgin America does not currently serve and is the number one destination requested by the airline's high-tech corporate accounts," the carrier said in a prepared statement.
CEO David Cush added, "Denver is, of course, a world-class leisure travel destination, but its booming high-tech economy has also made it the number one requested destination by our Silicon Valley-based corporate clients."
Virgin America spokesman Dave Arnold said Denver "is the single most requested destination by our high-tech corporate accounts" as well as "the ninth-largest market from San Francisco and the largest market from San Francisco that we don't currently serve.
"Furthermore, growth in the Denver-San Francisco market has outpaced the domestic average, and fares have improved since Frontier reduced its service there," Arnold said.
A source said Virgin America had looked into flying LAX-DEN: the carrier may have been deterred by Delta's plan to serve the route. Arnold declined to comment.
In any case, it is always a problem to compete against hub-to-hub service, such as United offers.
In a report issued Monday, Stifel analyst Joseph DeNardi said DEN-SFO is United's 18th biggest route by passenger revenue, which totaled $93.1 million in the 12 months ending March 31, making it the most profitable Denver route. Also, its 7.2% yield is the fifth-highest among the top 25 routes. DEN-LAX is not on the top 25 list.
"If you go into somebody else's hub, you are asking for trouble," said aviation consultant Bob Mann. "The large scale hub operator can always protect it" with frequencies and low fares, because local traffic is just an added bonus on top of the connecting traffic.
Still, the addition of new carriers on key routes reflects Denver International's growing importance as both a business and leisure destination. For the first three quarters, passenger traffic declined 0.5% to 40 million, but the airport is celebrating last week's grand opening of a new $600 million Westin hotel and conference center, and is awaiting the April opening of a new 23-mile commuter rail line to downtown.
Last week, Air Canada announced it will begin daily Montreal service in June, Sun Country said it will begin daily Minneapolis service in May, and Key Lime Air began twice-daily service to Sheridan, Wyo. In October, Lufthansa said it will begin five-flights-a-week service to Munich, restoring a route that operated for about a year before being cancelled in 2008.
Clark said the airport is in negotiations with Turkish Airlines as well as all three Mid-East carriers. "These decisions take three, four or five years when you are a middle market airport like us," he said.
This article is commentary by an independent contributor. At the time of publication, the author held no positions in the stocks mentioned.