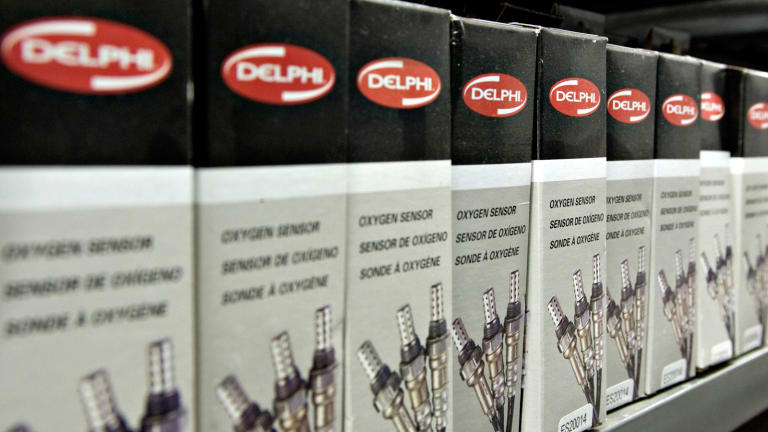 Delphi's Shares Heat Up After Deal to Sell Air-Conditioning Business
The auto-parts supplier is focusing on higher-margin segments.
NEW YORK (TheStreet) -- The acquisition of Delphi Automotive's  (DLPH) air-conditioning business by Germany's Mahle Gmbh for $727 million cash last week won the approval of Delphi investors, who bid the company's shares up more than 13% since rumors of a transaction began to circulate last month. 
Delphi's sale was the latest move in a long-term strategy of divesting or shrinking less profitable automotive-supply businesses such as manufacturing radiators, steering wheels, brakes and air conditioners. At the same time, Delphi has been redeploying capital by buying and investing in supply businesses critical to automotive safety, digital connectivity and environmental cleanliness, which tend to be more profitable. 
Cash generated by the latest sale will be used for acquisitions and share buybacks, Delphi said. The company announced a $1.5 billion share-buyback program last month. 
Delphi shares touched an all-time high on Thursday and closed not much lower on Friday at $79.27. 
The company -- which is legally incorporated in the U.K., but whose operations are directed from headquarters in Troy, Mich. -- is in a good position to supply technology for so-called "autonomous" driving to automakers, a trend that could transform personal transportation altogether. Starting with anti-lock brakes several decades ago, the advance of computing technology has engendered features such as adaptive cruise control, blind spot warning and forward braking controls mainly to luxury models. 
As regulators gain more knowledgeable about how these features perform, they're likely to mandate them for all vehicles, as they did for anti-lock brakes and stability control. Likewise, vehicle infotainment systems are growing more sophisticated, another opportunity for Delphi parts and components. 
According to Yahoo Finance, 15 of 17 equity analysts following Delphi rate its stock a buy or a strong buy. The other two are neutral with hold recommendations. 
Given the company's roots and its troubled history as a captive parts subsidiary for General Motors (GM) , Delphi's financial and market performance in its latest incarnation have been impressive. In the early 1990s, GM formed an automotive-components group that was renamed and spun off as a public company in 1999. But the company remained heavily dependent on its main customer, GM, whose own performance floundered. In 2005, Delphi filed for bankruptcy protection. 
Delphi exited bankruptcy in 2009 after significant investments by hedge funds that purchased its troubled debt. It was reorganized as a public company late in 2011, its shares offered at $22 each. 
Since then, the return to shareholders has been 277%, far outpacing the rebound of the Dow Jones Industrial Average (up 49%) and the Standard & Poor's 500 Index (up 66%). The shares of another big U.S. parts supplier, Johnson Controls (JCI) , have returned 59% to holders since late 2011. 
Kevin Clark, the current chief financial officer, will succeed Rodney O'Neal as CEO on March 1. O'Neal, who is retiring, has been CEO for eight years. 
Last fall's $13.5 billion acquisition of TRW Automotive's (TRW) automotive-supply business by ZF, the German brake manufacturer, followed by Mahle's purchase from Delphi, suggests that the industry still may face considerable consolidation and realignment. It's not far-fetched to assume that many technology-oriented automotive suppliers will be scooped up, and Delphi will be doing some of the scooping.

This article is commentary by an independent contributor. At the time of publication, the author held no positions in the stocks mentioned.