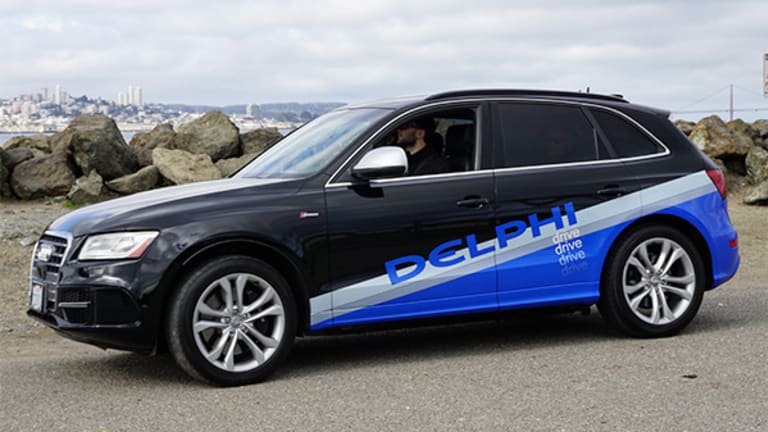 Delphi Automotive's Pittsburgh Connection Has Leg Up in Race to Driverless Technology
In the race to perfect driverless vehicle technology, the one-time GM parts supplier could be a winner.
In the race to perfect driverless vehicle technology, the winner may be neither an automaker like General Motors (GM) - Get General Motors Company (GM) Report  , a software maker like Alphabet's Google, nor even a car-sharing service like Uber.
The first-place finisher might be an automotive supplier like Delphi Automotive (DLPH) - Get Delphi Technologies Plc Report , an ambitious up-and-comer in the field. At the Consumer Electronics Show in Las Vegas in a few weeks, Delphi will demonstrate the latest stage of its technology, a car it said is fully driverless, albeit under controlled conditions.
To the extent Delphi can provide a commercially ready, turnkey driverless solution that meets government safety guidelines, that realization will constitute excellent news for the world's smaller automakers, which lack the capital and research expertise to develop their own systems.
Delphi is a one-time GM parts subsidiary that evolved -- following its 2005 bankruptcy after spinning off from GM -- into an independent global automotive supplier specializing in high-value safety, connectivity and environmental components and systems. From the company's initial public offering price of $22 in 2011, shares are now triple in value, a stark contrast to GM's share price, which is below its IPO price of 2010.
Delphi is benefiting from GM's decades-long affiliation with the robotics lab at Carnegie-Mellon University in Pittsburgh. CMU has been building robotics capability since 1979, making it the oldest such department and a global leader in the field. In 2007, CMU -- using a Chevrolet Tahoe -- won the Defense Department's advanced research "Urban Challenge" for autonomous vehicles.
When Uber decided in 2014 to pursue driverless technology, it came to Pittsburgh and hired 40 employees from CMU's Robotics department. Delphi's approach was different; it invested in Ottomatika, a company spun off from the school's robotics school. Then in 2015, Delphi bought the spinoff, which continues to operate near the city and furnish software expertise.
In August, Delphi announced that it will be street testing autonomous vehicles in Singapore as part of an initiative in that country to develop advanced mobility systems to cut down on crowding.
Auto industry executives tend to predict that fully driverless technology will be ready in about five years, some demurring that the development cycle could take much longer. Tesla (TSLA) - Get Tesla Inc Report already claims to have driverless technology though a high-profile fatality in one of its cars equipped with Autopilot has drawn criticism and regulatory scrutiny.
The Delphi demonstration in Las Vegas in early January bears watching and will be an indicator of where the company currently stands among competitors.
Doron Levin is the host of "In the Driver Seat," broadcast on SiriusXM Insight 121, Saturday at noon, encore Sunday at 9 a.m.
This article is commentary by an independent contributor. At the time of publication, the author held no positions in the stocks mentioned.