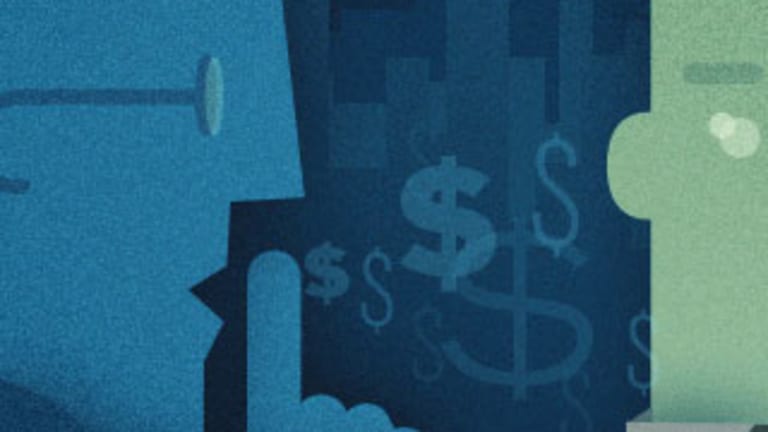 Dell's Wasted Billions Explain Fuzzy Math on Deal: Street Whispers
The PC maker won't suffer higher financing costs despite the billions in additional debt. Here's how that works.
The PC maker won't suffer higher financing costs despite the billions in additional debt. Here's how that works.
Updated to include details about buyout terms from Dell filing
NEW YORK (
) -- Skeptics of
Dell's
(DELL) - Get Report
leveraged buyout might be at a loss to understand how the math adds up in the proposed
, the largest since the financial crisis.
Still, few investors or analysts appear to be concerned that the debt-fueled buyout of Dell by a consortium led by founder Michael Dell, private equity firm
Silver Lake Partners
and
Microsoft
(MSFT) - Get Report
will fall through, even amid concern the $13.65-a-share cash offer provides a
to current shareholders.
Those who are staring at their calculators and remain mystified by the $16 billion in financing needed to complete the takeover and increasing signs that Dell's debt could be downgraded to junk by
Standard & Poor's
,
Moody's
and
Fitch Ratings
may simply be underestimating the amount of shareholder-value destruction at the PC maker in recent years.
Simply not wasting billions in investor money may go a long way in financing Dell's mega leveraged buyout. In fact, Dell hints at that scenario in an 8-K
with the
Securities and Exchange Commission
that was appended to
.
Notably, Dell indicates in its filing that cash outflows from financing activities at the Round Rock, Texas-based company might not increase in the wake of the take-private deal, in spite of about $13.75 billion in takeover loans and a $2 billion debt-financing commitment from software maker Microsoft, according to a separate Wednesday
.
The key, according to Dell's
, is that the company is poised to end dividend payments and a large share repurchase program, in a cash conservation that could help service higher interest costs and a growing debt burden.
Contrary to some expectations, even those of ratings agencies, Dell doesn't believe the significant financing needed for the takeover will burn the company's cash or impact its expected net cash position.
"The cost of servicing the debt in the proposed structure over the next three years is projected to be approximately the same or slightly less than Dell's dividend and share repurchase costs over the past three years," Dell said in a filing with the SEC on Tuesday. "New debt required for the transaction does not result in a restrictively leveraged capital structure," the company adds.
Given Dell's nascent 8-cent-a-quarter dividend in the second half of 2012, the lion's share of potential cash savings will come from scrapping a multi-billion dollar annual share-repurchase program, which had a remaining $5.3 billion board authorization, as of Dell's most recent quarterly filing with the SEC.
The potential termination of a share-repurchase program -- and disastrous past results -- might unlock one of the keys to Dell's proposed takeover, for those who are still puzzled by the financial maneuvering of the deal.
As of 2012, Dell repurchased nearly 1 billion shares worth roughly $24.8 billion over the previous eight years. The repurchases, which came at an average price of just over $25 a share, represent a loss of roughly $11.3 billion at Dell's proposed $13.65-a-share takeover price.
In the past five years, Dell has bought back about $10.4 billion shares at an average price of $18.92, which equates to an almost $3 billion loss given the terms of Tuesday's deal.
Simply putting a stop to value-destroying share repurchases that have wasted billions in cash at the PC maker may go a long way in helping Michael Dell and his consortium to finance and profit from the takeover.
Those cash savings could also indicate that Dell's financial picture is more stable than recent earnings might suggest, given declining revenue, profit and free cash flow.
The seeming benefits of simply ending a value-destroying share-repurchase program may also be yet another bitter pill for current Dell shareholders, in the wake of the company's proposed leveraged buyout.
A Wednesday
with the SEC indicates founder Michael Dell will provide $500 million cash and 273 million Dell shares worth about $3.73 billion to gain a majority stake in the company.
MSD Capital Managament
, a fund that manages the capital of Michael Dell and his family, will commit a further $250 million in equity, while PE-giant Silver Lake will make a $1.4 billion equity contribution to the deal.
When reached by email, David Frink, a Dell spokesperson, declined to comment beyond the company's public filing.
-- Written by Antoine Gara in New York
To read more on Dell's record-breaking takeover, see why the terms of the deal might give Federal Reserve Chairman Ben Bernanke
.