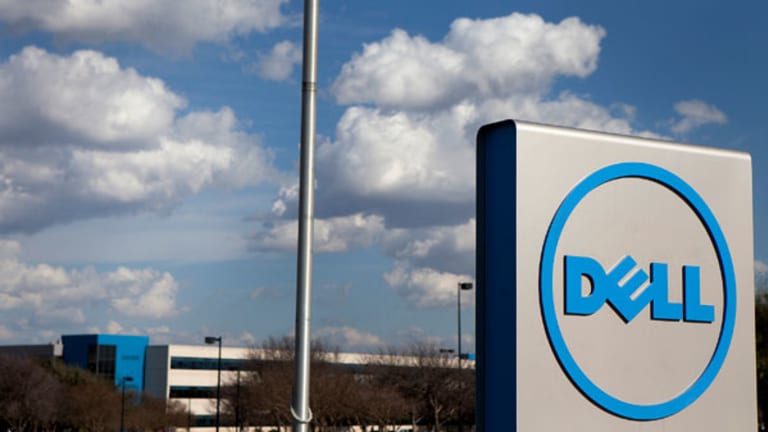 Dell's Vulnerable Stock
The latest earnings from Dell show that the company is failing to adapt to the fast-changing PC market, putting its stock in danger of a correction.
NEW YORK (TheStreet) -- Dell Inc. (DELL) - Get Report posted one of last week's biggest earnings disappointments, as earnings for its fiscal first quarter ended May 31 fell 79% and revenue fell 2%.
Most of the attention is on the company's PC division, where sales fell by 9% to $8.9 billion as laptop sales dropped by a lot. Operating profits in the segment fell 65% to $224 million,
On the positive side, sales in network gear and servers rose 14%, and services revenue rose by 2%.
Dell is cutting prices to try to gain market share and is spending more on research and development and in hiring. It is also building its corporate software business to try to boost profits in its PC division. But its strategy is being hampered by a broader slowdown in the PC market.
The latest quarterly results come at a time when Chief Executive Michael Dell is trying to take the company private. His plan is facing resistance from two of the company's biggest shareholders, Southeastern Asset Management and Carl Icahn, who believes that Michael Dell is undervaluing the company.
>>>>Read "Big Bank Phobia: Glass-Steagall Would Be Folly" on TheStreet
Dell is trying to boost its software business and move into mobile devices as the PC market weakens. The latest indication of that trend is the poor reception of
Microsoft's
(MSFT) - Get Report
Windows 8 operating system.
Microsoft's offering was meant to bring buyers back into the PC market. But critics say that Windows 8 is better-suited for tablets and touchscreen devices.
According to research firm International Data Corporation, PC sales dropped 14% to 76.3 million units in the first quarter, the biggest decline since IDC began to track those numbers in 1994.
With sales in traditional PCs shrinking, earnings prospects for the largest PC makers will likely remain sluggish until new innovations gain traction.
Conversely, tablet sales are through the roof. According to research firm Gartner, tablet sales will more than double from 116 million last year to 265 million next year. By 2017, the number of units sold is expected to reach 468 million annually.
The tablet projections show the personal computer itself is evolving, and until we see acceptable adaptations to the changing market, weakness in large PC makers like Dell will continue.
>>>>Read "5 Questions to Ask Your Realtor Before Hiring" on Main Street
Dell's stock is trading at the upper end of its range so far this year, leaving it vulnerable as an attractive option for short sellers.
At the time of publication the author held no positions in any of the stocks mentioned.
This article is commentary by an independent contributor, separate from TheStreet's regular news coverage.
Richard Cox is a university teacher in international trade and finance. His articles appear on a variety of Web sites, including
,
, FX Street and others. Investing strategies are based on technical and fundamental analysis of all the major asset classes (stock indices, currencies and commodities). Trade ideas are generally based on time horizons of one to six months.