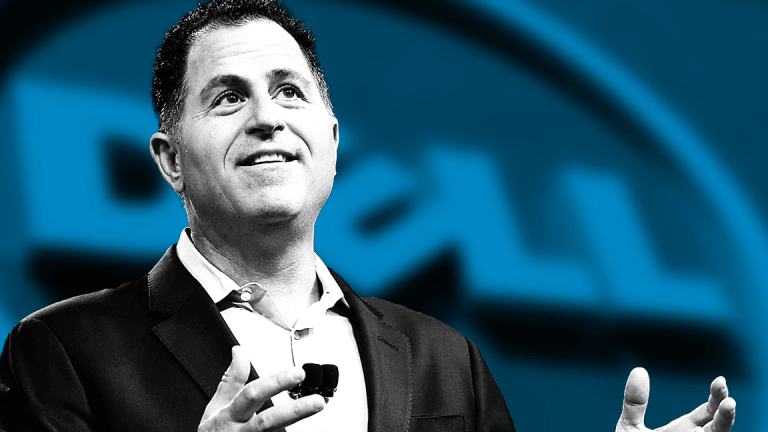 As Dell Goes Public Again, Potential Investors Should Tread Carefully
The IT giant has done a lot of things right since it was taken private in 2013. But some of its businesses face major long-term challenges.
Private equity firms such as Dell buyout partner Silver Lake have a knack for cashing out at the right time.
That's worth remembering as enterprise IT giant Dell Technologies gets set to become a public company again, courtesy of a complex share transaction involving its (DVMT) tracking stock.
Following months of rumors to the effect, Dell announced on Monday morning that Dell Technologies, which currently represents a 53% economic interest in VMware (VMW) - Get VMware, Inc. Class A Report , will be converted into a listing vehicle for Dell itself. The move comes five years after Dell was taken private by Michael Dell and Silver Lake in a $24.9 billion deal, and three years after Dell bought storage giant EMC -- and with it, EMC's stake in VMware, which currently stands at 81% -- for $67 billion.
How does Dell plan to pull of this transformation? Provided that existing DVMT shareholders approve the deal, the company will convert DVMT's current stock, known as Class V shares, into Dell's Class C stock, which for now is privately owned by Michael Dell and Silver Lake. The Class C shares will then be listed on the NYSE, just as the Class V shares currently are.
Class V shareholders can choose to fully convert their position into Class C shares, at a ratio of 1.3665 Class C shares per Class V shares. Or they can be paid out in cash at a price of $109 per share, up to a limit of $9 billion. For context, the Class V shares would have a total value of $21.7 billion at a price of $109 per share.
Dell notes that the Class V shareholders will own somewhere between 20.8% and 31% of the company following the conversion, depending on how large the cash payout is. The company adds that this will give Dell an equity value of between $61.1 billion and $70.1 billion.
However, this range assumes a $109-per-share valuation; public investors could choose to grant a higher or lower valuation to Dell's Class C stock. And regardless of what valuation is granted, Dell's enterprise value (market cap plus net debt) will be significantly higher than its equity value, since the company also had over $30 billion in net debt as of early May.
For the moment, it looks like markets plan to assign a valuation below $109 per share. DVMT shares, though up about 8% today, are still trading below $92 -- even though shareholders are being promised the chance to cash out over 40% of their total equity at $109.
VMware's stock is up over 8% as well. Investors worried that Dell would use VMware's stock, rather than the DVMT tracking stock, as a vehicle for going public are breathing a sigh of relief.
Coming up with a fair valuation for Dell is tricky, since some of the company's most valuable businesses deserve very different valuations from others. VMware, it should be noted, carries an enterprise value (market cap minus net cash) equal to 17 times this fiscal year's expected free cash flow (FCF) following a big two-year run-up. That leaves the virtualization software valued at $65 billion, and -- though public markets normally assign a discount in situations like this -- officially yields a $53 billion valuation for Dell's stake in the company.
Dell's PC, server/networking and storage businesses probably deserve lower valuations than what VMware has been granted -- particularly the PC and storage businesses.
Dell's Client Solutions Group (CSG), which covers its sales of PCs and complementary products, has been gradually taking share with the help of well-designed hardware, reasonably aggressive pricing and superior economies of scale relative to rivals not named HP Inc. (HPQ) - Get HP Inc. Report or Lenovo. However, when valuing CSG, it's hard to ignore the fact that PCs are a flat-to-declining business. Though global PC shipments have stabilized a bit in recent quarters, they're still  about 25% below where they were six years ago, judging by numbers from research firms Gartner and IDC.
Meanwhile, the Dell EMC storage unit has been struggling to deal with both the long-term pressures placed on enterprise storage sales by cloud infrastructure adoption, as well as stiff competition from rivals such as NetApp (NTAP) - Get NetApp, Inc. Report , Nutanix (NTNX) - Get Nutanix, Inc. Class A Report  and HP Enterprise (HPE) - Get Hewlett Packard Enterprise Co. Report . The company did manage to grow storage revenue 10% annually during its April quarter with the help of an uptick in IT spending, but it was down 11% in the January quarter.
IDC estimates that Dell EMC had a 21.6% enterprise storage share in Q1. That's up a bit from 20.3% a year ago, but well below the 27.5% estimated share Dell and EMC had between them in Q1 2015, prior to their merger.
Dell's server/networking business is in better shape. Whereas Dell has seen limited success selling traditional storage arrays to cloud giants running hyperscale data centers, it has had more luck selling them servers, thanks to the efforts of its Extreme Scale Infrastructure unit. Together with solid enterprise execution and aggressive pricing, this has helped Dell gain a bit of server share in recent years, even as Asian white-box server makers servicing the cloud giants have seen huge growth.
However, selling to the proverbial hyperscalers is seen as a relatively low-margin business, and one in which hardware suppliers have limited room to differentiate, since the servers are often based on designs created by the hyperscalers themselves. Dell's sales to top-tier cloud firms look pretty good for now, but that's by no means guaranteed to last.
Based on where DVMT is trading right now, Dell is set to carry an enterprise value of around $90 billion when it returns to the ranks of publicly-traded companies. That's far from a nosebleed valuation after accounting for the value of Dell's VMware stake, but it might not be a screaming bargain either after applying a reasonable discount to the VMware stake.