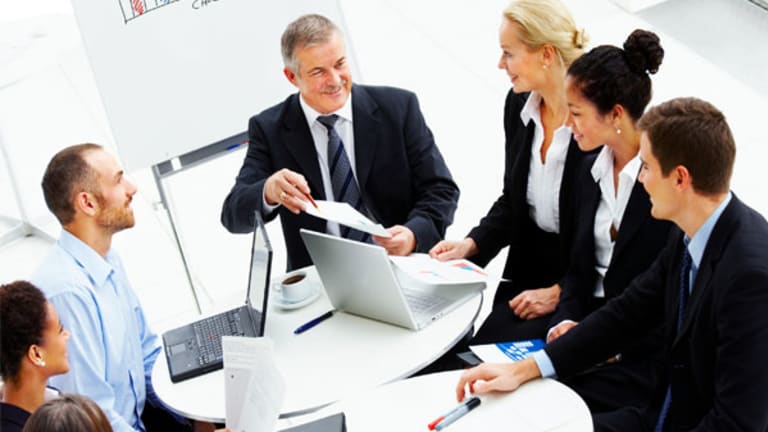 Debt Super Committee Could Spoil the Holidays
Expectations are low that the super committee will address high debt level issues, undermining investor confidence in both politicians and the economy.
Expectations are low that the super committee will address high debt level issues, undermining investor confidence in both politicians and the economy.
The following commentary comes from an independent investor or market observer as part of TheStreet's guest contributor program, which is separate from the company's news coverage.
NEW YORK (
) -- With a rapidly escalating equity market and a 2.5% real GDP growth rate reported for the third quarter of 2011, it's clear sailing ahead for the U.S. economy. Right?
Hold on a minute. If we were to extract two unsustainable factors (the post-Japanese earthquake rebound in auto production and the decline in the household personal savings rate during the third quarter), U.S. real GDP growth in the third quarter was flat. Coming after a 0.4% first quarter and 1.3% second quarter GDP growth rate, the U.S economy is just one exogenous shock away from recession. Not so terrific. Actually, any one of a number of risks could spoil the upcoming holiday season for the U.S. economy:
1. The U.S. consumer remains overleveraged, is working fewer hours, and is earning lower real wages over the past year.
2. The housing market remains severely depressed and actually impedes labor mobility, thereby further worsening an unemployment rate that has been near or above 9% for 31 consecutive months.
3. The European debt crisis and resulting recession will negatively impact U.S. economic growth as well as emerging markets' growth.
4. China's credit-driven rapid economic expansion is slowing, and the Chinese government must now delicately avoid a "hard landing" despite the weakening of its European export markets.
5. Middle East unrest persists and could lead to higher oil prices.
6. The U.S. Joint Super Committee may fail to address the structural issues underpinning the high U.S. debt level, thereby undermining investor confidence in both politicians and the economy.
7. Fiscal policy initiatives to stimulate an economic recovery are hamstrung by a bitterly divided Congress.
8. Monetary policy initiatives to stimulate an economic revival are untested and may lead to severe unintended consequences, thereby potentially limiting the Fed's willingness to implement them.
To be clear, the
Federal Reserve
is optimistic about forthcoming U.S. economic growth despite the gloomy list of worries above. The Fed expects the change in U.S. real GDP to be 2.5% to 2.9% in 2012; 3% to 3.5% in 2013; and 3% to 3.9% in 2014. Of course, those projections have been meaningfully reduced from the Fed's previous forecasts in July. Moreover, the Fed sees the unemployment rate hovering at 8.5% to 8.7% in 2012; at 7.8% to 8.2% in 2013; and at 6.8% to 7.7% in 2014. Not exactly a robust economic renaissance, and the Fed acknowledged that the risks remain elevated to the downside in their forecasts.
Could the Congressional Joint Select Committee on Deficit Reduction (the "JSC" or "Super Committee") come to our rescue? Recall that the goal of the JSC is to identify $1.5 trillion in U.S. budget savings by Nov. 23, 2011. A simple majority (7 of 12 members) is needed to approve the JSC proposal and forward it to Congress for a "yes or no" vote.
In turn, Congress must approve legislation attaining at least $1.2 trillion in deficit reduction and/or pass a balanced budget amendment to the U.S. Constitution by Jan. 15, 2012. If no legislation is enacted, automatic spending cuts (a "sequester trigger") take place between 2013 and 2021, split between defense and non-defense areas of government.
There certainly are reasons to believe that a JSC agreement will be reached. For one, imagine the political fallout if this committee cannot get their act together. Only 13% of Americans have a favorable view of U.S. Congressmen. Thus, action is needed, and inaction is intolerable. Furthermore, both Democrats and Republicans may have a hidden agenda in reaching an agreement to achieve the desired deficit reduction target.
Democrats want the extension of the 2% payroll tax cut. Republicans want the extension of expiring corporate tax provisions. By achieving an agreement to cut the deficit by $1.5 trillion, the JSC-driven legislation would create the spending cuts to rationalize the continuance of these tax provisions (which certainly do not help with reducing the deficit in the near-term).
To be clear, most pundits do not expect the JSC to find a mutually acceptable $1.5 trillion worth of deficit reduction measures. However, a consensus seems to be brewing that there is some common ground for the Democrats and Republicans such that an agreement that is less than $1.5 trillion in scope may be proposed and enacted by Congress.
Potential areas of agreement include increased cost-sharing to be paid by Medicare beneficiaries, eliminating the ethanol tax credit, decreasing Medicare payments to health care providers, reducing agricultural subsidies, and subjecting Medicare pharmaceutical purchases to rebates (which is already done in Medicaid).
Why do so many strategists have low expectations about the JSC's ability to reach an agreement? One means to reduce the deficit is to increase government revenues. Whereas Democrats are largely focused on generating more government revenues via tax increases, most Republicans do not want to increase corporate or individual tax rates.
Another means to reduce the deficit is to decrease government spending. Whereas entitlement spending (Medicare, Medicaid, Social Security) is the focal point of spending cuts for both parties, Republicans want to drive much larger cuts to entitlements than Democrats are willing to allow. To further muddy the waters, some Democrats want to incorporate some aspect of fiscal stimulus (e.g. an extension of unemployment benefits) as part of the JSC proposal whereas Republicans are not as inclined to allow for more fiscal stimulus in the absence of meaningful spending cuts being approved.
I find it almost comical that America is so obsessed about this $1.5 trillion spending cut initiative. After all, we already have a $14 trillion national debt (which excludes another $1.2 trillion in state debts and $1.7 trillion in local municipalities' debts), and these targeted debt reductions are to be implemented over a 10-year timeframe. That's hardly a drop in the bucket.
What really raises my ire, however, is my sense that a bunch of accounting gimmicks may lead the JSC to proclaim that it has achieved its deficit reduction target. For instance, as much as $300 billion in deficit improvement can be attained over the next 10 years by using "chained CPI" as opposed to the current CPI measure when indexing federal entitlement benefits and tax thresholds. In other words, substituting this lower chained CPI figure means less dollars going to beneficiaries and more citizens paying higher taxes at a lower level of income in the future.
Given such low expectations for the JSC, we are at the crest of an ironic moment in U.S. financial history. A larger-than-expected agreement may lead to a relief rally in "risk assets" on Wall Street. Imagine that: the U.S. government acts like an adult to address some of its structural, long-term debt ills, and the bond markets respond by raising yields on U.S. Treasury bonds.
Conversely, should the JSC fail to reach an agreement, the resulting bitter disappointment and fear of a deadlocked Congress could lead to an increased aversion to risk and a flight to quality such that U.S. Treasury bond yields would fall (and a self-propelling U.S. recession might follow as well).
Ironic, isn't it? Perhaps this seems counter-intuitive to you. If so, welcome to the emotional roller coaster that many investors have experienced this year in the global bond and stock markets. Stay tuned.
Alan Zafran is a partner of
, a $4 billion financial-advisory firm providing wealth-management services to high-net-worth families. He has over 20 years of industry experience, previously serving as a wealth adviser for affluent families at Goldman Sachs and Merrill Lynch. Zafran's experiences include facilitating the execution of credit default swaps on subprime residential mortgages in 2006 and 2007 before the market crashed. He is a contributor to TheStreet, Forbes.com and Wall Street Week. Zafran received his MBA from Harvard Business School after graduating Phi Beta Kappa from Stanford University.