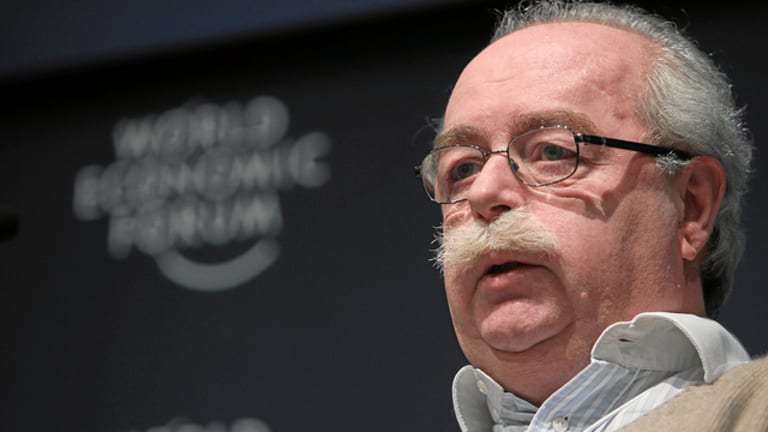 Death of Total's Guiding Star Could Set a New Course for Energy Giant
Sudden loss at the head of this French energy giant may cause shake up felt around the world.
NEW YORK (TheStreet) -- The energy world has lost an important, controversial leader and the resulting shake-up could have reverberations throughout the sector. 
Last night French energy giant Total (TOT)  confirmed that its charismatic CEO, Christophe de Margerie, was killed when his private jet hit a snow plough during takeoff in Moscow. The plane was engulfed in flame after the collision. Three crew members were also killed. Although the crash is still being investigated, authorities quoted in media reports have confirmed that the snow plough driver was drunk.
Of course the loss of life is most important, but as the fifth largest publicly traded integrated oil and gas company in the world, we must now also consider what could be next for Total.
Back in May, Total's shareholders agreed to lift the age limit for chairman/CEO roles from 65 to 67 for chairman and from 65 to 70 for CEO. The move was seen as an acknowledgement that de Margerie was doing a fine job. Investors wanted him to continue to lead the company into the future, something it seemed he was only too keen to do even though he would have turned 65 in 2015 and his term to lead France's largest public company would have expired.
The issue now for Total shareholders is there has been no clear successor for de Margerie. De Margerie was a strong, distinctive personality, unmistakable with his thick mustache, and he drove the company toward some questionable alliances. He was quoted as saying someone from within Total's existing management structure would likely be named his replacement down the road when his new age mandate was reached. His sudden death deprives the company and shareholders of the opportunity for such a smooth transition. Further, his death comes in the middle of a turbulent period in the oil market.
As a result, it is likely that all cards will be on the table at Total, even including the break-up of the European energy giant.
Shares of the company were trading up 1.5% at $56.25 in premarket activity Tuesday.
De Margerie deeply held belief that there will never be enough energy supplies was perhaps the main catalyst for Total entering geopolitically unstable regions like Yemen, Angola, Iraq, Iran, Uganda and Russia. In fact, just this year, De Margerie brokered a deal with Russia's Lukoil to drill in Siberia. He remained very vocal that Europe needed Russian gas and he forged a relationship with Russian producer Novatek to develop, along with China's CNPC,  a massive natural gas field on the Yamal Peninsula.
Must Read: Global Warming Will Bring Electricity Sticker Shock, EIA Suggests
Total now faces an arsenal of development projects begun under de Margerie, with enough free cash potential to nearly grow five times over last year by 2017.
So who will steer the giant Total energy ship now? Capable Total managers like Philippe Boisseau, Patrick Pouyanne and Arnaud Breuillac come to mind, yet we must recall Wall Street has increasingly grown sour on executives holding both chairman and CEO roles. Most recently Jamie Dimon came under public scrutiny for his dual role at JPMorgan (JPM) . 
De Margerie himself has stated publicly that sometimes the dual role makes absolute sense and sometimes it could be better to split them up. This morning, on the heels of this tragic event, Total's board may move to divide the two executive roles in order to put two capable internal leaders in charge of Total as a means to display solidarity internally and also to avoid increased scrutiny by hedge funds who want the dual roles separated.
Considering new leadership could be less risk-averse than de Margerie was, it may be reasonable for Total to cut back some of its geopolitical risk. This could lead Total to focus even more on its renewable energy operations. Total is already the largest shareholder of industrial solar installer SunPower (SPWR) , and a clearer focus on cleaner energy sources would seem appropriate under new leadership, especially Boisseau who was named president of New Energies in mid-2012.
Total reorganized its company two yeas ago into three segments (Upstream, Refining & Chemicals and Marketing & Services). Absent de Margarie's charismatic leadership, Total could consider dividing those three groups into separate, independent public entities to better address the changing paradigm in the energy markets. This move has a clear precedent in the splits done by ConocoPhillips/Phillips (COP)  and also by Marathon Oil/Marathon Petroleum (MRO) .
Investors get behind a company for a variety of reasons, including because of its leaders. Apple's (AAPL)  popularity was largely due to Steve Jobs and and excitement surrounding Tesla (TSLA)  is traceable directly to Elon Musk's personality. Similarly de Margerie was a rock star in the energy world and he will be missed. That ultimately could cause a shake-up at the top of Total that will be felt around the world.
Total is expected to release third-quarter results on Oct. 29.
At the time of publication, the author had no positions in stocks mentioned.
This article is commentary from an outside contributor, separate from TheStreet's news coverage.
Follow @bluephoenixinc