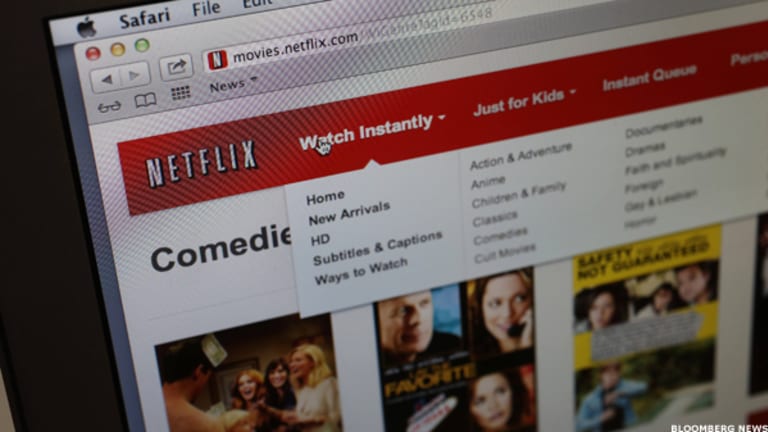 Death of Net Neutrality in Netflix-Comcast Deal Is Exaggerated
Netflix's acknowledgement that it represents one-third of the peak load on Comcast's last-mile network does not mean that smaller sites are about to be shaken down.
NEW YORK (TheStreet) -- Comcast's (CMCSA) - Get Comcast Corporation Class A Report agreement to change its broadband carriage arrangement with Netflix (NFLX) - Get Netflix, Inc. Report was billed as the "death of network neutrality" by the folks at Public Knowledge, a Washington nonprofit group interested in choice on the Internet.
It isn't. It could become that, but it isn't that yet.
Netflix is paying Comcast for direct access to the carrier's network, but that's not a precedent that will control Comcast's relationships with other service providers, because Netflix' situation is unique and required a change in what Internet service providers call a "peering agreement."
When two networks peer, they assume that just as much traffic is going in one direction as the other. But that's not the case with Netflix. Almost all of its traffic is one way.
During peak hours, Netflix can represent 30% of Internet traffic hitting Comcast. Netflix has tried many ways to deal with that -- connecting to Comcast's network through third-party middlemen such as Cogent Communications (CCOI) - Get Cogent Communications Holdings Inc Report and building a network of local connections through its Open Connect project. But the load on the last mile into a user's home is still extreme.
Netflix will pay Comcast's additional costs to handle Netflix's load, acknowledging that the previous peering arrangement was one-sided.
It's a cost to Netflix, but the company was also paying Cogent, and Open Connect had its costs. Some of the Netflix traffic will now be routed through exchanges run by Equinix (EQIX) - Get Equinix, Inc. Report, which runs network interchanges, and Netflix will foot the bill. Stock in Equinix was about flat in early trading Monday.
What upsets net-neutrality advocates such as Public Knowledge is that the cost of content delivery is being acknowledged directly, and will result in money flowing from a content provider, Netflix, to a last-mile ISP, Comcast.
The concern is that middlemen, such as Cogent, may be cut out of future negotiations and that smaller content providers, such as TheStreet.com, may have to pay for their content to be delivered.
But smaller content providers don't deliver the one-way load and don't present the cost to carriers that Netflix does. As I've noted before, last-mile costs are going up while core Internet costs are not, but for most Web sites, there is two-way traffic of data, which can be handled through existing arrangements.
The fear about Internet middlemen may be well-founded. In early trading, shares of Cogent fell about 10% to $36.
Netflix was up 52 cents to $432.75, and Comcast was up 1.4% to $51.76.
The question is now what other last-mile ISPs, such as Verizon (VZ) - Get Verizon Communications Inc. Report and AT&T (T) - Get AT&T Inc. Report, might do in reaction to this "precedent."
If there is a mass move to charge all content providers for last-mile access, using the Netflix agreement as the precedent, then the Federal Communications Commission can and should revisit its network-neutrality rules, perhaps even ruling last-mile ISPs "common carriers" as voice phone networks are labeled.
That's the real nightmare scenario.
But as long as we're just having peering arrangements re-negotiated based on real costs, that's not a real fear for either side. The message for investors, and viewers, should be to keep calm and view on.
At the time of publication, the author owned no shares in companies mentioned in this article.
This article represents the opinion of a contributor and not necessarily that of TheStreet or its editorial staff.