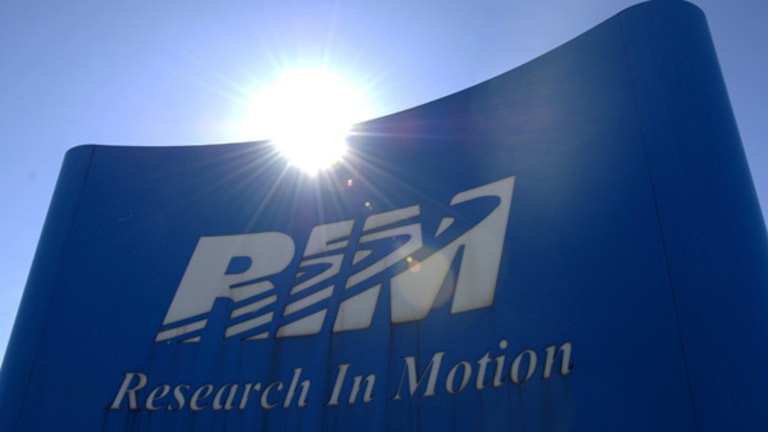 NEW YORK (TheStreet) -- OK, so I stole the title from the New York Post back cover after the Yankees got booted from the playoffs. Give me a break, it just fits so well.
Research in Motion
(RIMM)
beat estimates, popped, then snapped back to reality
. And,
Oh, there goes gravity
.
Different rules apply to dogs like RIMM and best of breeds such as
Amazon.com
(AMZN) - Get Amazon.com, Inc. Report
. It's fascinating to watch.
On Thursday, RIM reports a narrower-than-expected quarterly loss, the stock resumes trading in after-hours and rises considerably. It was funny -- as the report was released -- I was attending to my "Director of Social Media" duties for
TheStreet
and just assumed RIMM was down. Sure they "beat," I thought, but who in their right mind would get long an all-but-dead company with no new product coming until the end of January?
Reactionary investors -- that's who! My friend and
TheStreet
(soon-to-be
) contributor Robert Weinstein immediately shorted RIMM in after hours and made out big. Because that's what Robert does -- he makes money by expertly reading (and fading) the emotional responses of fellow, unsuspecting market participants.
Robert got out of his short position before RIM's earnings call even started. However, if he wasn't such a disciplined trader, he would have let it ride and really made a killing. As is usual when RIM management speaks -- the stock tanks. It dumped by double digits to settle in the upper $12s.
Why? Why does this happen to RIM?
First, on the positive side, you have to give RIM CEO Thorsten Heins credit. He's not fronting the same smoke and mirrors as dog-and-pony trainers Balsillie and Lazaridis used to. Heins levels with investors, saying listen,
We're excited about the BB 10 launch, we expect it to go well, but, no joke bro, we're going to have to spend money to eventually make money so we're going to lose $$ in the quarter
.
Everything else is decidedly negative, particularly sentiment. And there's no reason for it not to be.
You have a delayed product. It might not be very good, though it probably is. Through this entire bearish mess, I have never had much of a problem with the BlackBerry, in and of itself. RIM makes solid devices; it just missed everywhere else and got blindsided by
Apple
(AAPL) - Get Apple Inc. (AAPL) Report
. Join the club.
The idea that RIM can just stroll into the office several years late with BlackBerry 10 and pick up where it left off is absurd. You have a better chance getting an NHL season in
and
a new franchise in Waterloo than of having a successful enough launch to salvage things.
When RIMM stopped being an obvious short, it became nothing more than --
-- "a trading sardine."
If you caught the double on this thing, you weren't good or smart, you were lucky. You played with fire and you didn't get burned. Try doing that as a strategy -- buying dogs and calling them value plays -- and you'll lose your bum on some of the greatest sucker stocks of years' past.
The opposite of RIMM -- AMZN.
The market reacts however it reacts to an Amazon earnings report. Up initially. Down initially. It really doesn't matter. If you buy just a few shares of this stock, from time to time, on the dips, you -- at least historically -- have become wealthier for your troubles.
Why? Why does this happen to AMZN?
Because there's very little uncertainty. Yes. Very little uncertainty. The bears, who
do not have the guts to short AMZN
, make you think the sky is falling in Seattle. It's not, man.
I put that lame act to rest Thursday in
Absolutely Devastating News For Amazon?
When Amazon says we're going to lose money -- or some Wall Street analyst hack reduces Kindle Fire sales estimates -- investors do not worry. They support the stock at some relatively modest low. And then they bid it back up, irrespective of what that meaningless price-to-earnings ratio says.
If you have to ask what the P/E is before you buy a stock, you shouldn't be investing. That's right. Those days are long gone, particularly when it comes to names such as Amazon with class A management and a rapid cycle of reinvestment aimed at massive long-term opportunity. If you use the P/E for anything, consider it a gauge of investor confidence that management will execute, keep on delivering revenue and end up long-haul profitable.
It should come as no surprise that AMZN rises on "uncertainty" and RIMM tanks on false optimism. Even though they do not report back-to-back, the two companies provide an instructive comparison case for investors.
--Written by Rocco Pendola in Santa Monica, Calif.
Rocco Pendola is
TheStreet's
Director of Social Media. Pendola's daily contributions to
TheStreet
frequently appear on
CNBC
and at various top online properties, such as
Forbes
.