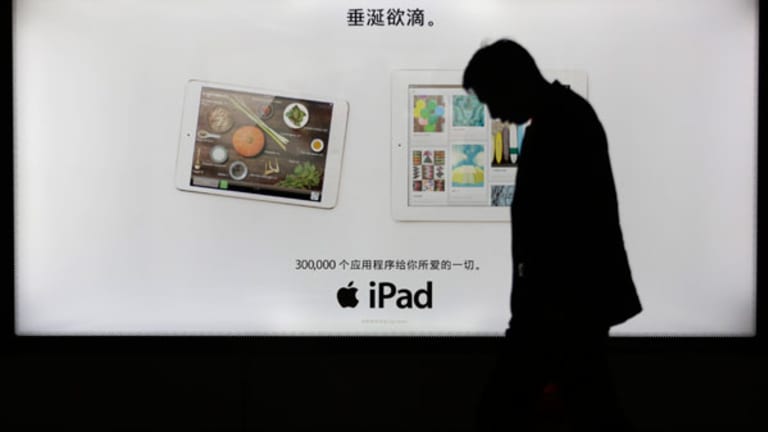 Dead, Dying: Either Way Apple's Finished (Update 1)
Psychological filtering and other forms of denial will not change the course of Apple's demise
Updated in the 13th paragraph and with video to include coverage from TheStreet's Chris Ciaccia on how some Wall Street analysts are at odds over Apple
NEW YORK (
) -- Last week in
Why Apple Sucks as an Investment, but Amazon Doesn't
, I wrote:
Truth be told, most people who complain about outrageous headlines don't actually have a problem with the outrageous headline. They just use the spectacle of the headline to project annoyance with an argument their psychological filters keep them from considering.
The reaction to Sunday and Monday's No. 1 article at
TheStreet
--
There's No Question Now: Apple is Dead
-- further illustrates the point.
Yes, I write headlines to get clicks. Absolutely. No shame. Because there shouldn't be any. Television dramas do really interesting and provocative things right before commercial breaks. Pay-cable series and movies foreshadow sinister doings in the first 15 minutes. What else is new?
For goodness sake, throughout journalism's ups, downs and various twists and turns, one constant has been the attention-grabbing headline. Get over it. Address the argument you (
not you!
) prefer to ignore.
But there is at least one valid argument, re: my headline choice: 'Dead' is the wrong word. I probably could have driven home the meaning just fine with 'dying.'
But, believe it or not, I don't spend as much time considering each word in a headline as I do the thought process behind -- and merits of -- my argument. Because I know full well that a headline such as
Apple Will Live Forever and People Who Think Its Dead Are Complete F---ing Idiots
would have received critical acclaim from Apple bulls and just as many pageviews.
So what's in a headline? Quite a bit and not much all at the same time. It grabs attention and triggers emotions, but, ultimately, the content that follows must deliver in some way, shape or form.
It's perfectly logical to consider the premise that
Apple
(AAPL) - Get Apple Inc. Report
is dead (or dying) a crappy one. No question about it. But it certainly deserves to be a primary part of the conversation surrounding Apple the company and AAPL the stock. Because, face it, plenty of people choose to ignore the legitimacy of that argument and the sentiment that supports it.
How can anyone who has ever considered Apple -- past, present and future -- look at the company today and not express dire concern? It's beyond me. I only back up a bit on
dead versus dying
because I have been on record, consistently, with the mantra that, today, Apple still dominates, but the future looks bleak and uncertain at best.
But, repetitive observation or not, you have to chalk up practically every bit of that dominance to what Steve Jobs, not Tim Cook or anybody else, built at Apple. How can we now, all of a sudden, as Apple does so much that's in opposition to what Jobs did and stood for, ignore this?
I have published article after article that provides support for that last paragraph -- dividend/buyback move, MappleGate, change in reporting guidance, rebuke of Jobs's design genius at WWDC, lack of movement on Apple TV or another new, groundbreaking product, tying compensation to the irrational stock market. I'm tired of providing links as
desperately
(snark, snark filled with sarcasm) I want the clicks.
However, it's not just me!
Check out Chris Ciaccia's coverage Monday morning
; Wall Street analysts worry that AAPL will continue to stagnate because of weakness in its currently dominant product line, something I tend not to concern myself with.
You know the bear case. You know how poorly Apple stock has performed. You know it's because investors do not have the type of confidence in Tim Cook that they had in Steve Jobs or have in Jeff Bezos at
Amazon.com
(AMZN) - Get Amazon.com, Inc. Report
. And for good reason.
If I wasn't a student of psychology, I would ask how in the world people ignore this. How do they ignore valid arguments -- or, at least, discount them -- in favor of what they want to believe?
I have been writing about the damage -- material and relatively insignificant -- psychological filtering and emotional investing can do for more than a year now.
April 27, 2012, AAPL was trading at $603
:
While AAPL supporters, by and large, remain civil and level-headed (remember, I wrote this more than a year ago), slowly but surely, with a post here and a post there, they're devolving into that inane cult-like territory I thought that was trademarked by SIRI and RIMM bulls. When the case you make for staying long your stock sounds more like a deranged terrorist video, you really need to check yourself.
And I must stress ... if doom occurs, it is not impending. By no means. However, I have seen the process I describe take place. I have fallen victim to it in the past. With each victory, you become all the more certain that there's no way -- God willing -- you can be defeated. A little bit of loyalty, and Tim Cook and China will take care of the rest.
Ironically, seeing profits slowly start to get smaller only strengthens your resolve. You hold. You listen to the pumps to buy on the dips. And it keeps working. You're rich. But for every disciplined investor who manages his or her position properly, there's at least one devotee who stays all-in and keeps digging himself or herself a deeper hole. Before you know it, your otherwise rational mind fooled you into staying in a position from 700 down to 250 because you just knew it had to make it to 1,000. It was destiny.
But, yeah, I'm the idiot just trying to get clicks. The broken clock that's right twice a day ... and, interestingly, has been, stepping back and considering the big picture, every single day for well over a year.
Look in the mirror. Think about Apple under Steve Jobs. Then, think about Apple under Tim Cook. From there, stop fooling yourself and put pressure on Apple management to respect Steve Jobs's legacy, not desecrate it.
Why waste your time moaning about a snappy headline? That hasn't changed the longest developing story in the history of Wall Street meets tech -- the slow fall of Apple from greatness to just-another-company mediocrity.
--
Written by Rocco Pendola in Santa Monica, Calif.
Rocco Pendola is
TheStreet's
Director of Social Media. Pendola's daily contributions to
TheStreet
frequently appear on
CNBC
and at various top online properties, such as
Forbes
.