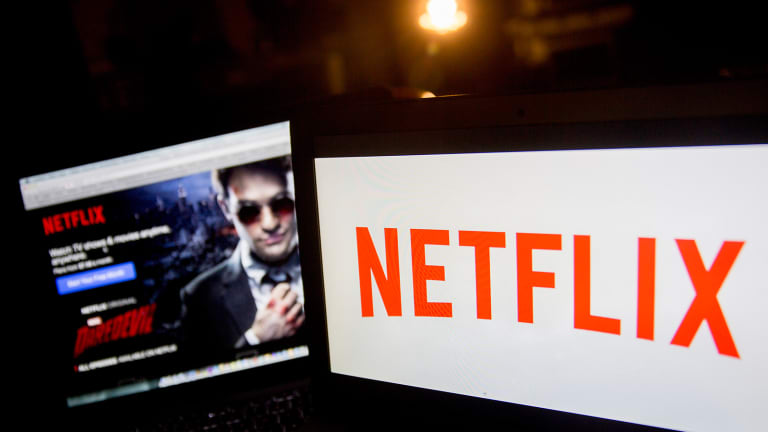 David Einhorn Attacked Netflix -- and These Other 3 Companies
Netflix isn't the first company billionaire hedge fund manager David Einhorn has gone after, and it won't be the last.
NEW YORK (TheStreet) -- Netflix (NFLX) - Get Netflix, Inc. Report isn't the first company David Einhorn has gone after, and it won't be the last.
The billionaire founder and manager of hedge fund Greenlight Capital pounced on the online streaming company in his second-quarter letter to shareholders. He wrote that Netflix's leading original content show, House of Cards, "appeared to be scripted completely with Ambien" and took issue with the market's positive reaction to the company's first-quarter earnings miss. "Red Ink is the New Black," he wrote.
Einhorn offered an explanation for investors' reaction and made a larger critique of the market. "Netflix changed its story and pushed its promises into the distant future, with grand hopes for the decade starting in 2020," he wrote. "In today's market, the best performing stocks are companies with exciting stories where accountability is in the distant future."
Netflix's second-quarter earnings, released Wednesday, beat Wall Street expectations.
Einhorn has gone after a number of big-name entities since launching Greenlight Capital in 1996. He engaged in a multi-year battle with Allied Capital after revealing a short position in the private finance company in 2002. And in 2008, he targeted Lehman Brothers just months before the global financial services giant went bankrupt.
Of course, not all of the billionaire investor's battles have ended in his favor. He disclosed a short position in coffee company Keurig Green Mountain (GMCR) and eventually closed it out in 2014, calling it an "ultimately unsuccessful short."
Here are three other companies that Einhorn has targeted in recent months.
Amazon
Einhorn told investors in his third-quarter 2014 letter to Greenlight Capital investors that he had added to his exposure of what he called "Bubble Basket" shorts. The newbie: Amazon (AMZN) - Get Amazon.com, Inc. Report.
"AMZN's recent disappointment is notable in that for years, the story has been that AMZN isn't profitable because it's growing so fast," he wrote. "Now growth is slowing, but rather than unleashing higher profits, the slower growth is leading to even greater losses."
Amazon disappointed with its earnings reports in the second and third quarters of 2014, ahead of the publication of Einhorn's letter. The e-commerce giant reported a $126 million net loss, or 27 cents per diluted share, in the second quarter of 2014 and a $437 million net loss, or 95 cents per diluted share, in the third quarter.
Einhorn's critique of Amazon, to a certain extent, mirrors his criticism of Netflix in examining the story surrounding the company.
"One of the principal bullish assumptions supporting many bubble stocks is, 'the company is growing too fast to be profitable,'" he wrote. "We think AMZN is just one of the many stocks for which this narrative will ultimately prove false."
General Electric
In his first-quarter 2015 letter to Greenlight Capital investors, Einhorn took aim at General Electric  (GE) - Get General Electric Company Report.
In April, the company announced plans to exit most of its GE Capital assets by 2018. It said it would sell the bulk of its real estate assets to Blackstone (BX) - Get Blackstone Inc. Report, Wells Fargo (WFC) - Get Wells Fargo & Company Report and other investors for $26.5 billion, and planned a share buyback program of $50 billion. GE also revealed it would repatriate $36 billion in cash currently held overseas -- and paying a $16 billion tax bill in the process.
Einhorn discussed the move in his investor letter and noted that the after-tax charge taken would "drain another 5-7% from the S&P 500 quarterly earnings." He did, however, see an upside to the situation and a victory for post-crisis financial reform Dodd-Frank.
"GE is exiting these portfolios after several years of economic and valuation recoveries and still has to take an enormous loss, the gigacharge adds clarity to the multi-decade debate about the integrity of GE's reported results," he wrote. "That GE chose to exit and finally own up to its cumulative chicanery rather than face its first Fed-supervised stress test is one of the first real successes of Dodd-Frank."
GE reported second-quarter earnings Friday that beat analyst expectations.
Pioneer Natural Resources
Einhorn is not a fan of fracking, and it appears the company in that business he dislikes most of all is Pioneer Natural Resources (PXD) - Get Pioneer Natural Resources Company Report. He attacked the practice and the company at the 2015 Sohn Investment Conference in May.
"We object to oil fracking because the investment can contaminate returns," he said while presenting a 92-page slideshow. He made the case that hydraulic fracking companies spend too much to generate a profit, even when oil prices are at their highest. "A business that burns cash and doesn't grow isn't worth anything," he said.
Einhorn pinpointed Pioneer as the "Mother-Fracker" and said it loses about 20 cents of value for every dollar it invests. "We think that in the current environment Pioneer earns a negative economic return on its Capex," he said.
He also accused the company of manipulating investor materials by maintaining resource estimates that assume $90 oil and $5 natural gas without clarifying those assumptions. "It would seem that Pioneer has not adjusted its resource estimates for lower prices," he said. "Surely, some opportunities that were economic before are not economic now."
Finances aside, Einhorn appears to have been right about at least one thing so far: Pioneer Natural Resources hasn't been the best of investments lately. Its stock has declined 13.8% year-to-date through market close Friday.
This article is commentary by an independent contributor. At the time of publication, the author held no positions in the stocks mentioned.