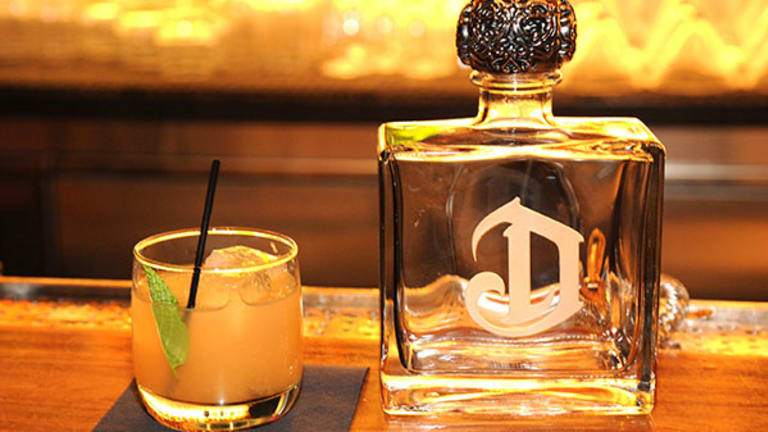 David Beckham and Simon Fuller Raise Diageo's Drinks, Bottom Line
David Beckham and Sean 'Diddy' Combs are helping Diageo gain market share in liquor sales.
David Beckham and Sean 'Diddy' Combs are helping Diageo gain market share in liquor sales.
NEW YORK (TheStreet) -- Premium spirits company Diageo (DEO) - Get Report wants to keep the drinks flowing, and is increasingly turning to partnerships with celebrities for a boost. After partnering with Sean "Diddy" Combs, Diageo has now inked a deal with soccer superstar David Beckham and American Idol's Simon Fuller.
Beckham and Fuller are teaming up with Diageo to launch Haig Club Single Grain Scotch Whisky. The alcohol comes from the House of Haig, Scotland's oldest grain whisky dynasty. The house traces its roots back to the 17th century.
Diageo thinks the crafting process and endorsement will attract new whisky drinkers to its brand. Diageo describes Haig Club as a "showcase of butterscotch and toffee."
Beckham is no stranger to corporate sponsorships. The soccer star was seen in a highly talked-about Super Bowl advertisement for retailer H&M. Beckham also has deals with Burger King (BKW) , Sainsbury's, Samsung (SSNLF) , Adidas (ADDYY) and Coty (COTY) - Get Report. These deals help Beckham rank in the top 10 for athlete earnings, with total salary and endorsements of $46 million as of last year. With the new Diageo deal and a possible stake in the business, that number will shoot higher for 2014.
For Diageo, this represents a larger shift to celebrity brands. The company joinly acquired DeLeon tequila with Diddy in January. This follows up on the popular Ciroc vodka, also a joint venture of Diageo and Diddy.
Ciroc sales have increased from 50,000 to 2 million cases since Diddy endorsed the vodka. In its most recent financial report, Diageo reported sales of Ciroc increased 22% over the last six months. Outside of the United States, sales of Ciroc more than doubled.
Ciroc was one of the bright spots for Diageo, which saw net sales decline 1% and overall volume drop 5% in the six-month period. Diageo is also branching Ciroc out into new categories and flavors. Ciroc Amaretto became the number six brand in the industry after only 13 weeks on the market.
Diageo owns billion-dollar liquor brands including the No. 1. Scotch whisky in the world, Johnnie Walker, and the No. 1 Canadian whisky worldwide, Crown Royal. J&B, another Diageo elixir, is the No. 5 Scotch whisky in the world. All told, whisky made up 36% of Diageo's six-month sales.
Other spirits companies are also turning to celebrities to boost their brands. Constellation Brands (STZ) - Get Report teamed up with Dave Matthews Band to launch the Dreaming Tree line of wines, retailing for $14.99 a bottle. Beam (BEAM) is partners with Justin Timberlake on the Sauza 901 premium tequila line, which sells for $30 a bottle.
Branching out from its stronghold in whisky, vodka and beer, Diageo is using its relationships with Diddy and David Beckham to help drive growth and global sales for ultrapremium liquor.
Diageo shares are down 3% in 2014 after increasing 11% in 2013. The company continues to be a market leader and returns a yield of 2%.
At the time of publication, the author held no positions in any of the stocks mentioned.
This article represents the opinion of a contributor and not necessarily that of TheStreet or its editorial staff.