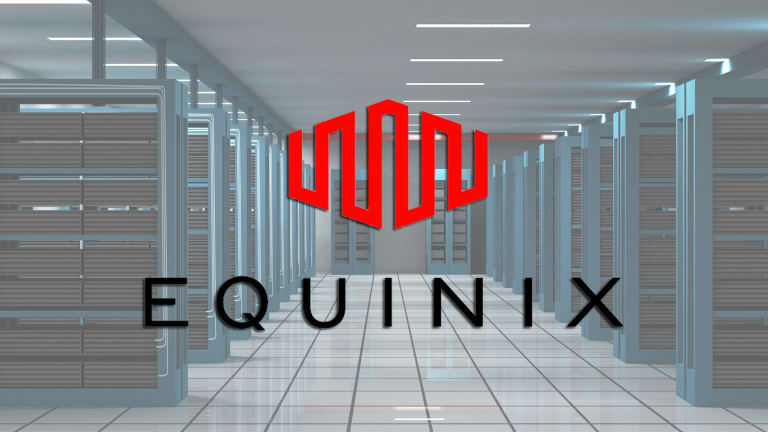 Data Center Stocks Are Worth a Look as Cloud Spending Continues to Grow
While data center REITs have bounced their early-2018 lows, favorable long-term trends could let them add to their gains.
Though a lot of the easy money has probably been made here, the long-term risk/reward still looks good for data center REITs.
As readers may know, a REIT, or real estate investment trust, doesn't pay taxes at the corporate level. In return, they're required (among other things) to obtain at least 75% of their gross income from real estate, and to pay out at least 90% of their taxable income via dividends, which shareholders pay taxes on as they would other dividends.
Data center REITs such as Equinix (EQIX) , Digital Realty Trust (DLR) , CyrusOne (CONE)  and CoreSite Realty (COR)  derive revenue in part by offering colocation services to enterprises and service providers, through which clients are able to install servers and other hardware at data centers owned by the REITs. This can either be done on a retail basis, which involves supporting multiple clients through a single data center, or on a wholesale basis, which involves leasing out an entire data center to a single client.
The companies also provide interconnection services that allow clients to connect directly to the networks of third parties (carriers, cloud service providers, etc.) that also have a presence at a data center owner's facilities. For a larger player such as Equinix, there's a network effect at work here: The more clients and data centers it has, the more opportunities it has to sell interconnection services to individual clients.
Naturally, a cloud capital spending boom has been providing a lift to the top and bottom lines of data center REIT owners. With the qualifiers that such spending can fluctuate and that similar growth can't be expected in future years, real estate services firm CBRE estimates spending on North American data center construction grew to $20 billion last year from just $7.7 billion in 2016 and $5.7 billion in 2015.
Both consumer video growth and enterprise cloud adoption are playing major roles in growing the infrastructure needs of tech giants -- needs that are being addressed both by directly building new data centers and partnering with third-party facilities owners. And with regards to enterprise cloud usage, the fact that many companies -- due to security concerns, data regulations and/or performance needs -- want cloud services provided from a nearby data center is contributing to an international data center building spree.
Equinix is aiming for 8% to 10% revenue growth over the next few years. Source: Equinix.
The REITs are seeing more subdued revenue growth among traditional enterprise clients; the fact that many of them are choosing to pare back their own data center footprints as their public cloud usage grows will remain a headwind. However, adoption of hybrid clouds that involve linking a company's own infrastructure with public cloud platforms will act as a boon for interconnection service demand. And the same factors that are leading cloud giants to grow their international data center footprints are also compelling many traditional enterprises to do so.
Overall, data center REITs are well-positioned to see moderate revenue and cash-flow growth in the coming years as global demand for data center colocation space and connectivity services keeps trending higher. And the predictability of the REITs' businesses, with their large recurring revenue streams from contracts inked with major enterprise and service provider clients, arguably merits a valuation premium.
All things considered, valuations for data center REITs still look mostly reasonable. However, with the group having rallied in recent months, investors might want to wait for a pullback before jumping in. Here's a quick overview of publicly-traded data center REITs:
1. Equinix
Equinix has a $35.1 billion market cap and $10.4 billion in net debt. Shares are valued at 19 times the company's expected 2019 adjusted funds from operations (AFFO). The dividend yield is 2.1%.
2. Digital Realty Trust
Digital Realty has a $25.1 billion market cap and $9.3 billion in net debt. Shares are valued at 18 times expected 2019 AFFO. The dividend yield is 3.3%.
3. CyrusOne
CyrusOne has a $6.4 billion market cap and $2.1 billion in net debt. Shares are valued at 18 times expected 2019 AFFO. The dividend yield is 2.8%.
4. CoreSite Realty
CoreSite has a $3.9 billion market cap and $1 billion in net debt. Shares are valued at 22 times expected 2019 AFFO. The dividend yield is 3.6%.
This column originally appeared on August 13 on Real Money, our premium site for active traders. Click here to get more great columns like this.