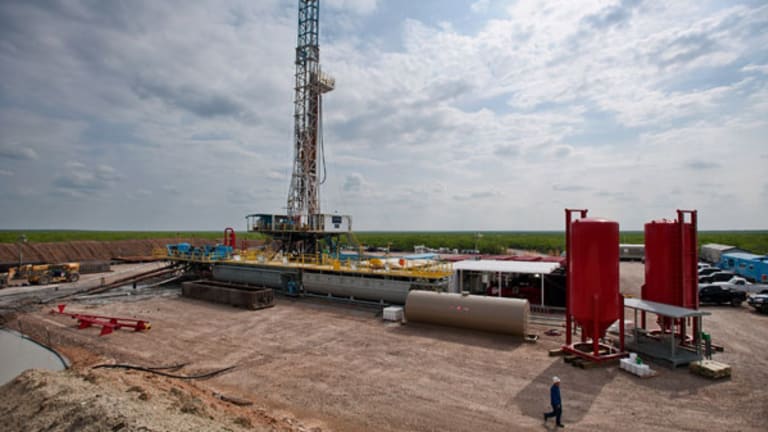 Publish date:
Dark Clouds Hover Above Anadarko
It doesn't make sense for new investors to take a position in Anadarko until the litigation dusts settle.
It doesn't make sense for new investors to take a position in Anadarko until the litigation dusts settle.
NEW YORK (TheStreet) -- Smart investors understand that one needs to have an extremely high frustration threshold to invest in commodity-driven industries. In the case of Anadarko Petroleum (APC) - Get Report, which has built itself as a leader in exploration and production  of oil and gas, you also need plenty of patience and the understanding that things aren't always going to go according to plan.
While Anadarko's upstream oil and gas business is already a high-risk proposition given the unpredictable nature of exploration and production, the company has also been dealing with a lengthy lawsuit with the creditors of Tronox (TROX) - Get Report, following Tronox's spin-off of Kerr-McGee.
Kerr-McGee, which is the former parent company of Tronox, was acquired by Anadarko in 2009 for $19 billion. The acquisition, however, occurred right after Kerr-McGree spun off Tronox. Shortly after Tronox was spun-off, Tronox filed for Chapter 11 bankruptcy protection due to substantial environmental burdens it was unable to repay. These include clean-up costs as well as other penalties.
[Read: Kass: A Touch-and-Go Status Quo]
To make a long story short, not only has Tronox since settled with the U.S. government, but the company has taken significant steps to regain consumers' trust and rebuild its reputation, including organizing groups such as the environmental-response trusts that are tasked to clean up and repair more than 1,000 facilities suspected of contaminants.
Having emerged out of Chapter 11 protection and looking to recover damages it has incurred, Tronox has created the Anadarko litigation trust. Investors of both companies have desperately wanted to put this issue behind them. To that end, it's encouraging that there have been recent discussions of a settlement worth an estimated $25 billion.
So there are signs that the two sides are getting closer to a resolution. But here's the thing, these talks have been ongoing for the past three years. So I'm a bit surprised that the Street clearly assumes that Anadarko will escape this suit unscathed. Not only has Anadarko's price-to-earnings ratio reached 27, which is more than twice that of Apache (APA) - Get Report and Total (TOT) - Get Report, but credit rating agency Moody's just raised its outlook on the company from "stable" to "positive."
Of the rating upgrade, Peter Speer, Moody's Vice President said:
"Anadarko's strong operating performance and improving financial position support its positive outlook. We believe that the company's legal contingencies are likely to become sufficiently defined within the next eighteen months to consider a positive rating action."
While Speer's confidence in Anadarko's legal outcome may be proven true, it's nonetheless premature to say. As I've said, this isn't the first time that talks between the two sides have "gotten closer." And the idea that the Street, and to some extent Moody's, have already priced in a court victory here is dubious, if not completely reckless.
[Read: 5 Steps to a Successful Second Career]
My conservative view towards Anadarko's litigation issue should not be interpreted as my passing judgment on the situation. Absent the Tronox matter, I believe Anadarko would fit the profile of companies that deserves strong consideration for any portfolio. It has an excellent balance sheet and pays one of the best yields in the E&P sector.
This, however, has everything to do with not wanting to "count the chicks before they hatch." Let's not also forget that even if the ruling against Anadarko was to come higher than the Street and Moody's expected, while that (obviously) would not be good thing, Anadarko would then have to file appeals. And who knows how long that process is going to take.
My point here is, given that the Street has had a reputation for "hating uncertainty," I don't believe it makes any sense whatsoever for new investors to take a position in Anadarko -- at least not until all of the dust settles.
At the time of publication, the author held no position in any of the stocks mentioned.
Follow @saintssense
This article was written by an independent contributor, separate from TheStreet's regular news coverage.