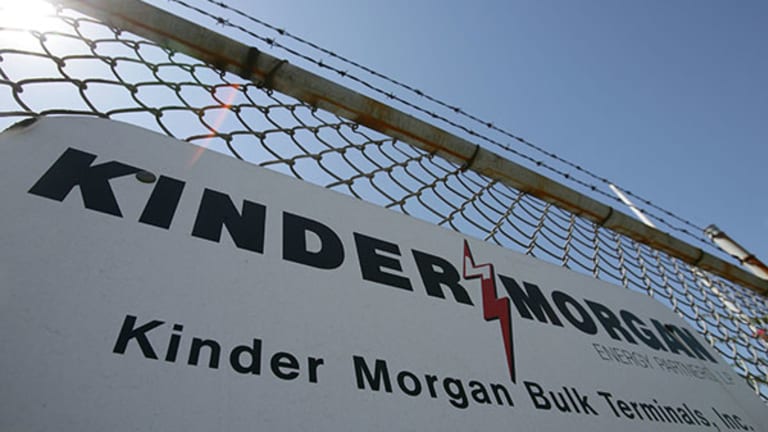 Dan Dicker's Kinder Morgan Mea Culpa: I Screwed Up
Dan Dicker, TheStreet's energy contributor, said his buy recommendation last week on Kinder Morgan will be his worst trade this year after the company cut its dividend.
I broke one of the cardinal rules of trading and got punished for it. Kinder Morgan (KMI) - Get Kinder Morgan Inc Class P Report will be my worst trade of 2015.
I could make all the fundamental cases I wanted about KMI as it was going down -- and did -- but you just cannot consistently make money trading if you are trying to catch a falling knife. I tried to do this with my recommendation at $21 last Wednesday, and shares continued to lose 6% to 7% a day until Wednesday. (See Jim Cramer's video on the "fluid situation" of Kinder Morgan.)
What is so interesting about Wednesday's 8% gain in share price is it comes on the heels of an announcement from the company of a 75% dividend cut -- normally the harbinger of an even further slide in shares.
The reason for the rally in light of the dividend cut is obvious -- much of the tremendous pressure on KMI shares in the last week was caused by a concerted bear run on the stock from hedge funds looking to drive prices lower. Wednesday, as they all thought they'd get their ultimate victory and big payoff on the final capitulation of income investors, they were met instead with a lack of sellers, forcing them to cover and amazingly driving prices much higher.
Personally, I am using this short-covering rally to exit my positions and cut my losses. With a $21 entry point and second tier of buying at $17.50 and a last small purchase near $15, the total losses are not insignificant, but very manageable. I couldn't think about staying with the trade now.
I don't even know what Kinder Morgan is anymore.
By cutting so deeply into the dividend, Kinder is completely abandoning the master limited partnership-type structure of accessing the capital and debt markets to fuel growth. On the plus side, Kinder has certainly ended any thought of a downgrade for its bonds to junk status, and opened up plenty of cash to fuel expansion. But with a 3% dividend, it has moved from being an income producer to a utility-type growth stock.
Who wants a leveraged 3% utility? Not me.
What's more, Kinder has been the "big daddy" in the midstream space and a bellwether for the rest of the subsector. I don't see how other MLPs avoid being put under the same kind of pressure to cut distributions and grow more from cash flow than from debt or equity issuance. Devon's (DVN) - Get Devon Energy Corporation Report midstream company EnLink (ENLK) was put on Moody's watch for a downgrade after acquiring $1.55 billion more pipe -- which was the move that ignited the real panic in Kinder shares last week.
I have been loath to recommend anyone in the pipeline space throughout 2015, before catastrophically trying to pick a bottom in "Big Daddy" Kinder last week.
I'm even less optimistic about the space now.
Editor's Note: This article was originally published at 11:59 a.m. EST on Real Money on Dec. 9.
This article is commentary by an independent contributor. At the time of publication, the author held no positions in the stocks mentioned.