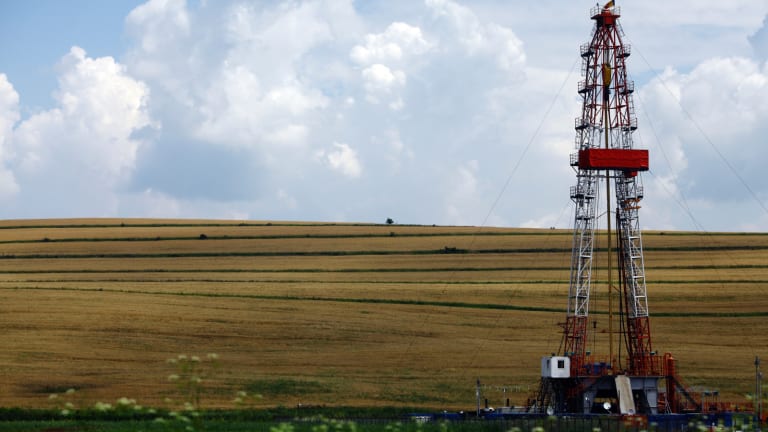 Dan Dicker and Jim Cramer -- Shale's Boom and Bust and the Myth of 'Saudi America'
Dan Dicker, energy contributor at TheStreet.com, talks to Jim Cramer about his new book, OPEC and the state of the shale oil industry.
NEW YORK (TheStreet) -- OPEC's meeting in Vienna in November 2014 put the final nail in the coffin of oil prices, causing prices to fall to a low of nearly $40 a barrel. OPEC will return to Vienna again to meet on June 5th to discuss their outlook on oil and their cartel-wide quotas. As I predicted in November, I do not expect any changes in quotas to come out of these meetings, allowing oil to stay below $60 for several more quarters at least.
This non-action is a continuation of the strategy Saudi Arabia and OPEC put into play last fall to retain market share and scour the oil markets of the weakest players, specifically U.S. shale producers. The OPEC meeting in November was the watershed event in the collapse of oil prices, as I point out in my new book Shale Boom, Shale Bust. In November, OPEC was blamed for abandoning its historic role as swing barrel producer.
But today, the strategy of allowing the market to crash while continuing to pump oil at lower prices has to be deemed a success, as U.S. exploration and production companies have had to slash the number of working oil rigs and their budgets for capital expenditures.
So far, that cutting of rigs and capital expenses hasn't resulted in a concurrent decline in production growth from U.S. E+Ps, the real desired outcome that the Saudis and OPEC are hoping to see. But that production decline in U.S. shale players is only a matter of time in coming.
Meanwhile, OPEC production targets at 30 million barrels a day have been maintained since November and likely will be renewed in June. Those quotas do not reflect total OPEC production, however, as the cartel is reportedly producing almost 950,000 barrels a day more than their stated quota with Saudi Arabia accounting for almost half of that excess.
Overproduction from OPEC will continue to put pressure on oil prices and lessen the time that weaker U.S. E+P's will have to resist the cash crunch of lower returns. U.S. E+Ps will ultimately be forced to consolidate or just declare bankruptcy, as American Eagleundefined did just this month.
With more of this winnowing of the oil patch yet to take place, I do not expect OPEC to abandon what is proving to be a very winning strategy. I talk more about my book with Jim Cramer in the video above.
This article is commentary by an independent contributor. At the time of publication, the author held a positions in EOG. Cramer's Action Alerts PLUS had a position in EOG.