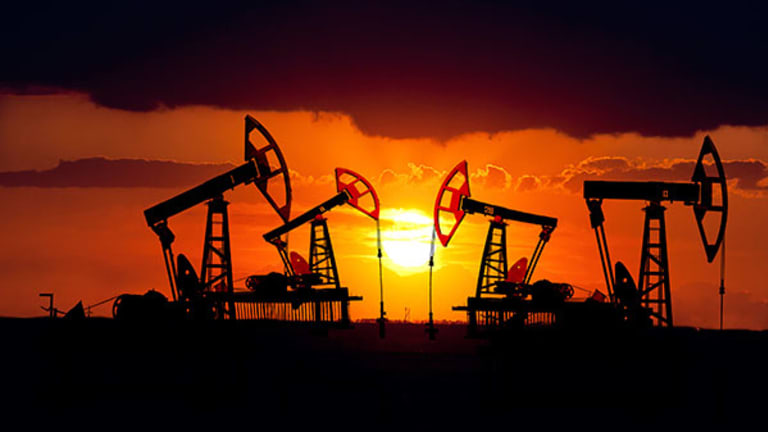 Dan Dicker and Jim Cramer -- Prices on a Tear but Don't Buy Oil Stocks Yet
Dan Dicker, energy contributor for TheStreet.com, talks with Jim Cramer about the steady run-up in oil prices and whether it's time to invest in oil stocks.
NEW YORK (TheStreet) -- Oil prices have had a seven-day run straight up, and this has inspired some over-exuberance in some oil stocks. 
While I think the bottom in oil is most probably in now, that does not mean I believe oil and oil stocks are a straight-up buy either. I believe we are still apt to be rangebound in both for the next several quarters to come.
Oil has had a strong run-up to close to $55 a barrel, the same spot where oil found a temporary top in February. We've made a technical W-bottom formation, normally a strong indicator of a bottom that will not be breached again. I believe that oil will likely not see new lows again in 2015. But I also believe we are nearing the top of what will be the correct "range" in oil prices for the next several quarters.
There are other indications that oil has bottomed. Stockpiles today increased by the smallest amount in weeks -- only 1.3 million barrels when the expectation was for more than four million barrels. The International Energy Agency (IEA) has increased its demand forecast for oil by 1.1 million barrels a day to close to 94 million barrels a day, a very large increase to predict mid-year.
But it is also true the Saudis are pumping an historic amount of oil, increasing to over 10.4 million barrels a day, and the Energy Information Agency (EIA) has predicted U.S. production will continue to increase to 2020, peaking at 10.6 million barrels a day.
All of this production still puts a limit, I believe, on the possible breakout of oil much above $55 and certainly above $60, where there are still several newly idled, land-based drilling rigs that many distressed oil companies would love to restart, should oil prices recover there. Pressure will remain on prices and help to inspire consolidation in the industry as long as these production numbers -- and stockpiles -- continue to steadily rise.
With oil prices nearer to the interim top seen in February, and some very bad first quarter reports yet to be released from oil companies reeling from $50 oil, I cannot recommend oil stocks today. I advise investors to wait for a better opportunity. Oil is no longer in freefall but I cannot say that all of the bad news for oil prices is over.
This article is commentary by an independent contributor. At the time of publication, the author held a position in XEC.