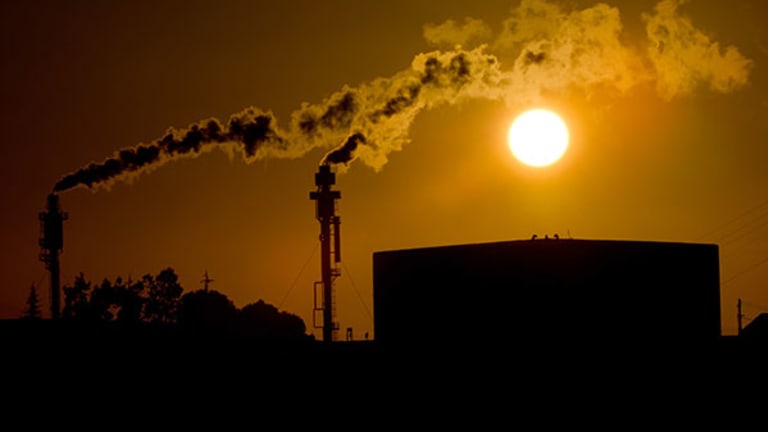 Dan Dicker and Jim Cramer: Have Oil Prices Finally Bottomed?
Dan Dicker, energy contributor at TheStreet, tells Jim Cramer oil may go to $60 but isn't rising further anytime soon.
NEW YORK (TheStreet) -- I was talking to Jim Cramer today about whether the price of oil had finally bottomed after seeing prices rebound into the $50 range on Tuesday.
While it's practically impossible to "name the number" on a crude bottom, I told Jim the rally that was sparked this week starts to give an indication of the likely boundaries for crude to trade in for the next few months. It also tells me which oil stocks can be traded.
Oil prices have gotten some very silly predictions on where they would stop going down, and it's difficult to blame anyone on their predictions. Oil prices have not represented reality for a fairly long time. This "silly season" of oil pricing, as I called it with Jim, is happening because several fundamental and financial pressures have hit oil all at once to send it reeling since last summer.
More than nine million barrels of the oil that is currently coming out of the ground today is uneconomic at $50 a barrel. It is a losing proposition to pump it. That implies prices are too low and are unsustainable -- but the question is always about timing.
I have been of the opinion that at least a few of the fundamental and financial pressures working on oil would have to be relieved before oil sees a sustainable rally. I don't see that happening for another several months at least. Consequently, I told Jim, a bottom is tough to call but oil prices are unlikely to see a price better than $60 a barrel anytime soon.
But the range between a retest of the lows in the mid $40s and $60 still leaves room for trading oil stocks, if not for really serious investment in them.
I told Jim that there are some exploration and production companies that were worth buying as oil reached the lower boundaries of prices I expected and should be traded out of as oil rallies to the higher boundaries of what I think is at least immediately possible.
I suggested Anadarko (APC) - Get Anadarko Petroleum Corporation Report , EOG Resources (EOG) - Get EOG Resources, Inc. (EOG) Report , Noble Energy (NBL) - Get Noble Energy, Inc. (NBL) Report and, for a very speculative play, Oasis Resources (OAS) - Get Oasis Petroleum Inc. Report .
I talk more about oil prices with Jim in the video above.
This article is commentary by an independent contributor. At the time of publication, the author held positions in OAS and XEC.