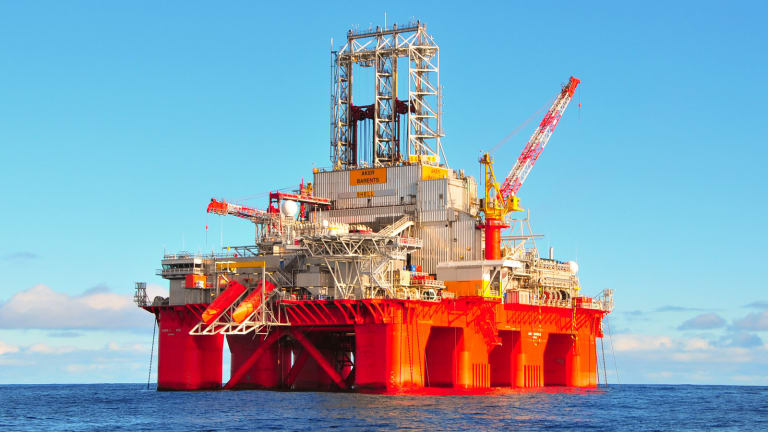 Dan Dicker and Jim Cramer -- Goldman Sachs Adds to Oil's Woes With $45/Barrel Call
Dan Dicker, energy contributor at TheStreet, talks to Jim Cramer about the Goldman Sachs oil call of $45 a barrel by October.
NEW YORK (TheStreet) -- Goldman Sachs has weighed in on the recent uptick in oil prices back to $60 a barrel and sent a warning: They believe that oil will again see $45 a barrel by October. I think they're right.
In fact, I wrote several pieces in the last week outlining how far I think that oil prices have gotten ahead of this very drawn out "shale bust" cycle that I have written about in my upcoming book, Shale Boom, Shale Bust, due out in less two weeks.
The U.S. oil industry is undergoing massive changes caused by the revolution in shale oil production, whose success was a big factor in the collapse in oil prices. But those changes can't be digested by the markets immediately, and any kind of normal market dynamics in U.S. energy supply won't be seen for several more quarters to come. Goldman is right: The "bust" part of the boom/bust oil cycle is upon us and need to play out fully first.
One of the reasons for this is purely about supply: A quick rebound in the price of oil will allow many of the recently 'shut-in' wells to be almost instantly restarted. In the thousand rigs that have come offline since November 2014, several hundred were new wells almost ready for service that were idled, waiting for better oil prices.
Jim Cramer charitable trust Action Alerts PLUS is long EOG. Click here for more.
Should prices stabilize above $65 a barrel, big shale operators like EOG Resources (EOG) - Get Report and Pioneer Natural Resources (PXD) - Get Report are preparing to restart some of these, adding supply to an already glutted market. This comes as the Saudis and other OPEC members are continuing to shore up market share by pumping the most oil in their history.
Further, with the production for the summer driving season completed, refineries will now look to slow down the scheduling of barrels for the fall and the new production that might be caused by higher prices will add to an already enormous glut.
Dropping prices in oil will affect the oil stocks, obviously. The biggest integrated stocks, like Exxon Mobil (XOM) - Get Report, Conoco-Philips (COP) - Get Report and Chevron (CVX) - Get Report are the best insulated as well. Smaller independent producers like Anadarko (APC) - Get Report, Apache (APA) - Get Report and Hess (HES) - Get Report will be hurt more if Goldman's predictions prove right, but it will be the very small specialists that will be hurt the most like Halcon Resources (HK) , SandRidge Energy (SD) - Get Report and Oasis Petroleum (OAS) - Get Report.
I talk more about this shale bust cycle for oil and the predictions of Goldman Sachs with Jim Cramer in the video above.
This article is commentary by an independent contributor. At the time of publication, the author held a position in EOG. Jim Cramer's charitable portfolio, Action Alerts PLUS, had a position in EOG.