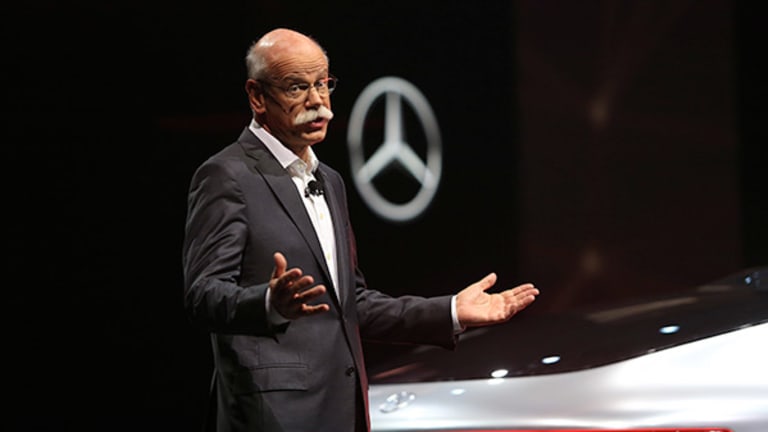 Publish date:
Daimler's Electric Car Efforts Getting Boost from Volkswagen's Woes
In the battle to determine which fuel technology for electric cars will prevail, Daimler is benefiting from Volkswagen's troubles. Either way, Tesla will soon be getting a lot more competition.
In the battle to determine which fuel technology for electric cars will prevail, Daimler is benefiting from Volkswagen's troubles. Either way, Tesla will soon be getting a lot more competition.
Battery-powered vehicle technology got a boost from Dieter Zetsche, chief executive of Daimler (DDAIF) and a figure of growing stature and respect in Germany, where Volkswagen (VLKAY) and its executives remain mired in a costly emissions cheating scandal.
The German government has set a goal of a million electric vehicles on the road by 2020. Zetsche has stated that the ambitious goal won't be reached unless conditions change, a hint that government-sponsored incentives to consumers might be necessary. With Volkswagen having tarnished the German auto industry, a pillar of the country's economy, Daimler rather than Volkswagen or another auto company is in a position to send such a message.
Zetsche also has earned the respect of the German business community by leading Daimler back after a disastrous and ill-advised merger undertaken by his predecessor. Speaking to Euro am Sonntag, a German-language business weekly, Zetsche said rapidly advancing battery technology gives batteries the edge over hydrogen-powered fuel cells as a source of electricity. Fuel cells are another means of electrifying vehicles that are favored by some automakers and futurists.
''Cars with electric driving ranges of 500 kilometers (312 miles) and fast charging times of 20 minutes are within reach'' with the new batteries, Zetsche said.
Over the past six months, Daimler shares have lost 14% of their value, while Volkswagen shares have declined 41%, compared to the 6.6% decline in the DAX index of European stocks.
Volkswagen is pursuing several battery initiatives including Porsche's Mission E supercar and a microbus for the Volkswagen brand. But the efforts of Europe's largest automaker are bound to be slowed by settlements, lawsuits and fines stemming from last fall's disclosure that it had faked U.S. diesel emissions tests.  
Zetsche hedged his optimistic view on batteries, adding that the main hurdle to hydrogen-powered fuel cells -- how to develop an infrastructure for them -- hasn't been solved. The unspoken implication was that a breakthrough in hydrogen could still change the picture. Daimler, the maker of Mercedes-Benz, Volkswagen and the rest of the global industry are racing to meet government deadlines around the world to comply with stringent CO2 and emissions standards.
In essence, governments have set fuel efficiency standards that could limit use of the internal combustion engine or force automakers to design very small and light cars that won't be sufficient for some needs, such as carrying several passengers or hauling trailers. 
Toyota Motor (TM) - Get Report , in contrast to Daimler, has said it is convinced that hydrogen fuel cells will dominate future automotive technology. Toyota, which helped to pioneer gas-electric hybrids with its Prius line of cars, has begun leasing its Mirai fuel-cell vehicle in California in limited numbers. Most automakers now offer gas-electric hybrids and plug-in hybrids, which permit short trips on batteries alone.  The next big step will entail either advanced batteries that offer long range and quick charging, or fuel cells.
Zetsche's latest remarks lend credibility to Tesla Motors (TSLA) - Get Report and its outspoken chief executive Elon Musk, who has scoffed at hydrogen fuel-cell technology. This week, Honda Motor Co. also announced that two-thirds of its vehicles will be powered by some form of electrification by 2030 -- another sign that battery technology is advancing quickly, making it feasible for use in mass-market vehicles.
As more electrified vehicles reach the market, they could pose stiff competition for Tesla, which so far offers one luxury sedan and another relatively costly crossover model. In September, Volkswagen gave the go-ahead on a $1 billion investment to build its Porsche Mission E battery-powered luxury car, which no doubt will turn the heads of at least a few Tesla Model S owners.
A wave of battery-powered Hondas and Mercedes-Benz would mean a large audience of owners -- and more alternatives to Tesla, as well as to Nissan Motor's (NSANY) battery-powered Leaf.
If government policymakers were inclined to relax CO2 and emissions standards in response to rising automaker complaints that they're becoming too strict, the latest remarks of Daimler's Zetsche should give them pause.
Doron Levin is the host of "In the Driver Seat," broadcast on SiriusXM Insight 121, Saturday at noon, encore Sunday at 9 a.m.
This article is commentary by an independent contributor. At the time of publication, the author held no positions in the stocks mentioned.