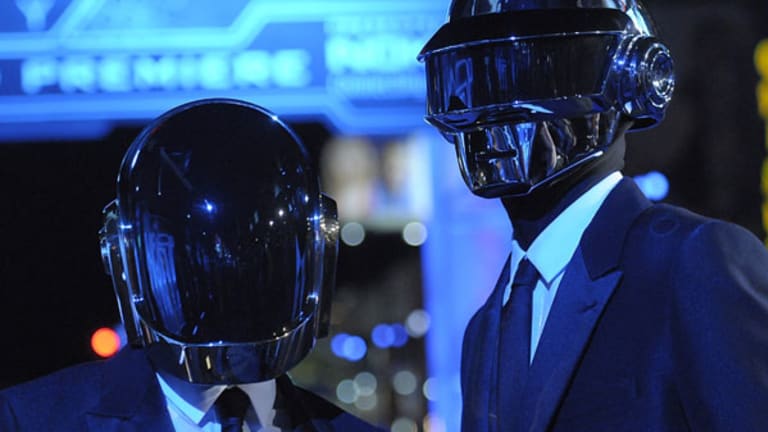 Daft Punk Bio-Engineers a Sleepless Sunrise
Brilliantly crafted music and well-rounded marketing put the robot duo's disco tribute, <i>Random Access Memories</i>, on a path for No. 1.
NEW YORK (
) -- Monday, the news began trending that Daft Punk's new album
Random Access Memories
, scheduled for official release in the U.S. May 21, had been "leaked." If so, it was a terrible job of leaking, since it came at the peak of a promotional surge and the band had, the same day, posted the complete album streaming for free on
Apple's
(AAPL) - Get Report
iTunes.
, who simply claims to be a fan but has had reliable insight into Daft Punk matters, mentioned the streaming pre-release on Sunday, the day before it was supposedly leaked and turned up in iTunes.
However it happened, all the confusion caused by the "leaked" rumor and the actual access to the iTunes stream sparked something like a
Twitter
riot and promoted the heck out of what was already a much publicized release by this very talented house music duo.
A single from the album,
Get Lucky
, with Chic guitarist Nile Rodgers and vocals by producer Pharrell Williams, had been released earlier by the band's label, Columbia, and already has 500,000 downloads in the U.K., where
called it "the sound of the summer and most likely the year."
Also see: Broadcasters Fear the Music in Aereo Fight >>
Big profiles of the French duo were appearing this week in
Pitchfork
and the
New York Times
. A Jumbotron promo video for
Random Access Memories
was shown at Coachella and a commercial for the album aired during
Saturday Night Live
.
All that would seem to indicate the free iTunes download was not the band's response to a leak, but was, like everything else about
Random Access Memories
, part of a carefully engineered effort, tuned to perfection. Perhaps the "leaked" rumor itself was also planned? I wouldn't be surprised.
Certainly others have used the streaming preview option, including David Bowie, who recently handled
the release of his wildly successful The Next Day
in very similar way: a video, a single, some carefully placed promotional ads, a free streaming version on iTunes -- just enough activity to spark a Twitter frenzy.
Worked like a charm for Bowie, who sold more copies of
The Next Day
in its first week than any album he had released in more than 20 years.
For Daft Punk, the effect appears the same, only moreso. More significantly, the pre-release and the promotion seem a continuation of a robust and highly disciplined creative process that has destined
Random Access Memories
for the No. 1 slot on
Billboard's
album charts.
Daft Punk made its name with a series of witty, polished studio albums, beginning with
Homework
in 1997. The second album,
Discovery
, in 2001, found the duo, Thomas Bangalter and Guy-Manuel de Homem-Christo, adopting the personae of a pair of robots, with full helmets designed to make them look the part. The music of that album as well as the soundtrack for the 2010 movie
Tron
, helped define electronic dance music with a post-disco use of drum machines and heavy synthesizer arrangements.
Also see: The Miscalculation of Lauryn Hill >>
With the latest album, the duo is reaching back to the disco era of the late '70s, using live musicians in an effort to reconnect to what Pharrell Williams described in
an interview with The Creators Project
as "a magical time" when involvement in the music felt like a kind of physical saturation, of being transported.
"When I heard 'Get Lucky' . . . it just felt like a place where it was forever 4 in the morning," he said. " . . . you could sort of see the sun rising in the sky. . . ."
The music on the album is indeed a beautiful, up-all-night urban sunrise. While still a masterly use of electronics, the added human pulse of the live musicians, Rodgers especially, makes each song a flesh-and-blood hug.
Also see: MainStreet--Daft Punk Bio Engineers Sleepless Sunrise >>
Quoted by the
New York Times
, Bangalter said the live players offer "an infinity of nuance, in the shuffles and the grooves. These things are impossible to create with machines."
Also see: Abercrombie's Sexy Abs Don't Do It for Facebook >>
In addition to Williams and Rodgers, other guest spots include a monologue by Italian electronica legend Giorgio Moroder, singer Julian Casablancas of The Strokes and '70s pop singer and actor Paul Williams, who turns in a surprisingly powerful performance on the 8-minute suite and centerpiece of the album,
Touch
.
The lyrics throughout
R.A.M.
are not memorable, resembling poetry in the way that frozen grape juice resembles a fine merlot. But that also seems calculated, as the same could have been said about the disco songs that inspired this album: Donna Summer's
I Feel Love
(a collaboration with Moroder) and Michael Jackson's
Don't Stop 'Til You Get Enough
, for instance. From
Touch
:
Touch, I remember touch
Pictures came with touch
a painter in my mind
tell me what you see
a tourist in a dream
a visitor it seems
a half-forgotten song
where do I belong?
Cheesy? Sure. Even more because it's Paul Williams' voice, ripe with an overreaching sincerity. But like the robot masks, that cheese only seems to serve the larger purpose of a good time -- no demands, no heavy lifting for the mind, just an anonymously drawn, gorgeous, hotel bubble bath, a physical epiphany that ripples over the skin.
To that end, any hint of the gymnastic disco romps of that period, songs like Summer's 1979 No. 1,
Hot Stuff
, or the Village People's 1978
YMCA
, are excluded from the robots' input data on
Random Access Memories
. This album's songs are not about social empowerment, but longing and beautiful regret.
Some are pointing out how the pre-release strategy makes iTunes relevant again. The platform has had some serious issues when stacked against streaming services like
Pandora
(P)
,
Rdio
and
Spotify
. It bogs down your machine, it's difficult to navigate, the stream is not reliable, etc. I'm sure readers can offer their own set of complaints.
But in streaming albums as part of a pre-release promotion, iTunes has one tremendous advantage over just about any other site: It can put a "buy" button in front of each listener. You can purchase the album on pre-order or an individual song, or any other album by that group or any other group, without interrupting the music.
In addition, iTunes is an entrenched, ubiquitous platform. Most music listeners have bought something from iTunes, so they already have an account and are familiar enough with it that a tweet like, "Daft Punk streaming free now on iTunes!" is all the information necessary to locate, listen and buy. Clunky though it is, there is little danger that the site will crash or the user won't be able to access what you've put there.
Having said all that, music listening trends online are even more fickle than other social media trends. There was a time not long ago when musicians preferred
MySpace
. It looked like the Web site had a lock on the future of music content. Does anybody use that anymore?
-- Written by Carlton Wilkinson in New York.