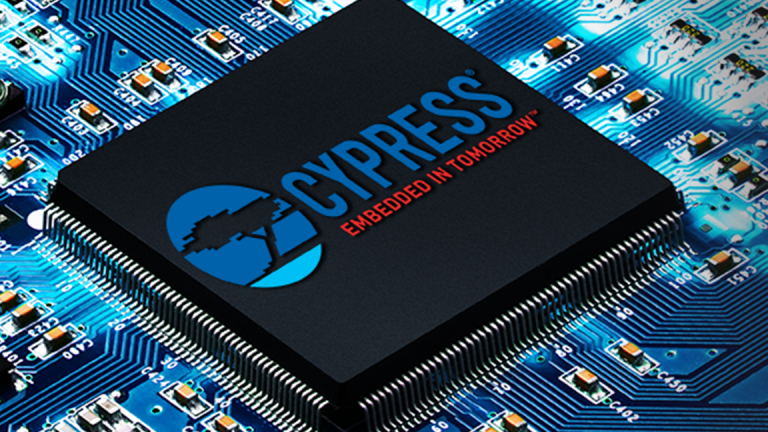 Cypress Semi's CEO Talks About Cars, Apple, Chip M&A and More at CES
Cypress Semiconductor's shares are up nearly 50% in the past 12 months.
Since I interviewed Cypress Semiconductor Corp. (CY) - Get Report CEO Hassane El-Khoury at CES a year ago, his company's shares are up nearly 50%. A big chip stock rally has certainly helped, but so have strong automotive chip sales, rising memory prices and USB controller chip design wins with Apple (AAPL) - Get Report for the iPhone 8 and X.
I sat down again with El-Khoury at Cypress' CES booth to discuss where the company sees its core businesses going from here, as well as get his thoughts on industry trends affecting Cypress. CFO Thad Trent joined us.
I started off by asking El-Khoury about Cypress' automotive Wi-Fi/Bluetooth combo chip sales, a part of the IoT combo chip business it bought from Broadcom (AVGO) - Get Report in 2016 for $550 million. He noted automotive now accounts for 15% of the IoT combo chip segment's sales, up from a previously-disclosed 10%, as Cypress succeeds in cross-selling the chips to buyers of its automotive microcontrollers (MCUs).
Meanwhile, the total combo chip business has grown to account for about 50% of Cypress' IoT connectivity revenue, up from 25% a year ago - driven not only by automotive growth, but booming shipments for consumer IoT devices such as Amazon's (AMZN) - Get Report Echo line and Nest thermostats. Cypress is two days removed from unveiling an automotive combo chip that can simultaneously stream 2.4GHz. and 5GHz Wi-Fi signals at full throughput - Cypress says it's the only firm to currently support it -- as well as Bluetooth signals, to in-car devices. "We own the automotive [combo chip] market...that's a fact," El-Khoury said.
The company showed off a demo of the new auto solution delivering streams to multiple devices and said it's already shipping within two vehicles, with more to come later this year. Also shown off: An MCU/combo chip product for smart speakers that can do on-device voice processing (unless cloud services need to be accessed, the data doesn't have to leave the device) and distinguish between different voices.
Regarding Cypress' automotive chip sales in general, El-Khoury indicated the company is targeting 8% to 12% annual growth over a multi-year period, well above the 2.5% to 3% unit growth seen in car sales. However, due to growth in other fields, that's only expected to increase automotive's share of Cypress' revenue to around 33% from a current 30%.
On Cypress' NOR flash memory and SRAM businesses, which Cypress has forecast would see modest annual declines over the long-term - NAND flash and DRAM have been respectively taking share from NOR and SRAM - El-Khoury indicated sales were relatively flat in 2017 and are expected to be so again in 2018, thanks to strong flash pricing. "Since the last time we talked, flash is a very different world," he pointed out. Meanwhile, higher prices and Cypress' decision to walk away from $120 million worth of low-margin flash deals has led the company's flash gross margin to rise from the 20s to the high 30s.
Expectations are subdued for Cypress' industrial chip business: The company forecast 3% to 5% annual growth, driven by "Industry 4.0" trends such as factory automation and web connectivity. Likewise, in spite of the iPhone design wins, El-Khoury suggested landing USB design wins with other mobile OEMs isn't a priority.
"If you look at my corporate strategy, mobile is not part of it...we're an auto, industrial and consumer company. That's our focus. We landed Apple because Apple is a strategic customer of ours for a lot of other products," he said, while noting Apple is also a buyer of Cypress' PSoCs (programmable system-on-chips). "You will not see me going after the mobile world...because to be honest with you, it will come and go faster than I care for."
Nonetheless, El-Khoury does see a large broader opportunity to grow Cypress' sales of USB Type-C controller chips, as the technology becomes a consumer electronics industry standard for transferring data and power. With the help of Apple and PC/power adapter design wins, Cypress' USB-C business more than doubled sequentially in Q3. But for now, it's only about 5% of revenue.
For my final question, I asked El-Khoury about his thoughts on chip industry M&A and whether Cypress, which merged with Spansion in 2015 and inked the Broadcom IoT deal a year later, would once more be willing to participate in it. "Absolutely," he replied. "In general, I don't think we're done....this is just starting...the fact that nothing happened in 2017 doesn't mean that nothing was happening in the background....I think there's going to be less companies over the next five years."
El-Khoury added that the presence of Chinese bidders for a while helped make deal talks public, and that less has been reported as the Chinese bidders have (due to political opposition) disappeared. "For us, our focus has been on using our cash flow to pay down our debt. So that when the time comes for the right asset....we will go after it and acquire it."
Trent concurred. "I think [2017] was a pause, but it was a pause because everyone was digesting," he argued, while noting some firms are unloading assets acquired via M&A that they don't consider to be strategic - many expect Broadcom will sell some Qualcomm (QCOM) - Get Report assets should its bid for the company succeed. In addition, Trent thinks "the bar for [industry] scale continues rising," upping the pressure for firms to join forces. "2018 will be active and...even though we were sitting on the sidelines [in 2017] we've been actively evaluating targets continuously, and we always do."
Jim Cramer and the AAP team hold positions in Apple and Broadcom for their Action Alerts PLUS Charitable Trust Portfolio. Want to be alerted before Cramer buys or sells AAPL or AVGO? Learn more now.
Correction: This article has been corrected to note Cypress' combo chip business accounts for 50% of its IoT connectivity revenue, rather than its total revenue.
More of What's Trending on TheStreet: