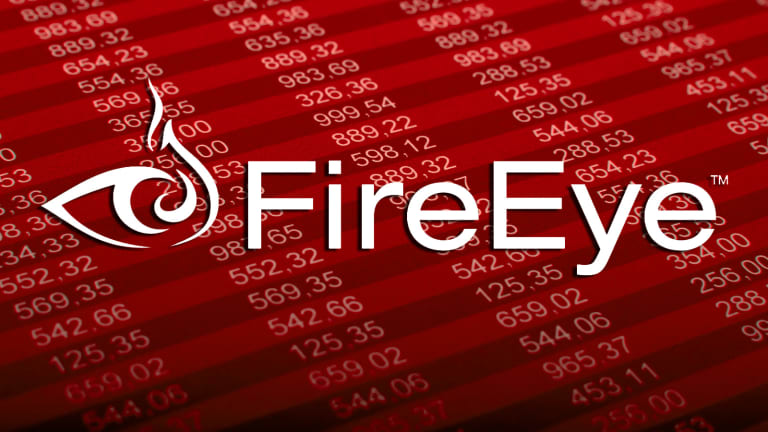 Cyber security shops FireEye (FEYE) - Get FireEye, Inc. Report and Imperva (IMPV) - Get Imperva, Inc. Report are being rocked on Friday trading, following their first-quarter earnings reports.
FireEye missed first-quarter revenue forecasts after the close Thursday, and said that Chairman and CEO Dave DeWalt will leave his post to become Executive Chairman in June. Kevin Mandia, who sold his company Mandiant to FireEye for $1 billion in 2014, will become CEO.
"As the founder of [FireEye]'s highly regarded Mandiant incident response unit, Mr. Mandia is very well-respected," Wells Fargo analyst Gray Powell wrote in a report. "Given his background, we think his transition into the CEO should be a relatively smooth one."
First-quarter sales of $168 million missed forecasts of $171.7 million, though a loss of 47 cents per share was less than the consensus target of 50 cents per share.
The stock dropped $3.04, or 19%, to $12.94 in late afternoon trading on Friday.
Pacific Crest analyst Rob Owens cited "the lack of visibility in the model" as FireEye's business undergoes changes.
Sales are shifting to cloud services from FireEye's "product revenue," which includes a hardware component. Unlike cloud services, which charges over a one- or three-year contract, product revenue is billed at the time of shipment.
DeWalt acknowledged the changes during the earnings call, as product revenue dropped 16% to $33.7 million. Wall Street expected $43.7 million.
"The shift from appliance-based solutions to subscriptions and cloud-based security is happening faster than even we anticipated," he said.
FireEye's expectations for the second quarter also caused some concerns. The midpoint of FireEye's guidance calls for revenues of $181.5 million in the quarter, below analysts' consensus of $193.3 million. An expected loss of 39 cents per share is greater than the consensus for a 36 cent per share loss.
Imperva's top line was actually slightly better than forecasts. Revenues increased 34% to $59.8 million, while Wall Street expected sales of $59.5 million. CEO Anthony Bettencourt, who took the helm in August 2014, may have raised expectations with his recent success.
"This was the first quarter since 1Q'14 where Imperva did not beat its revenue guidance," Nomura analyst Frederick Grieb noted.
As with FireEye, Imperva's second-quarter guidance is below Wall Street expectations. The company expects revenues between $65.5 million and $66.5 million, while analysts had been looking for $70 million.
Shares dropped $11.63, or more than 25%, to $33.84 on Friday.
Bettencourt said that sales in Europe slowed, but that new cyber security regulations that begin in 2017 should create opportunity in the region. Sales of firewalls to protect web applications have also slowed.
JMP Securities analyst Erik Suppiger lowered his price target from $66 per share to $57 per share, but suggested in a report that demand is still strong.
"While we are disappointed with the outlook, we believe the changes in [European] sales leadership and in channel programs will address the execution issues that caused the weakness," he wrote.