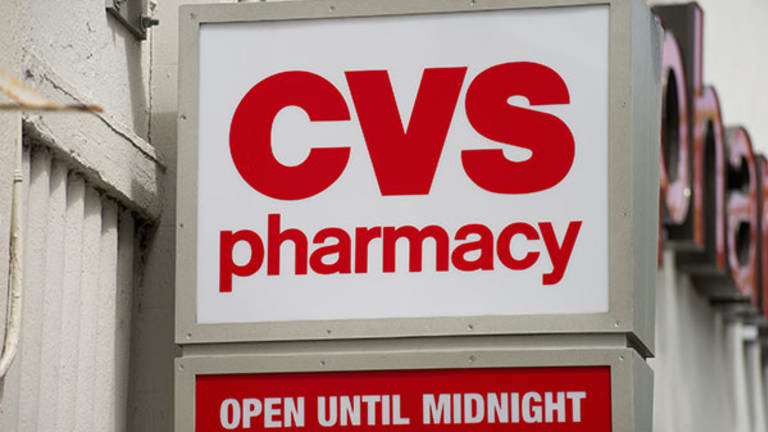 Publish date:
CVS Without Tobacco Is Still CVS
CVS Caremark's decision to stop tobacco sales is part of a pharmacy evolution into health care services.
CVS Caremark's decision to stop tobacco sales is part of a pharmacy evolution into health care services.
NEW YORK (TheStreet) -- CVS Caremark (CVS) - Get CVS Health Corporation Report is winning plaudits from health crusaders for its decision today to end sales of tobacco products starting in October.
But should it win applause from investors?
If the company's estimate of $2 billion in tobacco sales per year is accurate, the company is sacrificing 1.6% of its total annual take of $123 billion to this decision.
That could mean a significant hit to its annual top-line growth, which averages about 10% per year.
For the first three quarters, the company had sales of nearly $94 billion, and it reports fourth-quarter sales on Feb. 11. Analysts are expecting CVS to report fourth-quarter revenue of about $32.7 billion and earnings of $1.11 per share.
CVS seems willing to sacrifice annual top-line growth in the future in hopes of a "halo effect" it can use against rival Walgreens (WAG) , which so far says it is "continuing to evaluate" its tobacco policy.
Walgreens has in the past sold its own private label pipe tobacco, and even protested against a San Francisco decision to ban tobacco sales in pharmacies, saying that would keep it from counseling people against smoking.
WATCH: Jim Cramer: How to Play CVS Kicking the Tobacco Habit
Over the last year, both Walgreens and CVS have been big Wall Street gainers, but Walgreens has moved further, up almost 37% over the last year against CVS' gain of almost 26%. I wrote favorably about Walgreens
and have since bought some stock in the company for my retirement account.
In a statement, CVS Caremark CEO Larry Merlo said his company is going to expand its work in smoking cessation, starting this spring, and involve both its MinuteClinic health clinics and Caremark pharmacy benefit management system in the effort.
The CVS move underscores the growing importance of drug stores in the health care system. Both CVS and Walgreens are pushing their clinic services as an alternative in primary care, staffed by registered nurses and physicians' assistants, backed by computer technology that connects them to both best practices and practicing physicians.
So far, CVS has opened over 750 MinuteClinics while Walgreens has about 400 Healthcare Clinics in its stores. Other companies opening in-store clinics include Wal-Mart (WMT) - Get Walmart Inc. Report, Kroger (KR) - Get Kroger Co. (KR) Report, and Target (TGT) - Get Target Corporation Report, but all are well behind the two drugstore chains.
By opening clinics in existing stores, CVS and Walgreens minimize their costs and get the chance to make additional sales from patients who are either waiting for care or who are prescribed either drugs or over-the-counter remedies.
The difference between the two chains is that while CVS is retaining its current look and feel, which is that of a convenience chain with a pharmacy counter, Walgreens is engaging in a major makeover in order to push its services.
Early reaction to CVS Caremark's move is negative. In a market that was down an average of 0.47%, CVS shares were down 0.80%, a loss of about $600 in market cap. Walgreens, by contrast, was up 1.8%, a gain of more than $950 million in market cap.
At the time of publication the author owned shares in WAG.

Follow @danablankenhorn
This article represents the opinion of a contributor and not necessarily that of TheStreet or its editorial staff.