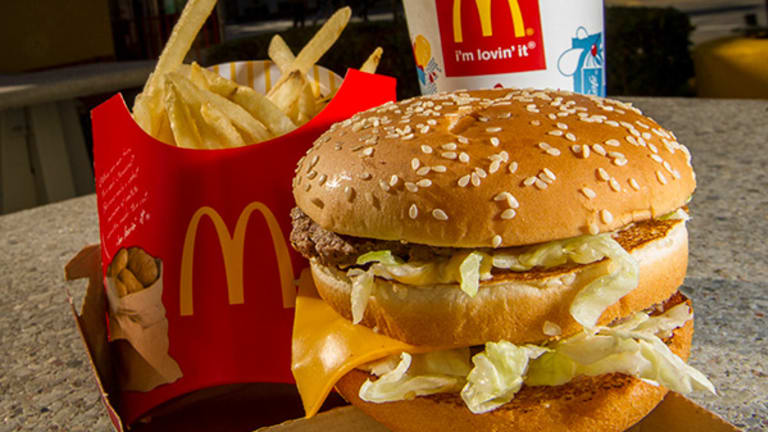 Customers Are Lovin' All-Day Breakfast at McDonald's, but What About Its Burgers?
McDonald's all-day breakfast continues to drive the company's growth in the U.S. But how will the fast food giant get customers excited about its other menu items?
McDonald's (MCD) fourth-quarter sales in the U.S. sizzled as consumers scoffed down Egg McMuffins at all hours of the day.
But what about the interest in the fast food giant's mainstay offering? The mighty hamburger is still at the heart of the improved menu that CEO Steve Easterbrook has been focusing on since he took the helm in 2015.
Interest in the item that McDonald's was essentially founded on over 60 years ago appeared to remain weak in the final quarter of 2015. "All-day breakfast exceeded our expectations, it's driving incremental business," said Easterbrook on a call Monday with analysts, noting that "all-day breakfast was the primary driver of the quarter."
Pointed out senior principal David Henkes of research firm Technomic in an email, "If McDonald's growth is being driven by all-day breakfast foods, then they still have some consumer issues with their more traditional parts of the menu, and demand is just not growing for their burgers and sandwiches."
Therefore, a case could be made that McDonald's U.S. sales would have been even stronger if people viewed the chain as a place to get a hamburger with better quality ingredients or something new and unique, such as a premium offering.
McDonald's fourth-quarter same-store sales in the U.S. rose 5.7%, surpassing Wall Street estimates for a 2.7% gain. The results in the U.S. marked the second consecutive quarterly increase, and the best performance by McDonald's since it reported an 8.9% same-store sales gain in the U.S. in the first quarter of 2012.  
But the number of visitors to McDonald's U.S. restaurants continued to be challenged in in 2015, falling 3% year over year. In 2014, guest counts in the U.S. dropped by 4.1% from 2013. 
"While we're pleased with recent positive momentum in the U.S., it will take at least six more months of positive comparable sales and guest count growth to progress through the sustained and prolonged growth phases of our turnaround," cautioned Easterbrook on the call. 
Easterbrook seems to understand that McDonald's needs to get its product innovation engine revving up in the U.S. to sustain its new-found sales momentum.
"We're very proud of the menu, and we believe there is these iconic and real popular assets that we believe that we could probably do a better job with and bring to life -- we'll continue to invest in the ingredients, food quality and the pricing around that," said Easterbrook.  
McDonald's has already dipped its toes into better burgers.
In November, McDonald's began testing a new "Signature Collection" of premium burgers in 28 stores in London and southern England. The burgers, designed by a team of chefs, feature 100% British and Irish beef, are made to order and fetch a premium price relative to other sandwiches on the menu.
If McDonald's isn't able to revamp its menu, same-store sales growth in the U.S. could slow sharply in the fourth quarter as the company's comparisons will come against results that include all-day breakfast, which was introduced in early October.
But getting consumers to notice any innovative new sandwich, or one made using higher quality ingredients (such as organic veggies or grass fed beef), won't be an easy task for McDonald's.
"If you look at the broader landscape, there are a million places (figuratively) to get a great burger -- the better burger guys like Smashburger, Mooyah, etc. are still growing, so interest in burgers remains, but consumers know what they're getting at McDonalds," said Henkes. "It's hard to innovate with those items, because there is a price point expectation from consumers, and most of the premium offerings McDonald's has tried haven't lived up to expectations."
The saving grace for McDonald's? Customers enjoyed the $2 double cheeseburger from the new McPick 2 value menu, which Easterbrook called out as a top seller, along with mozzarella sticks.