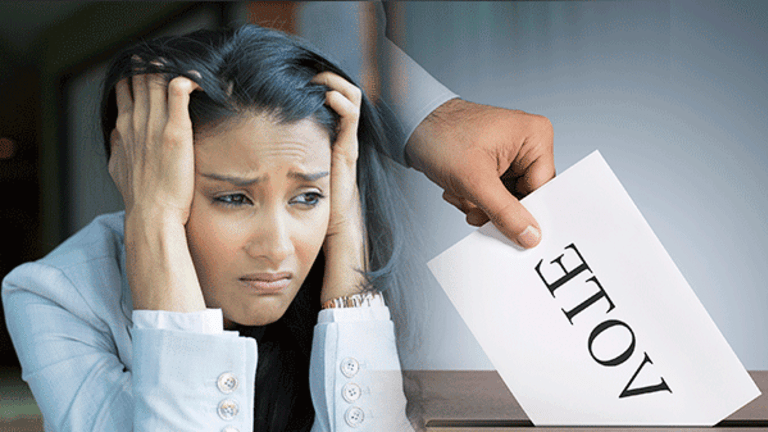 Cure for Pre-Election Investment Angst: Sit Tight and Do Nothing
Despite the ups and downs, investors should relax and not make any moves in anticipation of the outcome on Tuesday.
Could the presidential election get any more bizarre now that former New York Congressman Anthony Weiner (aka, Carlos Danger) has entered the national political discourse?
Financial markets have reacted negatively to the news of a tightening race. The CBOE Volatility Index is rising in tandem with Republican presidential candidate Donald Trump's polling numbers.
Some researchers and commentators have even forecast a sizable correction of 10% to 15% if he pulls off a Brexit-like surprise on Tuesday.
It is certainly true that financial markets dislike uncertainty, and most voters, even those supporting Trump, say that he brings more than his share of uncertainty both to politics and to the potential of governing.
He has even boasted during the campaign on more than one occasion that "I like to be unpredictable."
To an inexplicable extent, those supporting him view his approach as different and refreshing, even if Trump's actions could potentially damage and disrupt institutions that Americans value highly.
What does this all mean for investors?
Should they buy the VIX? Should they consider buying protective puts to guard against a possible decline if the election produces an upset result?
Or would it be best to run for the hills and hide money under a mattress?
For true investors with a long-term time horizon and not speculators with ADHD, the best course of action can be summed up in one word famously uttered by superstar quarterback Aaron Rodgers in 2014 when his Green Bay Packers were off to a difficult season start: Relax. The prescription for investors is to sit tight and do nothing in anticipation of the election outcome.
Investing is all about taking the long view, assembling a portfolio that will build wealth over years and not days or months. With the advent of the 24/7 news cycle and the ability of individuals to become do-it-yourself investors with essentially free trading, many have confused the marathon that is wealth creation with a series of daily or weekly 100-yard sprints.
Studies by quantitative research firm DALBAR show that individual investors under-perform market averages by substantial margins.
The reason is fairly simple: Investors are unable to consistently time the market yet continue to try to do so.
Essentially, investors exit the market after it has fallen and get back in after it has rebounded. To successfully time the market investors have to make a series of good decisions such as when to get in, when to get out and when to get back in again, which are nearly impossible to get right.
Those with long time horizons should stand pat. Those with short time horizons shouldn't have a substantial allocation to risk assets in the first place.
For the long term, buy index funds or high-quality companies that are almost certain to be worth more in the future and keep doing that over one's entire working career: lather, rinse and repeat.
At Berkshire Hathaway's annual meeting in May, Chief Executive Warren E. Buffett said of the upcoming election that it is clear that either Democratic candidate Hillary Clinton or Trump will win, and either way, the company will "be just fine."
The best advice for the majority of investors is, as Buffett's sidekick Charlie Munger likes to say, practice one's assiduity. In other words, do the initial work of investing, and then leave it alone and let the companies do the work of securing the future.
This article is commentary by an independent contributor.
Robert R. Johnson is president and chief executive of the American College of Financial Services.