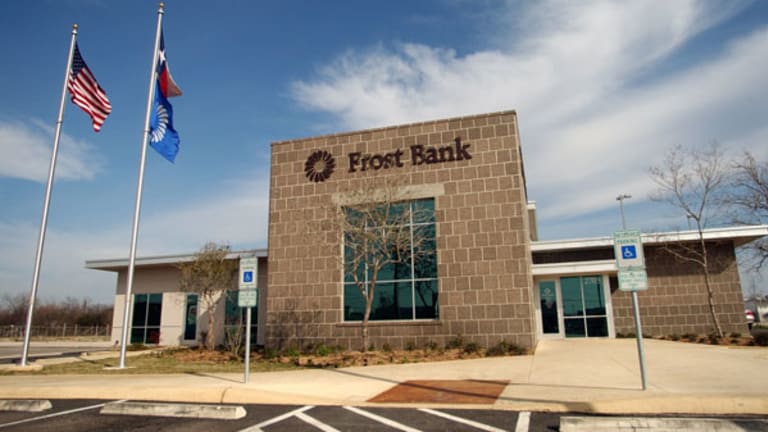 Cullen/Frost Has Earned Its Premium, and More
The stock has the highest forward P/E among components of the KBW Bank Index, justified by strong long-term earnings and growth prospects.
NEW YORK (
) -- On the surface, the stock of
Cullen/Frost Bankers
(CFR) - Get Report
looks expensive, but the San Antonio lender appears primed for strong loan growth in its home state of Texas.
Cullen/Frost's shares closed at $62.53 Monday. The shares trade for 15.7 times the consensus 2014 earnings estimate of $3.98, among analysts polled by
Thomson Reuters
. That is the highest forward price-to-earnings ratio among the 24 components of the
KBW Bank Index
(I:BKX)
.
That forward P/E ratio looks especially high when compared to the largest U.S. banks, but the premium is justified because of Cullen/Frost's amazingly consistent long-term track record for strong earnings, and because of the bank's growing commercial loan pipeline.
It isn't surprising to see the biggest U.S. banks trading at low P/E multiples, because of their long-term earnings volatility and because of the regulatory and political targets on their backs:
Strong Earnings, Even in Bad Times
Of course, all of the "big four" banks listed above have suffered from at least some earnings weakness in the aftermath of the credit crisis. According to data supplied by
Thomson Reuters Bank Insight
, JPMorgan had a marginal return on average assets (ROA) in 2008, at the height of the crisis, while Citigroup had negative ROA during 2008 and 2009. Bank of America had negative ROA in 2010, and has had marginal full-year earnings performance in 2011 and 2012, as it has worked through mortgage putback demands. The strongest performer among the big four in the wake of the crisis has been Wells Fargo, with its worst performance being in 2008, when its ROA was 0.38%.
Also see: Reject Goldman Exec Pay Plan: Glass Lewis >>
On average, the strongest earnings performer over the past 10 years among the 24 components has been
U.S. Bancorp
(USB) - Get Report
of Minneapolis, with a mean ROA of 1.68% and a mean return on common equity (ROCE) of 18.13%. U.S. Bancorp's shares closed at $33.50 Monday, trading for 10.3 times the consensus 2014 EPS estimate of $3.24.
USB's an obvious bargain among bank stocks
, especially when considering that it is still the strongest earner among the big players.
But if you are looking for consistently strong earnings with no surprises, Cullen/Frost is the ticket. The bank's mean 10-year ROA through 2012 was 1.37%, trailing only USB among components of the KBW Bank Index. Cullen/Frost's mean 10-year ROCE through 2012 was 14.08%, trailing USB and Wells Fargo, which had a mean 10-year ROCE of 15.45%.
But over the 10-year period, Cullen/Frost's minimum annual ROA was a solid 1.12%, with Commerce Bancshares of Kansas City, Mo., coming in second place, with a minimum ROA of 0.95%. Cullen/Frost's minimum annual ROCE over the 10-year period was 9.76%, in 2009. Only U.S. Bancorp had a higher minimum annual ROCE, of 10.13%, also in 2009.
Then again, at the end of 2009, Cullen/Frost had a tangible equity ratio of 8.56%, according to
Thomson Reuters Bank Insight
, compared to a much lower 5.91% for USB.
When factoring in the company's higher level of capital, Cullen/Frost's earnings ratios show that the company had very few negative surprises for its investors through the credit crisis.
Loan Growth Prospects
Cullen/Frost reported had $22.5 billion in total assets as of March 31. The company reported first-quarter net income of $55.2 million, or 91 cents a share, declining from $60.2 million, or 97 cents a share, in the fourth quarter, and $61.0 million, or 99 cents a share, during the first quarter of 2012.
The first-quarter results were lowered by about $6.2 million, for "the write-down of land that is part of the headquarters facility that was recently made available for sale." First-quarter earnings were also lowered by a $6 million provision for loan loss reserves, increasing from $4.1 million the previous quarter and $1.1 million a year earlier. The bank said it made a $15 million loan charge-off springing from a single customer relationship, and that its credit quality was otherwise strong.
Cullen/Frost reported a first-quarter ROA of 1.01% and an ROCE of 9.47%.
Like most banks in the prolonged low-rate environment, Cullen/Frost saw its net interest margin narrow, to 3.45% in the first quarter, from 3.48% the previous quarter and 3.72% a year earlier. However, the company's loan growth led to an increase in net interest income to $172.8 million in the first quarter, from $172.2 million in the first quarter and $164.7 million during the first quarter of 2012.
Also see: Trust and Custody Banks: Financial Winners >>
Cullen/Frost reported average loans of $9.1 billion during the first quarter, increasing 3% from the previous quarter and 13% from a year earlier.
During the company's earnings conference call on April 24, Cullen/Frost CEO Dick Evans said "in the first three months of this year, we saw the highest level of quarterly loan requests in our history," and that the bank's "active loan plan is now 30% higher than last quarter and 40% higher than a year ago."
When asked for details on the loan pipeline, Evans said "some of the drivers are energy, medical, automobiles," and added that "We are also seeing a pickup on the commercial real estate and owner-occupied, and multifamily continues to be a strong segment."
Also on April 24, Cullen/Frost raised its quarterly dividend on common shares to 50 cents from 48 cents, for a dividend yield of 3.20%, based on Monday's closing price.
Sentiment among sell-side analysts for Cullen/Frost is rather negative, in light of the stock's valuation. Among 18 analysts polled by
Thomson Reuters
, Oppenheimer analyst Terry McEvoy rates the shares "outperform," while 10 analysts have neutral ratings, six analysts rate the shares "underperform," and one analyst rates Cullen/Frost a "sell."
McEvoy's price target for Cullen/Frost is $68, and he estimates the company will earn $3.85 a share this year, with earnings growing to $4.05 a share in 2014.
Following a meeting with Evans and Cullen/Frost CFO Phil Green, McEvoy wrote in a note to clients late on Monday that "we feel that, after slowing a bit in 1Q13, loan growth is set to accelerate through the rest of '13. A consistent calling effort supported by higher advertising in recent years is working."
"Calling" refers to commercial loan officers' visits to current and prospective customers for the bank. Commercial lenders focus on adding full relationships with business clients, including deposits, as well as credit lines and loans. Cullen/Frost grew its average deposits by 14% over the 12-month period ended March 31.
Also see: Biggest Loser: My Fight Against Big Debt >>
McEvoy also pointed out the bank's location advantage. "Management is the first to admit the benefits of being located in Texas and that the state has been attracting out-of-state competitors for years (
BB&T
(BBT) - Get Report
is a recent example). In 2012, Texas job growth was 3.1% vs. the national average of 1.4%," he wrote.
"Building new relationships in the downturn should translate into accelerated loan and revenue growth once the economy shows more meaningful expansion," McEvoy wrote. He went on to compare Cullen/Frost's aggressive efforts to grow its customer base during and after the financial crisis to the company's previous success using the same strategy after a recession in the 80s.
For long-term investors looking for a well-managed, strong earnings performer with almost no downside surprises over a very long period, along with an attractive dividend that is very well supported by earnings, Cullen/Frost speaks for itself. The stock isn't cheap and it's not for day-traders. It isn't a recovery play. It is a long-term growth play, for investors who don't want to remain committed for many years.
data by
Interested in more on Cullen/Frost Bankers? See TheStreet Ratings' report card for this stock.
-- Written by Philip van Doorn in Jupiter, Fla.
>Contact by
.
Philip W. van Doorn is a member of TheStreet's banking and finance team, commenting on industry and regulatory trends. He previously served as the senior analyst for TheStreet.com Ratings, responsible for assigning financial strength ratings to banks and savings and loan institutions. Mr. van Doorn previously served as a loan operations officer at Riverside National Bank in Fort Pierce, Fla., and as a credit analyst at the Federal Home Loan Bank of New York, where he monitored banks in New York, New Jersey and Puerto Rico. Mr. van Doorn has additional experience in the mutual fund and computer software industries. He holds a bachelor of science in business administration from Long Island University.