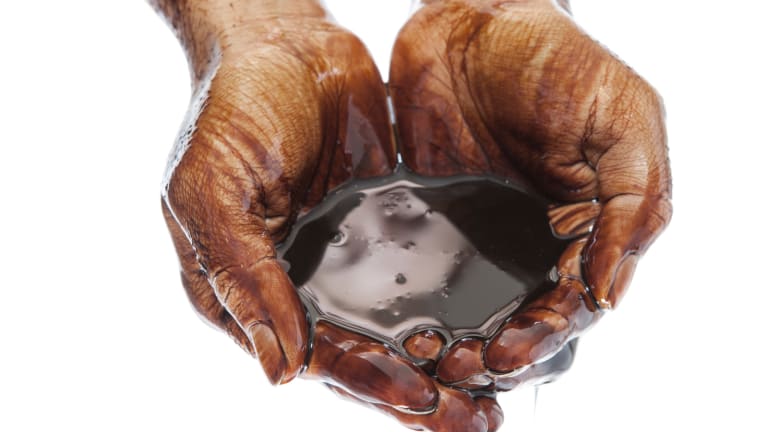 Crude Oil's Gains Could Turn Into 'Double-Dip' Price Recession
Lower European demand, growing OPEC production and overflowing oil stockpiles in China could lead to a second collapse in the price of oil later this year.
NEW YORK (TheStreet) -- Oil has gained lots of ground in the last weeks, breaching $60 a barrel twice. But a lot of the reasons for oil's rally could help to scuttle it in the coming months, bringing on a "double-dip" recession and prices falling back to earlier lows. 
Overproduction from U.S. shale oil companies was one of several factors that helped to collapse prices in the summer of 2014, and oil companies have been spending the better part of 2015 adjusting to the new economics of oil. Almost all of the U.S. shale producers have slashed budgets to the bone, cutting their capital expenditure budgets by as much as 70%.
With the cut in spending has come a nearly 50% drop in the number of working oil rigs here. In the latest (May 8) report from Baker Hughes (BHI) , the U.S. is down to 692 working rigs, down from 1,372 rigs in November of 2014.
Dropping rigs have not led immediately to a drop in production, however. Most projections are for a steady although less robust growth in U.S. shale oil production for 2015. But anticipation of an inevitable drop in supply as well as money managers seeking perceived undervalued commodities has helped to drive oil prices from the low $40s to over $60 a barrel.
Although production from shale doesn't stop or start on a dime, it is the most sensitive source of oil supply to price and can restart in the fastest time. Many of the wells that have been recently shut need only remove a tarp and supply a crew to begin restoring flow. Capital expense budgets are only projections on paper that oil companies can change at any time according to their whim and that of the markets.
Indeed EOG Resources (EOG) - Get EOG Resources, Inc. Report and Whiting Petroleum (WLL) - Get Whiting Petroleum Corporation Report have indicated that they will restore significant shut down production should oil prices stabilize above $65, although dozens of other shale players still cannot make the economics work at that still relatively low oil price.
But restarted production from some shale players, combined with the dropping demand numbers here and in Europe, the growing production from OPEC and the Saudis and the overflowing stockpiles of oil in China could lead to a second collapse in the price of oil later this year. That means oil can again reach down towards $40 a barrel.
While oil companies struggle to survive low oil prices, their best defense remains in pumping as much oil as they can whenever it is profitable. But that strategy also makes a truly sustainable rally in the price of oil more difficult. We've still got some very interesting quarters ahead of us to see how this "shale bust" will work out.
I talk more about the possibilities of a double dip in oil prices with Jill Malandrino of Options Action in the video above.
This article is commentary by an independent contributor. At the time of publication, the author held a position in EOG.