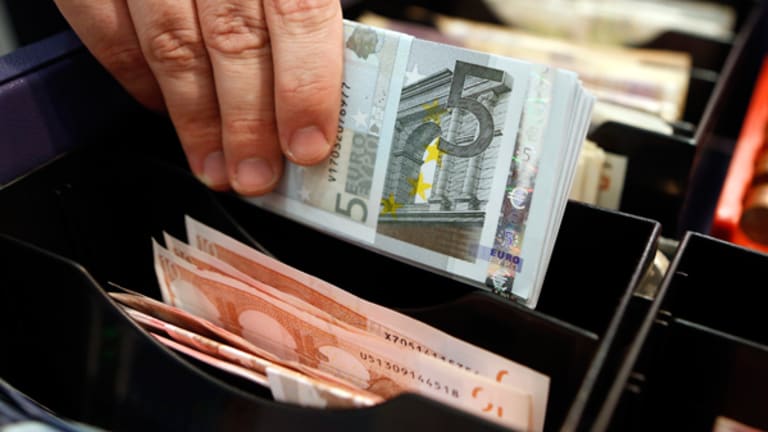 Credit Opportunities in Europe, Says Hedge Funder Louis Gargour
Louis Gargour talks about LNG Capital, his hedge fund firm, and about current opportunities within the European credit market.
By Benedicte Gravrand
GENEVA (TheStreet) -- Louis Gargour is a Wall Street veteran who has worked for Salomon Brothers, which was later absorbed by Citigroup  (C) - Get Citigroup Inc. Report and Morgan Stanley (MS) - Get Morgan Stanley Report, JP Morgan (JPM) - Get JPMorgan Chase & Co. Report and Goldman Sachs (GS) - Get Goldman Sachs Group, Inc. Report. His background is mainly in European credit and trading sales.
Gargour started Taurus Investment Management, Europe's first long/short European credit hedge fund, in 2001. Taurus later merged with what was then a little-known London-based hedge fund shop called RAB Capital. This small shop grew to $7 billion in assets under management in 2007 -- although that is now down to a few hundred million after huge losses during the financial crisis. By then, Gargour was out the door. In 2006 he left RAB to start his own London-based hedge fund shop, LNG Capital.
"We started LNG Capital with one principal fund, a European credit long short," he recently told Matthias Knab on Opalesque TV. "That was the skill set we brought from RAB Capital or from running fixed income portfolios. We recently added a European credit long-only strategy and a foreign exchange systematic strategy. But the entire strategy is under our umbrella; all benefit from risk management and oversight by risk committees, very strong operational support and distribution."
LNG was partly seeded by its institutional partners, Atlantic Asset Management and Montage Alternative Advisors, through a joint venture with Palmer Square Capital. Investment beyond that has come from family offices, private banks and funds of funds.
This quartile, the LNG Europa Credit Fund, the flagship fund, has just seen "the top quartile of performance during its entire life." Its net year-to-date performance is up 15.2% (as of Oct. 31), following a 2012 performance of 19.5% net growth.
Opportunities in European Credit
According to Gargour, opportunities in European credit are driven by different points in the macro economic cycle. After 2008, he explains, the U.S. stimulated its economy by injecting $350 million in the banking sector, bailing out Citigroup, Fannie Mae (FNMA) , Freddie Mac (FMCC) and AIG (AIG) - Get American International Group, Inc. Report. Europe tried the same stimulus and injected 1 trillion euros in the banking system. That was followed by a bailout of Ireland, Portugal and Cyprus, and a partial bailout in Spain.

"In other words, the systemic risk inherent in Europe has been mitigated," he notes. "But the timing of that mitigation is about two years behind the U.S."
Now we are seeing corporate deleveraging, a benign credit environment and low default rates. There are also dislocations in the European periphery that have created a series of abnormalities, such as undervalued credit and companies.
"You have a variety of factors that are driving European credits spreads tighter or keeping them where they are now, which gives us great opportunity to make good returns," he adds.
Liquidity in the credit markets is one of the most important barometers that LNG monitors, he says. The team maintains a very liquid portfolio, and is able to sell 75% of the portfolio in one week and 90% in one month. They focus on a sweet spot of issuers that remain liquid and give equity-like returns.
"When we first began running strategies in 2001, the capacity constraint was about $500 to $750 million. Given the evolution of the European credit market it is now a quarter of the U.S. market's size. The number of dealers and market makers has increased, but more importantly credit default swaps have arrived, the number of issuers and the number of issues by an issuer have increased, giving us the ability to hedge, to long and short different parts of the capital structure. We believe we can run approximately a billion dollars in this strategy with no frictional issues whatsoever."
Quick and Nimble Investment Process
LNG's investment philosophy, he says, is primarily to preserve capital, understand and exploit market directionality and find idiosyncratic opportunities. The investment process starts with a top down approach, evaluating macro economic factors. Then allocations are made to different sectors, either long or short. Then the investment team conducts a deep analysis of each company. Risk management is done through the universal risk model, which "breaks down risk into the buckets that are most likely to be able to be measured and to be able to be hedgeable."

"The four risks that we see in any portfolio of ours are currency risk, which we hedge out 100% up; duration risk; what I would call idiosyncratic risk; volatility risk; and finally equity risk, i.e., the risk that the portfolio is dragged along with the markets, the beta or the delta adjusted risk in the portfolio. In bond land, different ratings for different bonds mean that those bonds have different risk, i.e., AAA bonds will have less risk than a single A and less risk and so forth than a triple B," he explains.
The LNG team also runs a daily stress test on the portfolio, based on "what if?" scenarios.
The process is very nimble and very quick to react to market directionality, Gargour adds. For example, from October to September, the manager switched the portfolio around by 15% or 20% in order to adapt to evolving market conditions.
Gargour is experienced in his sector, as he has been looking at European credit markets since they started in 1996. But he is not alone. His team has been working together for more than 11 years. "The joke is that many couples don't stay together that long," he quips.
Watch the full interview on Opalesque TV.
At the time of publication, the author held no position in any of the stocks mentioned.
This article was written by an independent contributor, separate from TheStreet's regular news coverage.
Opalesque was formed in 2001 to provide professional news services to participants in the alternative investment sector. Since inception, Opalesque has been providing premium online information services related to the hedge fund and investment industries. The Opalesque publication
is the only daily hedge fund news service read by the elite hedge fund managers themselves.
Opalesque is led by Matthias Knab, an internationally recognized expert on hedge funds and alternatives. Mr. Knab has frequently served as chairman of hedge fund conferences New York, Greenwich, Miami, London, Monaco, Tokyo, Shanghai, Hong Kong, Bahamas, Stockholm and Dubai. In addition, he has spoken at or moderated panels at hedge fund events or Roundtables in Chicago, San Francisco, Scottsdale, Denver, Toronto, Geneva, Zurich, Frankfurt, Cannes, Singapore, Sydney, Melbourne, Cape Town, Madrid, Moscow, Sao Paulo, Rio de Janeiro, Cayman Islands, Bermuda, Auckland, Abu Dhabi and Bombay, and lectured at numerous universities on the subjects of hedge funds and the state of the global alternative asset management industry.