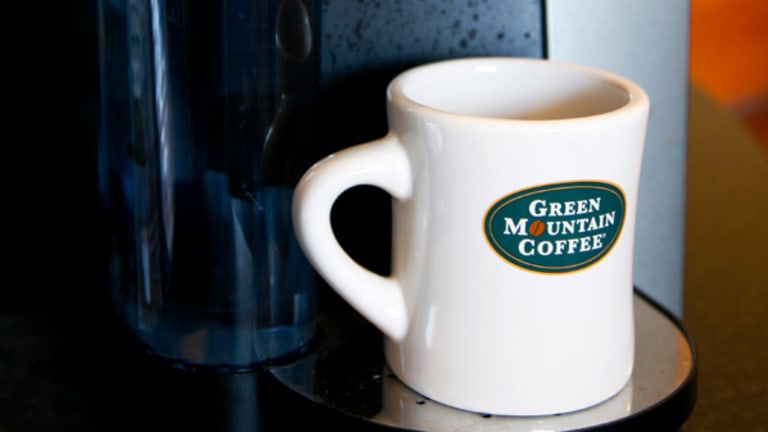 Cramer vs. Greenberg: The Battle of Green Mountain
In this excerpt from Thursday morning's Columnist Conversation on RealMoney, Jim Cramer and Herb Greenberg battled over investing in GMCR.
Editor's Note: Below is a discussion between Jim Cramer and Herb Greenberg on RealMoney's Columnist's Conversation early Thursday morning regarding issues related to investing in Green Mountain's (GMCR) stock.
GMCR
By Jim Cramer
Nov 21, 2013 6:46 AM EST
Good: when a company announces a big dividend, a huge buyback and better than expected earnings with good penetration and new products.
Bad: when a company slashes a dividend, or eliminates a buyback, misses earnings and has no innovation.
So Herb, do I have it backward? Is bad actually good and good actually bad?
Position: none
___________________________
Some Kool-Aid With that K-Cup, Jim?
By Herb Greenberg
Nov 21, 2013 7:25 AM EST
You're assuming there is a one-size fits all. When new divvy and big buyback are announced at a company where growth is slowing I'd say you've a company pulling out all stops to stem a shareholder revolt.
Take a look at growth: It's going the wrong direction. Margins? Sequentially (which counts in this situation) off a cliff -- and that's WITH the aid of lower coffee prices and a laundry list of one-time (or, let's say, not sustainably to-be-counted-on) items.
Guidance? Here's Stifel's Mark Astrachan, who rates the stock a sell: "The company lowered expectations for F2014 sales growth (now high single-digit growth, was low double-digit) and EPS growth (now 11%-14%, was high-end of mid-teens), and guided F1Q14 sales growth to be below consensus (low-to-mid single digit, consensus 7%-8%). We believe new guidance implies modest over-shipment relative to demand in F4Q13 and slowing K-Cup sales growth, largely a result of share gains for unlicensed brands and worsening price/mix." (You would think he was on a different call and covering a different company than the other analysts on the call.)
Finally, there's the introduction of a new closed system, dubbed Keurig 2.0, which will only used licensed K-Cups. Go back and read a transcript of the call and even bullish analysts are wondering whether this will cause consumer push-back and marketplace confusion. One even wondered whether whether there was a chance of a legal challenge.
This will effectively hold consumers, who can currently shop for the lowest-priced (albeit likely unlicensed K-Cup) hostage to higher prices. With the new machines, Green Mountain is effectively cutting off competition. I know, I know -- a monopoly is good, but marketplace/consumer confusion isn't.
Why, in fact, would any consumer switch from one machine to another that will limit choices unless either the coffee will wind up being cheaper or the machine will make a better brew? My guess is neither will be the case, not that Keurig customers (yes, including you, Jim) generally care about the later.
This will likely go down as one of the greatest marketing blunders since, well, Green Mountain's rollout of the Vue, which supposedly would do what the Keurig 2.0 is doing. You may have noticed: Even the company concedes the Vue was a bust, and is writing off all remaining inventory.
Come to think of it, that's why they're probably calling this product Keurig 2.0, when in reality it is Vue 2.0. In the meantime, Jim, go ahead and drink the coffee. Or is that Kool Aid? (Given the way the company is going, I'm sure they'll be offering a K-Cup for that, too!)
Position: I own a Pasquini
_____________________________

GMCR-Herb
By Jim Cramer
Nov 21, 2013 7:38 AM EST
Total battleground ...but, and this is the issue I often face, if you are right what MORON is buying the stock up here? Did they just fool all of the people all of the time? You make it sound like Keurig 3.0 is right now on the Voxeljet drawing board!
Position: none
______________________________
Jim - GMCR
By Herb Greenberg
Nov 21, 2013 8:00 AM EST
Let me first stop laughing about Keurig 3.0 and Voxeljet. Great line!
This is a story over substance. Earnings quality stinks. There are analysts who believe K-Cup volume numbers make no sense in the wake of IRI numbers.
But as we've learned: As long as all analysts cheerlead, especially in this market, stocks go higher until the company comes out and gives up the ghost.
Green Mountain already did that once, but the stock rebounded -- even in the face of sliding sales. if Keurig 2.0 does a repeat of Vue 1.0 it's likely game over. Between here and there Wall Street will likely do what it does best: Buy into the dream.
Now the question is: Will consumers? Will they really give up their Keurig 1.0s if they're working to buy the 2.0? Will they give up their choice to walk down the coffee aisle and enjoy the price competition? Will coffee companies buy in for fear of being left behind?
Sounds like a huge gamble/risk to me. This is NOT Apple.
Position: None
Herb Greenberg, editor of Herb Greenberg's Reality Check, is a contributor to CNBC. He does not own shares, short or trade shares in an individual corporate security.