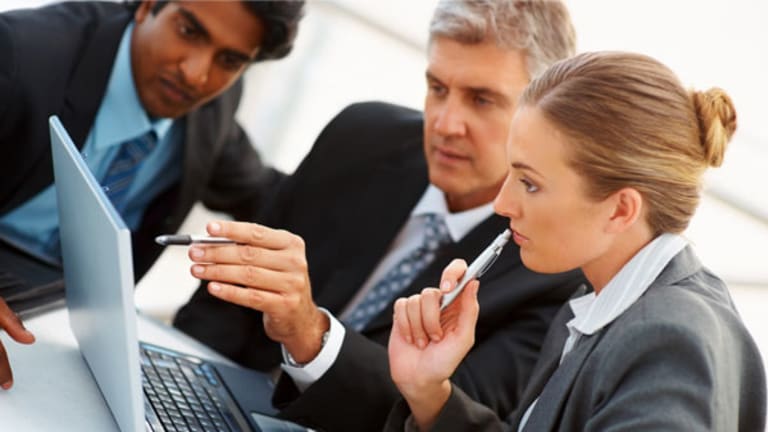 Cramer: The President's Blinders Are Astounding
President Obama keeps yammering the party line and ignoring the real state of business.
This column appeared earlier Wednesday on RealMoney. Click here for a free trial, and enjoy incisive commentary all day, every day.
When Joe Biden, the vice president of the United States, said yesterday that the "Recovery Act is working to rescue the economy," I wanted to scream. This kind of statement is precisely what makes President Obama invisible. He thinks the stimulus worked. He thinks nothing else is needed. He can only think, "Stimulus or deficit reduction." He can't think, "OK, housing's bad, maybe we need to talk up homeownership and create some jobs to make the banks want to lend to potential buyers who want the low mortgages."
People say he can't help. People say it is not his job. Well, whose job is it? Tim Geithner's? He has to help the president, but nobody voted for Geithner. Most Americans have no idea who he is or how great he is. They know we have a president, and they know the president is in a dream world where he has to stay on message that the stimulus works. If he deviates, he thinks the Democrats will lose in November.
>>Obama's War on Bankers His Greatest Mistake
Of course, it may be precisely
because
he thinks it worked that they lose. The housing situation and the stock market are all about jobs and fear. We are fleeing from the good and the bad stocks alike, the companies with dividends that are two and three times better than risk-free Treasuries that offer no upside at all.
I cringe at the hands-off approach to the people who really run the economy, guys like Ivan Seidenberg at
Verizon
(VZ) - Get Verizon Communications Inc. Report
or Bob Toll at
Toll
(TOL) - Get Toll Brothers Inc. Report
, or the people who manage
Caterpillar
(CAT) - Get Caterpillar Inc. Report
and
Deere
(DE) - Get Deere & Company Report
and
Ingersoll-Rand
(IR) - Get Ingersoll Rand Inc. Report
and
Parker-Hannifin
(PH) - Get Parker-Hannifin Corporation Report
. Sit down with them, Mr. President. Don't lecture them about their pay -- ask them what they need to hire, to bring back the offshore cash. Ask them how you can help.
Or just keep saying everything's fine. And kill the jobs and stock market. (Boy do I wish this guy worked at companies in private enterprise.)
It would be a real eye-opener, and it would let him know that Biden is wrong -- and Biden is, well, Obama. Any more of this "Soak the rich; don't worry about the stock market" sub-rosa rationale for this moment and I think it'll be safe to say what we have is an undeclared war against equities. Wouldn't shock me. Do Obama or Biden impress you as people who even follow the market? Hardly.
I just wish they followed something other than their party line about how successful the $800 billion stimulus was. Maybe that would be enough.
Random musings
: Dan Dicker is out with
some painful oil observations this morning.
At the time of publication, Cramer had no positions in the stocks mentioned.
Jim Cramer, co-founder and chairman of TheStreet.com, writes daily market commentary for TheStreet.com's RealMoney and runs the charitable trust portfolio,
. He also participates in video segments on TheStreet.com TV and serves as host of CNBC's "Mad Money" television program.
Mr. Cramer graduated magna cum laude from Harvard College, where he was president of The Harvard Crimson. He worked as a journalist at the Tallahassee Democrat and the Los Angeles Herald Examiner, covering everything from sports to homicide before moving to New York to help start American Lawyer magazine. After a three-year stint, Mr. Cramer entered Harvard Law School and received his J.D. in 1984. Instead of practicing law, however, he joined Goldman Sachs, where he worked in sales and trading. In 1987, he left Goldman to start his own hedge fund. While he worked at his fund, Mr. Cramer helped start Smart Money for Dow Jones and then, in 1996, he co-founded TheStreet.com, of which he is chairman and where he has served as a columnist and contributor since. In 2000, Mr. Cramer retired from active money management to embrace media full time, including radio and television.
Mr. Cramer is the author of "
Confessions of a Street Addict
," "You Got Screwed," "Jim Cramer's Real Money," "Jim Cramer's Mad Money," "Jim Cramer's Stay Mad for Life" and, most recently, "Jim Cramer's Getting Back to Even." He has written for Time magazine and New York magazine and has been featured on CBS' 60 Minutes, NBC's Nightly News with Brian Williams, Meet the Press, Today, The Tonight Show, Late Night and MSNBC's Morning Joe.