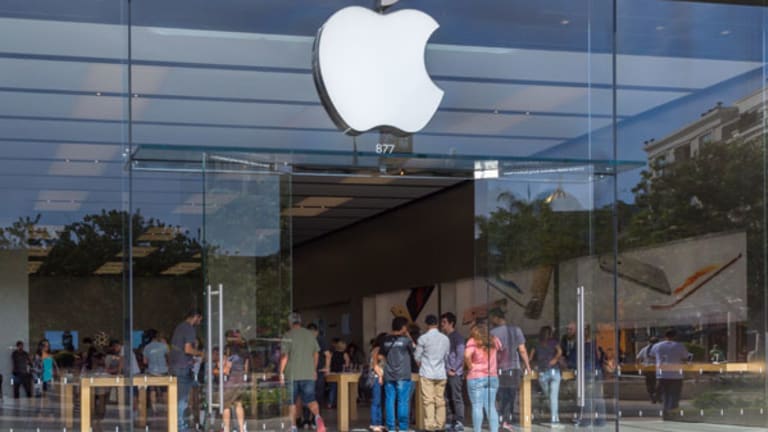 Cramer Says Chatter of Apple 'Super Cycle' Is Overblown
Stop it with all the 'super cycle' talk on Apple, says Jim Cramer.
Stop it with all the 'super cycle' talk on Apple, says Jim Cramer.
Stop it with all the "super cycle" talk on Apple (AAPL) - Get Report , says Jim Cramer.
TheStreet's co-founder offered a giant eye-roll in reaction to a research note from Cowen analyst Timothy Arcuri this week predicting that an iPhone upgrade "super cycle" is on the horizon. Arcuri reiterated his outperform rating on Apple shares and $125 price target, writing the company is a "powder keg" ready to explode thanks to a lengthened upgrade cycle that he believes will translate to a rush in sales not in 2016 but in 2017. He says that the percentage of iPhones in use that are more than two years old is set to jump from about 33% today to 43% over the next four to five quarters, creating the potential for a major refresh cycle.
A super cycle refers to a large fluctuation in the expected demand of a particular commodity, in this case the popular smart-phone, which has recently seen demand wain recently in comparison to years passed.
As for Cramer, he is unconvinced.
"We had a coal super-cycle, we had a fracking sand super-cycle. I wish Cowan hadn't used that," he said while at the New York Stock Exchange Tuesday.
Cramer owns Apple in his Action Alerts PLUS Charitable Trust Portfolio and has quite an affinity for the company and its stock. However, he thinks all this "super" talk is over the top.
"I like Apple, the [iPhone 7] has to be big for me to stay as much as I like Apple. And what they said is 2017's going to be big. But when you talk about super cycle, that is too juiced. I'm not looking for a super cycle. And if people get too excited about Apple, that's going to hurt the story," he said.
Apple is expected to release its iPhone 7 in September, and the anticipation surrounding the launch is growing -- especially considering it has been two years since it unveiled the iPhone 6 in 2014. 
"We are going to give you thinks that you can't live without that you just don't know you need today," Cook said of the future of Apple and the iPhone in a recent interview with Cramer on CNBC. "That has always been the objective of Apple. To do things that really enrich people's lives. That you look back on and you wonder how did I live without this."
Apple shares were relatively flat Tuesday, trading up 0.21% to $92.23 approaching midday trading.