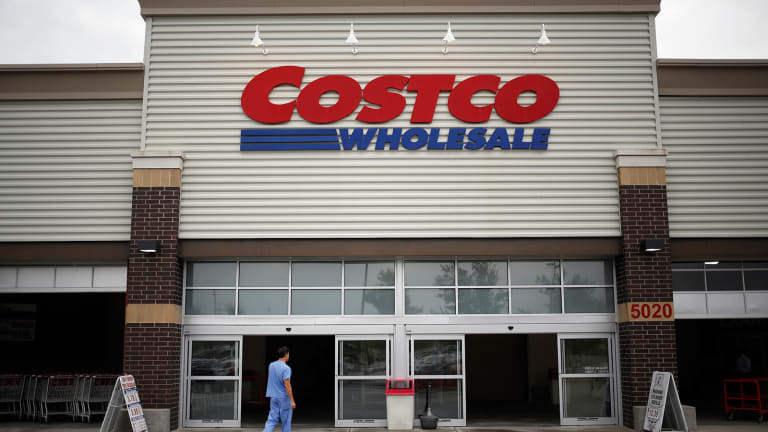 Cramer, Mohr -- New Costco Charts Show Why It's Winning the Discount War
Jim Cramer is bullish on Costco and Visa, which will soon be launching a new credit card partnership. Do the technical charts match Cramer's fundamental views of the stock?
Editor's note: This article was originally published on Action Alerts PLUSat 3:55 p.m. ET, March 28.
Over the weekend, we received an encouraging update about the June launch of Costco Wholesale's (COST) new loyalty-card program with Visa (V) and Citigroup (C) . Last year, Costco announced it was ending its 16-year partnership with American Express (AXP) , in which only AmEx credit cards were accepted at the warehouse club, after striking a deal for a new card that would be issued by Citi and processed on the Visa network.
The new Costco Anywhere Visa Card -- which will be mailed to current cardholders in May and become active on June 20 -- not only comes at a lower fee to Costco (expected to benefit annual earnings by 25 cents a share), but also offers perks that are significantly greater than legacy AmEx (as illustrated in Figure 1 below), which in turn should incentivize spending across all Costco locations.
Exclusive Look Inside:
You see Jim Cramer on TV. Now, see where he invests his money and why Costco and Visa are core holdings of his multi-million dollar portfolio.
Want to be alerted before Jim Cramer buys or sells COST and V? Learn more now.
The change will be seamless for current members as any rewards earned on the Amex-Costco card will be automatically transferred over to the new card. In addition, the month-long lag between when members receive the card and when the card becomes active should be enough time to avoid any significant hiccups in the changeover process.
In our view, the deal creates a mutually beneficial relationship for Costco, its members and Visa alike. We remain bullish on both COST and V for the long term and on Monday raised our price target on COST to $175 from $170 to reflect higher comp expectations (28 times 2017 EPS of $6.25) driven by enhanced loyalty. Meanwhile, on Tuesday we added to our position in Visa, given progress the company has made in its expansion into China.
Figure 1: Costco Amex Card (old) vs. Costco Anywhere Visa Card (new):
While Action Alerts PLUS analyzes stock fundamentals, it never hurts to look at the charts of stocks. Figures 2 and 3 provide analysis of COST from Real Money's technical analyst Bruce Kamich:
Figure 2: Costco
Figure 3: Visa
At the time of publication, Jim Cramer's charitable trust Action Alerts PLUS held positions in COST and V.