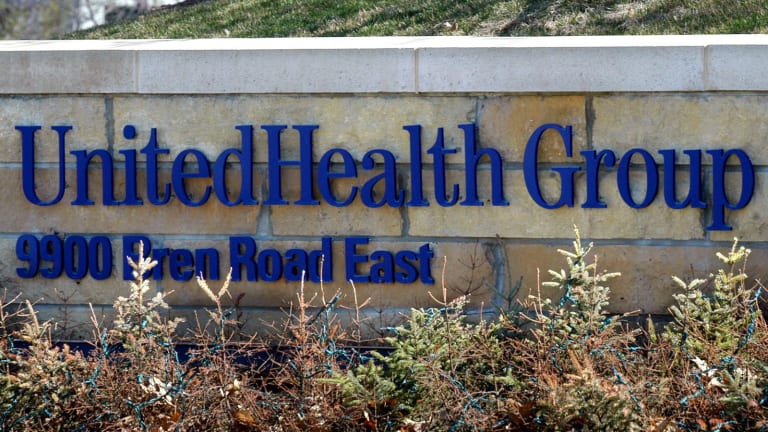 Jim Cramer, founder of TheStreet and Action Alerts PLUS portfolio manager, is impressed with the recent fortunes of UnitedHealth Group (UNH) - Get UnitedHealth Group Incorporated Report after the company delivered first-quarter revenues that grew by 25% from the same time last year.
Cramer said the Hopkins, Minn.-based health insurance provider had a "monster quarter," in which the company posted $44.5 billion in revenue for the three months ending March 31, an increase from $35.8 billion in the first quarter 2015.
UnitedHealth's stock traded at $129.60 in midday Tuesday trading, down slightly from its $130.09 price when markets opened but higher than Monday's close of $127.81.
CEO Stephen Hemsley indicated on Tuesday's earnings the company would pull out of most of the marketplaces established under the Affordable Care Act by 2017, which has benefited UnitedHealth's Optum business, which includes units that provide drug prescriptions and healthcare technology.
"Now United has this Optum business that is just-I cannot believe how on fire it is," Cramer said. "This is an Rx business. The takeaway is it's so good I want you to look at Walgreens (WBA) - Get Walgreens Boots Alliance Inc Report, which is [Optum's] partner."
Cramer said Walgreens, which is in his AAP Portfolio, will go up regardless of whether it closes the $9.4 billion acquisition of RiteAid (RAD) - Get Rite Aid Corporation Report.
Optum posted revenues of $19.7 billion, an increase of over half from the same period last year.
Walgreens stock traded Tuesday midday at $81.37, up slightly from its open $81.27 price when markets opened Tuesday.