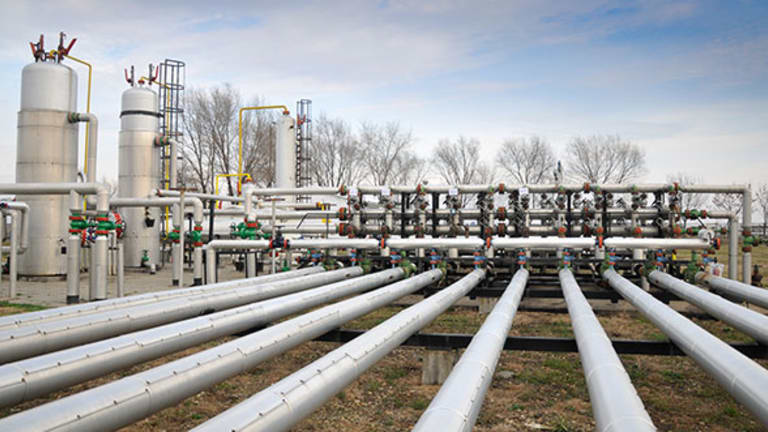 Cramer Likes High-Dividend Energy MLPs -- Should You?
Jim Cramer says the fundamentals aren't what's keeping the energy MLPs down. For these five, their charts are telling bullish stories too.
BALTIMORE (Stockpickr) -- One of the worst corners of the market to own this year has been master limited partnerships, or MLPs. The S&P MLP Index has shed nearly 27% on a price basis since this time last summer, making the broad market look like a breakneck rally by comparison.
A lot of that awful performance has to do with what MLPs typically do. The master limited partnership structure is a big draw for energy companies, and it basically guarantees big dividend yields. With energy commodity prices plummeting and the risk of higher interest rates on the horizon, it's not surprising that MLPs have been some of the most unwanted stocks on the market.
Jim Cramer addressed the MLP bloodbath yesterday on RealMoney, positing that it is the result of a "big liquidation" from a single fund that owns the energy MLPs. "These stocks are being liquidated and it isn't because of their fundamentals," Cramer wrote. "It's because some unnamed moronic fund is out there flailing, dangerous, selling everything and when he's through the bear market in them will be done."
Cramer went on to explain:
What makes me so certain that this is all one big liquidation? Well how about Williams Partners (WPZ) ? It just this week boosted its quarterly distribution from to 85 cents from 59 cents, a staggering amount. If it were going to cut its dividend, why would it just raise it, giving the stock, which trades at $45, a 7.5% yield.

How about the fact that right now Williams Companies (WMB) - Get Williams Companies, Inc. Report is pretty much in an auction mode having received a very real stock bid from Energy Transfer Equity (ETE) that at one point was worth $64, one it rejected for being way too low. WMB is now at $53 and is still very much in play.

How about Energy Transfer Partners (ETP) , which just got new assets that will enable it to sharply increase its already huge distribution, one that has the stock at $49 yield 8%? How about MPLX (MPLX) - Get MPLX LP Report making a $78 bid for MarkWest Energy Partners (MWE) , one of the best pipes in the Northeast and the target is at $62 and yields almost 6%?

These are all signs not of a problem in the industry. Far from it. The lower some of these commodity prices go, the more pipe we need, not less, as they supplant other fuels like coal.
Cramer said that we don't know when this "unnatural selling" will end, but that if "you can own something for more than a few days of this fool's pain, this, right now, is the time to buy these stocks."
Indeed, the unchecked selloff in the MLP space has gotten some value investors excited. At a time when the broad market is at all-time highs and bargains are hard to come by, MLPs do look pretty cheap by most value metrics.
Does that mean you should go out and start buying willy-nilly? Of course not. But as I write, a handful of high-yielding energy MLPs are actually showing some bullish technical setups. To find them, we're turning to the charts.
First, a little on the technical toolbox we're using here. Technical analysis is a study of the market itself. Since the market is ultimately the only mechanism that determines a stock's price, technical analysis is a valuable tool even in the roughest of trading conditions. Technical charts are used every day by proprietary trading floors, Wall Street's biggest financial firms, and individual investors to get an edge on the market. And research shows that skilled technical traders can bank gains as much as 90% of the time.
Here's a look at five MLPs that could be headed higher this summer.


Calumet Specialty Products Partners
Up first on the list is Calumet Specialty Products Partners (CLMT) - Get Calumet Specialty Products Partners, L.P. Report, a $2 billion MLP that specializes in processing crude oil into a handful of products. Calumet has been a standout in the energy sector in 2015. While most energy stocks are deep in the red since the calendar flipped to January, this small-cap stock has actually rallied almost 19%. Factor in this stock's huge dividend yield, and that year-to-date performance rockets to 25%.
Don't worry if you've missed the move in Calumet. Shares look like they have higher to go from here.
Calumet Specialty Products Partners is currently forming an ascending triangle pattern, a bullish continuation setup that's formed by horizontal resistance up above shares at $28 and uptrending support to the downside. Basically, as Calumet bounces in between those two technically important price levels, it's been getting squeezed closer and closer to a breakout above our $28 level. When that happens, we've got our buy signal.
Relative strength (not to be confused with RSI) adds some extra confidence to the Calumet trade right now. That's because our relative strength line has been in an uptrend going all the way back to December, an indication that Calumet is consistently outperforming the rest of the market long-term, not just the energy sector. As long as that relative strength uptrend remains intact, look for this stock's outperformance to continue.
Keep a close eye on that $28 price ceiling this month.
Northern Tier Energy
We're seeing pretty much the exact same price setup in shares of another small-cap energy MLP: Northern Tier Energy (NTI) . Like Calumet, Northern Tier Energy has been forming an ascending triangle pattern in 2015, in this case with a breakout level at $25.50. After a failed attempt to break through that level earlier this month, Northern Tier Energy looks like it's giving $25.50 a second try this week.
Why all of that significance at that $25.50 level? It all comes down to buyers and sellers. Price patterns, such as this ascending triangle setup in Northern Tier Energy, are a good quick way to identify what's going on in the price action, but they're not the actual reason a stock is tradable. Instead, the "why" comes down to basic supply and demand for Northern Tier Energy's stock.
The $25.50 resistance level is a price where there has been an excess of supply of shares; in other words, it's a spot where sellers have previously been more eager to step in and take gains than buyers have been to buy. That's what makes a breakout above $25.50 so significant. The move means that buyers are finally strong enough to absorb all of the excess supply above that price level.
Like with any breakout trade, it's important to be reactionary here, only more so since shares failed to hold their last push above $25.50. Don't buy Northern Tier Energy until buyers are able to shove this stock back above this month's previous highs.
Energy Transfer Equity 
Moving up the MLP food chain brings us to pipeline owner Energy Transfer Equity (ETE) . This $32 billion midstream energy firm currently yields 3.3%, and shares have managed to actually move another 3.3% higher since the start of January. That 3.3% return might not sound like much, but get gets a whole lot more interesting when you look at the context on Energy Transfer Equity's chart.
The good news is that you don't need to be an expert technical trader to figure this one out. The price setup is about as simple as they get.
Long-term, Energy Transfer Equity has been bouncing its way higher in an uptrending channel since last fall. That uptrend has been corralled by a pair of parallel trend lines that have identified the high-probability range for shares of Energy Transfer Equity to remain stuck within, so as shares bounce of the bottom of that channel for the fourth time now, it makes sense to buy the next bounce higher. A move back up to the top of the channel would come with a target price of $78 for Energy Transfer Equity right now.
Momentum, measured by the 14-day RSI, adds some extra upside confidence to the setup in Energy Transfer Equity this month. That's because momentum is currently in its support range, the same level that's brought the last three bounces in Energy Transfer Equity as well. It makes sense to buy the next leg higher in this stock.
Shell Midstream Partners
Recent midstream IPO Shell Midstream Partners (SHLX) - Get Shell Midstream Partners LP Report may be on the low end of distribution yields (right now, this MLP yields just shy of 2%), but that low payout may actually be working in this stock's favor. After all, since shares went public at the end of October, Shell Midstream has rallied more than 24%, outperforming former parent Royal Dutch Shell's (RDS.A)  double-digit decline by a wide margin.
And it's not hard to see why. Like Energy Transfer Equity, Shell Midstream is another textbook uptrending channel trade. So as shares come down to test trend line support for the fifth time since October, it makes sense to buy the next bounce higher.
Waiting for that bounce is important for two key reasons: It's the spot where shares have the most room to move up before they hit resistance, and it's the spot where the risk is the least (because shares have the least room to move lower before the channel breaks, and you know you're wrong). Remember, all trend lines do eventually break, but by actually waiting for a bounce to happen first, you're ensuring Shell Midstream can actually still catch a bid along that line before you put your money on shares.
OCI Partners
Last up is gas processor and chemical producer OCI Partners (OCIP) . OCI is another small-cap MLP that's been a strong performer this year. Since the first trading session of January, shares are up approximately 7%. And shares still currently yield 7.7% at current price levels. So how do you trade it?
OCI Partners has been forming a rounding bottom pattern since May, a long-term bullish price setup that looks just like it sounds. The rounding bottom indicates a gradual transition in control from sellers to buyers, and if OCI Partners can confirm a breakout above $19, we'll have a signal that buyers have retaken control of shares again. Typically, the rounding bottom pattern comes at the bottom of a downtrend, not the top of a short-term rally, but that doesn't change the trading implications if OCI Partners can take out $19 resistance.
Once the $19 breakout happens, I'd recommend parking a protective stop at the 50-day moving average.
This article is commentary by an independent contributor. At the time of publication, the author held no positions in the stocks mentioned.