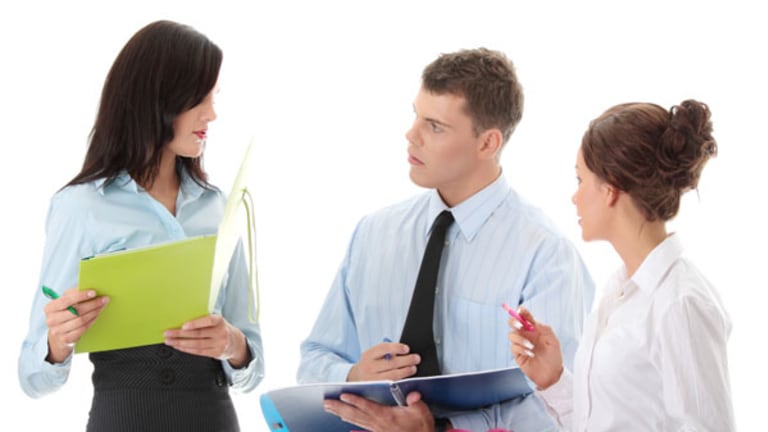 Cramer: Lehman Case 'Is a Travesty of Justice'
It is pathetic that the SEC doesn't have the gumption or the horsepower to pursue the Lehman case.
NEW YORK (Real Money) -- Can you believe that the SEC worked for three years on a probe of Lehman Brothers and decided there was nothing there? No wrongdoing?
Is it really possible to hide all of that debt, lie about it consistently and not have that be illegal? Is it possible that the main thing Lehman did wrong was simply have the market go against it and we can't prosecute people for being stupid?
When I read this it reminded me a lot of the guys at
AIG
(AIG) - Get American International Group, Inc. Report
, who also got away with blowing up the western world and didn't tell the truth about their positions or their leverage.
I like prosecutors. I love the U.S. Attorney for the Southern District. That guy sees wrongdoing and he figures out how to punish people.
The SEC sees wrongdoing and it shrugs.
Rev Shark: Not Time to Be Trusting>>
The other day when we were
how
Morgan Stanley
(MS) - Get Morgan Stanley Report
claimed that it was doing business as usual -- informing the big clients on the buy side to be careful because numbers
Facebook
(FB) - Get Meta Platforms Inc. Class A Report
and letting the big guys sell more on the deal because of numbers coming down -- I had to marvel how people quickly defended that by saying the law says it is OK.
I got bad news for anyone who knows how to deal with the legal system. It isn't up to the professors or the people who work at these banks to say it is OK. It is up to the prosecution.
We've got a ton of laws on the books that could easily allow a civil case to be brought and some that could allow a criminal case to be brought.
But the prosecutor has to be zealous. Not overzealous, but zealous and also enterprising. He or she has to start from a presumption that someone is peddling merchandise to one group on a caveat emptor basis, but is telling the other group that you will need a warranty because the merchandise is damaged.
Imagine you go into a auto showroom for a BMW 750. You are a regular customer. You want to buy one. The salesperson tells you "listen, that car's not as good as you think. In fact it might be a lemon.We're dumping them on people who aren't good clients and warning our good ones."
Imagine I have you on tape saying that to me.
Now, the next customer is some buffoon who believes that the 750's a good car. He comes in and the dealer's salesperson says "none better, top-rated. Probably have to pay a premium to sticker and it is worth it."
It is entirely possible that someone from BMW is willing to say that's perfectly legal. It is entirely possible that it might actually be legal. But I bet an enterprising U.S. Justice Department lawyer might decide, "you know what, I think that stinks, I think they committed fraud, the statute gives me wide latitude and I am going to go after them."
Do you think that someone could stop that prosecutor? Do you want to stop him?
Sometimes it comes down to toughness vs. laziness, inventiveness and risk-taking vs. status quo and lack of resources.
Let me play with an open hand. I graduated from Harvard Law in 1984 and immediately passed the bar and became a lawyer before going on to
Goldman Sachs
(GS) - Get Goldman Sachs Group, Inc. Report
. I mention it only because the people who are now running these Justice Department Districts or the people who are defending against these prosecutors all know how selective and how enterprising some prosecutors are than others.
Some would say, "OK, Dick Fuld and Angelo Mozillo have to be guilty of something, Let's get them." Others would say, "wow, I wish we had a better case. We don't have a lot on them let's just give up cause we don't have a smoking gun."
And they get away with it.
That's how it happens. You have to trust me, as an insider that is how it happens.
No, I am not asking for a "Get Hoffa" squad like Bobby Kennedy set up in the Justice Department in the 1960s. But a major financial crimes unit like President Bush created to nail the Enron people would certainly be desirable.
This president sets the tone. He needs to tell the Justice Department that it is unacceptable to allow these vast frauds to go unpunished. He's a lawyer for heaven's sake and believe me he knows it is possible.
To me it is a travesty of justice that Justice didn't take up this banner and it is pathetic that the SEC doesn't have the gumption or the horsepower to pursue the case.
Sometimes I wish I had just gone the way of the prosecution. I know right now I wouldn't sleep until the case is built. But with this SEC? The prosecution always rests.
-- Written by Jim Cramer in New York City
This article was originally published on Real Money -- for a 14-day free trial, click here.
Action Alerts PLUS, which Cramer co-manages as a charitable trust, is long AIG.