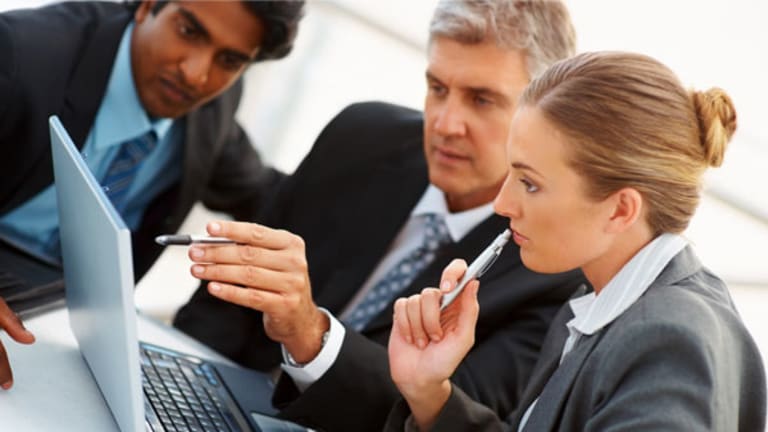 Cramer: Banking Is a Lawless Profession
Unless the wrongdoers are forced to pay personally, nothing will change.
NEW YORK (Real Money) -- Lawlessness. Utter lawlessness. That's what I came away thinking about after Barclays (BCS) - Get Barclays Plc Report admitted that its traders tried to manipulate interest rates to make themselves look better and seem more solvent.
This rate they manipulated, the London Interbank Offered Rate, or LIBOR, is immensely important, controlling trillions of dollars in contracts, everything from what corporations borrow at to what you and I might have gotten our mortgage priced off of. It was sacrosanct, or so I thought, and along come these trading pirates taking it where they can, perhaps in a total conspiracy with other bank traders, to get bigger bonuses and inflate their banks' share prices.
To which I say, of course they did. Why not? If they got caught, who paid? The shareholders, that's who. "Barclays agreed to pay $453 million in fines," the lead story of The Wall Street Journal opens with. But it wasn't Barclays, it was the hapless owners of Barclays. "The unusually steep punishment," to quote further, reflected the serious and widespread nature of the manipulation.
Huh?
What's steep about this punishment? Isn't punishment meant to punish wrongdoers? What did the shareholders do? There were people involved in the price-fixing. The fact that they aren't paying the fine says to me that this is anything but steep. It just encourages more lawlessness.
We have put Mafia chieftains in jail for years for fixing the prices of the trucking of goods. We have indicted, prosecuted, convicted and sentenced organized-crime lords for cheating casinos and running numbers and sports books. We've put people in jail for ages for fixing the price of electrical equipment and cardboard boxes!
8 Post-Downgrade Bank Stock Bargains>>
But these guys, involved in far more nefarious rigging, easily documented from emails, get to laugh all the way to the bank, because I am not even hearing about clawbacks of bonuses that might have been enlarged by manipulating the most important financial contract in the world.
How about the boys at the top? Sure enough Barclays chief executive Robert Diamond and three other top executives agreed to forgo 2012 bonuses of $23.5 million. I feel for their pain. But that's go-forward money. How much did they make during and after the scams? It's bad enough the stock prices have been horrendous, but they got rich at the same time, perhaps off of these actions.
Nobody ever seems to have to give up anything, and nobody ever seems to lose their jobs, and nobody ever seems to even get prosecuted, provided they are bankers.
It's like the job gives them immunity for all but insider trading, and they would probably have immunity from that, too, if we didn't have a tough and fair U.S. attorney for the Southern District of New York.
This immunity is just one more injustice, not unlike the immunity that all of the bankers at Lehman or Bear Stearns or AIG or Countrywide received. It's not unlike the immunity the bankers received from the robo-signings. These bankers were the proximate cause of so many of our ills, but somehow they evaded the law.
That's because banking is a lawless profession. To me these people are embezzlers, fraudsters and perhaps even gangsters in pinstripes. Their immunity makes a mockery of justice, and it explains why so many simply calculate that it's worth it, because even if they catch you, all that happens is that the shareholders pay. What a sweet deal they have on the rest of us.
-- Written by Jim Cramer in New York City
This article was originally published on Real Money -- for a 14-day free trial, click here.
RELATED STORIES:
Cramer: Lehman Case 'Is a Travesty of Justice' >>
At the time of publication, Cramer had no positions in stocks mentioned.