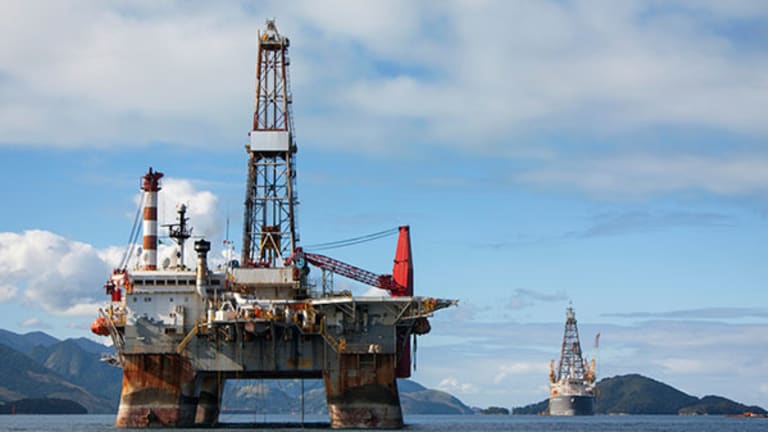 Cramer and Dicker: Distressed Oil Companies Still Have Value -- in Their Bonds
Dan Dicker, energy contributor at TheStreet.com, talks with Jim Cramer about the very distressed oil companies working in U.S. shale.
NEW YORK ( TheStreet) -- I was talking to Jim Cramer today about the distressed debt opportunity in a few of the shale oil producers. We've seen several of the marginal players in the Bakken and in other shale plays lose up to 70% of their share value in the last five months and now their share prices are in the single digits.
While I would find it hard to recommend the common shares of many of these companies, I might look more favorably to the underlying debt of some of these to make an investment.
That's because the debt holders are always the first in line to recoup their capital when companies are at risk of bankruptcy. That means that whatever restructuring, recapitalization or bankruptcy breakup is in the future for any of these companies, it needs to be done with primary regard for the bond holders.
Default risk remains for many of these companies if new capital or a buyout does not materialize. Therefore, we need to figure out which of these companies will entice various capital entities like private equity groups or other bigger oil companies to come in. Inevitably, only one thing can entice new money into a distressed oil company: the quality of their assets.
We saw it in Linn Energy (LINE) . The company received an infusion of $500 million from Blackstone (BX) - Get Blackstone Inc. Report for 85% of future production. Linn staved off bankruptcy but at the cost of a huge proportion of their future upside. For the bond holders, however, it was a welcome relief. It was the strong, producing asset base inside Linn that enticed Blackstone to come in with fresh capital.
The Linn deal gives us a template for the kind of energy company we need to find, one with a deeply distressed debt position but also with a very strong asset base. One example that immediately comes to mind is Halcon Resources (HK) . Its bonds are trading around 72 cents on the dollar with yields upwards of 15% and maturity in 2020-2022.
Obviously, this is some very distressed debt. But Halcon's assets in the Bakken and at El Halcon in the Eagle Ford are very good indeed. If anyone is likely to see interest from a better-capitalized partner at some point, it's likely to be Halcon.
That possibility is what we're betting on when we buy the debt here. As a small consolation for the great risk, we do collect a very sizable coupon for as long as Halcon can keep the lights on as well.
It's a very, very speculative investment, of course -- but in my mind far more likely to end positively than the outright bet on the common shares. To me, the common shares on companies like Halcon are nothing more than options on an oil price returning above $75 before the cash flow of these companies runs out.
To me, that is a very bad bet.
This article is commentary by an independent contributor. At the time of publication, the author held no positions in the stocks mentioned.