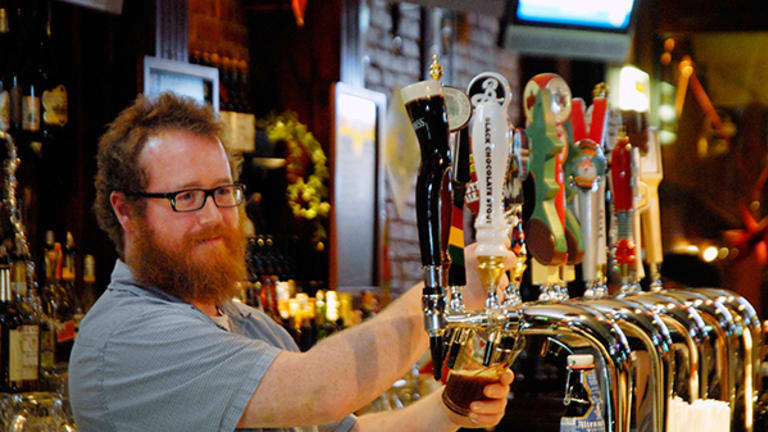 Craft Beer Needs to Get Out More
New data from Nielsen suggests small brewers aren't growing beyond their big-spending white male base.
PORTLAND, Ore. (TheStreet) -- As the small brewers who make up the "craft" community already know, their fan base is expanding. It's drawing more of the exact same type of person, but it's expanding.
The brewers the Brewers Association craft beer group considers "craft" saw sales grow 15% in volume and 17% in dollars last year even as the entire beer industry grew by less than 1.5% after years of post-recession losses. Craft beer's retail dollar value surpassed $10 billion for the first time in 2012, while the more than 2,480 craft breweries in the U.S. make up the overwhelming majority of the nation's 2,538 breweries.
That growth and much of the craft beer industry in general is built on a foundation of white, male Millennials and Gen Xers, according to data released in April by
Nielsen
(NLSN) - Get Nielsen Holdings Plc Report
. Men make up 72% of the beer market, according to Nielsen, with their drinks of choice increasingly turning to craft beers and cider. While beer-drinking women -- who make up just 28% of all beer drinkers -- are just about on par with men in their love of cider, they're about half as likely to pick a craft beer.
Meanwhile, whites are 65.6% of all beer drinkers and are two to five times as likely to pick up a craft beer as folks from any other race or ethnicity. We've already mentioned the
between craft beer drinkers and the rest of the beer-drinking U.S., but the Nielsen numbers show craft beer as a cultural niche far more segregated from the average alcohol-consuming market than its surging numbers indicate.
In the world outside craft, beer has lost U.S. alcohol market share to liquor and wine for 13 of the last 14 years and dipped below a 50% share for the first time in 2011. It's also watched demand for spirits grow from 28% of the overall alcohol market in 2001 to 34.3% just last year.
That's driving huge gains among flavored malt beverages including Mike's Hard Lemonade and Smirnoff Ice.
According to Nielsen, African-American beer drinkers are 75% less likely to reach for a craft beer than the average drinker, but more than twice as likely to seek out a flavored malt beverage. Hispanic beer drinkers, who make up 14% of the overall population but 16.2% of all beer drinkers, are 17% more likely to go for a flavored malt beverage but 62% more inclined to go with an import. That
Anheuser-Busch InBev
(BUD) - Get Anheuser-Busch InBev SA/NV Report
purchase of Grupo Modelo and
Constellation Brands'
(STZ) - Get Constellation Brands, Inc. Class A Report
winning battle for full U.S. distribution of those brands earlier this year were a direct reflection of that buying pattern.
Women, meanwhile, are about 10% more likely than the average drinker to pick a flavored malt beverage and about 60% more likely to go that route than to pick a craft beer. But it's not as if spirits have such great appeal, either, with women 29% less likely than the average American drinker to pick something a little more kicky from behind the bar.
None of this bodes particularly well for beer's future, craft or otherwise. Millennials like craft and imported beers well enough -- and are 26% and 34% more likely to drink them than folks at the bar next to them -- but they love cider and fizzy flavored alcopop beverages. They're 74% more likely to have something resembling a Smirnoff ice in their hands than any other drinker and they're 110% more likely to order a pint of Magners, Woodchuck or
Angry Orchard
(SAM) - Get Boston Beer Company, Inc. Class A Report
.
So why is craft beer and its buyer base so overwhelmingly pale and male?
earlier this year when it wondered where all of craft beer's people of color were. Yes, Brooklyn Brewery's genius brewmaster Garret Oliver is perhaps the best in the business -- and black -- while his New York neighbors Celeste and Khouri Beatty have brought small brewing to Harlem. But when BJ's Restaurants' Michael Ferguson calls himself "the other black brewer" and notes that "craft beer isn't a catch phrase among the black population," it's clear he's part of a small circle that isn't getting much bigger.
Yiga Miyashiro, a Japanese-American brewer with Saint Archer Brewery in San Diego, told
NPR
that craft brewing is still largely "a bunch of white guys with beards making beer." Meanwhile, craft beer has no shortage of
-- New Belgium founder Kim Jordan, Golden Road's Meg Gill, New Glarus' Deb Carey, Full Sail's Irene Firmat, Julia Herz at the Brewers Association, to name a few. But some of those same women are quick to point out that beer has done a
of marketing to several generations of women.
That's starting to change, as evidenced by just about any taproom in the U.S. or the floor of the average beer festival -- where the spokesmodels are in short supply but the women who appreciate beer are drinking good brews that don't skew toward any particular gender. The entire modern idea of "craft" beer is only about 30 years old and still hasn't had a whole lot of time to expand its audience. While the economic downturn cut the consumption of beers from the big brewers and pushed craft's dollar share of the beer market to more than 10%, smaller U.S. brewers still make up only 6% of all beers consumed. They're a tiny niche in an already shrinking market and, as both their owners and adherents often contend, they still have a lot of growing up to do.
If that's going to happen, however, the crowds in craft brewers' taprooms has to grow more diverse than tattooed and non-tattooed white dudes.
-- Written by Jason Notte in Portland, Ore.
>To contact the writer of this article, click here:
Jason Notte
.
>To follow the writer on Twitter, go to
.
>To submit a news tip, send an email to:
.
RELATED STORIES:
>>What You're Really Paying For That Beer
>>Glass Half Empty? The Great Craft Beer Selloff
>>Is It Still A Craft Beer After The Brewery Sells
Jason Notte is a reporter for TheStreet. His writing has appeared in The New York Times, The Huffington Post, Esquire.com, Time Out New York, the Boston Herald, the Boston Phoenix, the Metro newspaper and the Colorado Springs Independent. He previously served as the political and global affairs editor for Metro U.S., layout editor for Boston Now, assistant news editor for the Herald News of West Paterson, N.J., editor of Go Out! Magazine in Hoboken, N.J., and copy editor and lifestyle editor at the Jersey Journal in Jersey City, N.J.