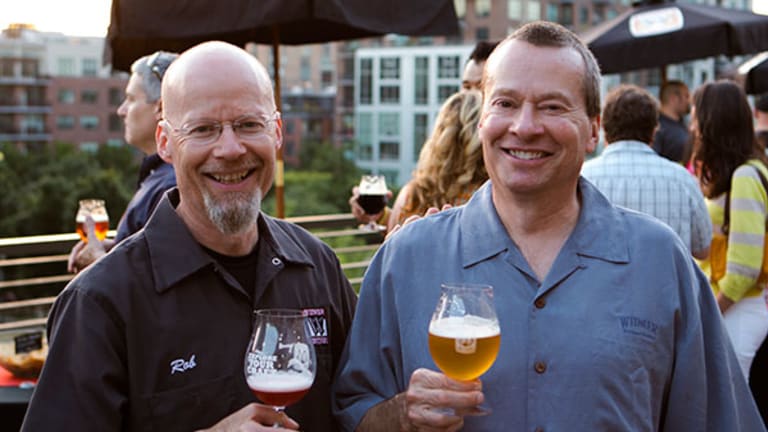 Craft Beer Needs More Shelf Space, Fewer Crybabies
Craft beer advocates love to say who is or isn't in their club, but insults and exclusion won't help level the playing field against big brewers. It just makes craft look petty and spiteful.
Craft beer advocates love to say who is or isn't in their club, but insults and exclusion won't help level the playing field against big brewers. It just makes craft look petty and spiteful.
PORTLAND, Ore. (TheStreet) -- The definition of craft beer is broader that it has ever been, but it still leaves out a handful of brewers who helped usher in the microbrew and craft beer movement.
Blame the rulemakers for that one.
Listen, we understand why a group like the Brewers Association craft beer industry group would want to exclude brands like Blue Moon, Shock Top, Leinenkugel's and Goose Island from the club. They're the wholly owned subsidiaries of Anheuser-Busch InBev (BUD) - Get Report and SABMiller/MolsonCoors joint venture MillerCoors. We realize that the Leinenkugel family's brewing tradition in Chippewa Falls, Wis., predates prohibition and that Goose Island put Chicago at the forefront of the craft beer movement, but being bought out by the big boys doesn't help either's case.
However, until just recently, the Brewers Association excluded brewers like Pottsville, Pa.-based D.G. Yuengling and Sons and New Ulm, Minn.-based August Schell and left beer drinkers scratching their heads over which beers qualified as craft beer and which beers didn't.
But BA changed its mind and its rules defining craft brewers -- which already flexed in 2010 to raise the production limit for small brewers from 2 million barrels to 6 million to accommodate Samuel Adams producer Boston Beer Company (SAM) - Get Report. Back in February, the board decided to soften its stance against the use of rice and corn as adjuncts and whittled down the traditional pillar of its craft brewer definition.
So why are we having conversations with the Widmer Brothers about the exclusion of not only their brewery, but the entire Craft Brew Alliance including Redhook (which was a craft beer pioneer in 1981) and Kona Brewing? Why do we have to ask poor Brewers Association spokesman and overall good sport Paul Gatza why his organization continues shunning Rochester, N.Y.-based North American Breweries and its brands including Seattle-based Pyramid Breweries (founded in 1984) and Burlington, Vt.-based Magic Hat (1994)?
Because as the beer industry changes, breweries grow, business model evolve and rules change, it becomes increasingly obvious that a whole lot of the ironclad rules designed to protect craft beer years ago only make it look foolish today.

It gives us no joy to say that. As part of this job, we have to maintain contact with folks like Kurt and Rob Widmer and Boston Beer Company founder Jim Koch. When rules exclude Widmer Brothers as a craft brewer because Anheuser-Busch InBev's distribution deal with the Craft Brew Alliance includes a 32% stake of the company instead of a 25% stake and Kurt Widmer spends part of his 30th year in business venting at Koch for leading the vote to exclude him, that doesn't do great things for craft beer or beer as a whole.
It's not beer, it's politics -- and politics tend to be divisive. The definition of craft beer already creates a rift among small brewers, but tying that distinction to a tax break only raises the stakes. The Brewers Association has been sponsoring the Small BREW Act in Congress and pushing for tax breaks for brewers that produce 6 million barrels or less. Meanwhile, the Washington-based Beer Institute industry lobbying group has been supporting the competing BEER Act that would give tax breaks to all brewers, but in various increments based on production. The Brewers Association's proposal draws a firm line between craft and importers/big brewers, but it looked shaky when BA was actively deriding small brewers like St. Mary's, Pa.-based Straub as crafty. The Board of Directors knew it needed those small brewers' support but, according to BA's statement, to change horses in the middle of the Congressional session could have burned the association's ability to get Congressional co-sponsors for any legislation, perhaps for a couple of decades.
Those tax breaks would have big implications for brewers large and small, but craft brewers themselves may get little say in how they're defined and who they're lumped in with. To beer industry publication Beer Marketers' Insights, the folks behind Redhook, Widmer Brothers, Pyramid and Magic hat are still craft brewers and their production numbers are added to those of the craft beer category. The folks at Moody's, meanwhile, are a lot more liberal with their definition and include not only the shunned craft brands above, but Leinenkugel's, Blue Moon, Shock Top, Goose Island and Land Shark. They give A-B InBev and MillerCoors a combined 18% share of the craft beer market -- with 8.6% going to Blue Moon alone. In their book, Blue Moon is the third-largest craft brewer in the U.S. behind Yuengling and Boston Beer.
What could have been a clear us-vs.-them battle between small craft brewers and the big multinationals and importers has, instead, turned into a crowded club with very confused bouncers at the velvet ropes. Magic Hat and Pyramid are out because their parent company imports A-B InBev-owned Labatt's from Canada, but BridgePort and Shiner are in because parent company Gambrinus no longer imports Corona from Mexico. A Craft vs. Crafty op-ed that the Brewers Association had penned for the St. Louis Post-Dispatch in 2011 and an accompanying graphic haven't clarified the distinctions, and neither have changes to the craft brewer definition.
Meanwhile, big brewers are now making witbier, Russian Imperial Stout, shandies, session IPA, porters, Oktoberfest, Scotch Ale and seasonal offerings that they never would have touched 15 years ago. They're taking beers like Blue Moon, that were once perfect gateway beers to craft styles that big breweries didn't offer, and using them to introduce beer lovers with evolving palates to broader portfolios. Larger craft brewers, meanwhile, are opening large secondary facilities in other states and buying up smaller breweries in a fashion similar to that of their big-beer counterparts.
No amount of rule writing can redraw a line of demarcation that's already blurring. As the nation tries to accommodate 3,700 licensed breweries, only quality and continued growth can separate the great craft beer brewers from those they consider crafty. That's tough to achieve without a level playing field, which is where groups like the Brewers Association and others should be focusing their efforts.
As a recently killed bill in the Florida state legislature proved, there are still us-vs.-them battles that are worth fighting on behalf of small brewers. Florida's small brewers didn't get to sell 64-ounce growlers of beer, but maintained their right to self-distribution -- which levels the playing field between them and their larger counterparts ever so slightly. If craft beer is comfortable with the quality of its product in comparison to craft styles offered by the larger brewers, it should focus more on increasing distribution opportunities, shelf presence and tap space and less on insult slinging and snobbery.
Great beer will stand on its own, but it needs a sturdy base -- not a burn book.
-- Written by Jason Notte in Portland, Ore.
>To contact the writer of this article, click here: Jason Notte.
>To follow the writer on Twitter, go to http://twitter.com/notteham.
>To submit a news tip, send an email to: tips@thestreet.com.
RELATED STORIES:
>>5 Best Major League Soccer Craft Beer Partnerships
>>Brew Your Own Beer: Our Beer Writer Does
>>Beer Mailbag: SweetWater and New Belgium Ring In Spring
Jason Notte is a reporter for TheStreet. His writing has appeared in The New York Times, The Huffington Post, Esquire.com, Time Out New York, the Boston Herald, the Boston Phoenix, the Metro newspaper and the Colorado Springs Independent. He previously served as the political and global affairs editor for Metro U.S., layout editor for Boston Now, assistant news editor for the Herald News of West Paterson, N.J., editor of Go Out! Magazine in Hoboken, N.J., and copy editor and lifestyle editor at the Jersey Journal in Jersey City, N.J.