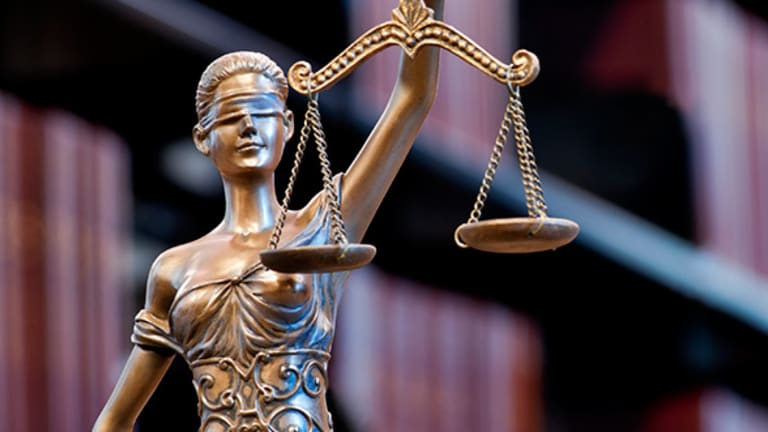 Court Decision to Restore Libor Antitrust Suits Presents Latest Challenge to Big Banks
The banks are accused of manipulating Libor rates for their own benefit.
On May 23, big banks suffered a potentially big setback.
The 2nd U.S. Circuit Court of Appeals in Manhattan restored the private antitrust lawsuits against 16 banks for Libor manipulation. According toFortune, the case could damage 16 of the world's most important financial institutions, including Bank of America (BAC) - Get Bank of America Corp Report , JP Morgan Chase (JPM) - Get JPMorgan Chase & Co. (JPM) Report , Citigroup (C) - Get Citigroup Inc. Report and HSBC (HSBC) - Get HSBC Holdings PLC Sponsored ADR Report . The Court of Appeals reversed a lower court decision to dismiss the antitrust claims. 
Citigroup is a holding in Jim Cramer's Action Alerts PLUS Charitable Trust Portfolio. See how Cramer rates the stock here. Want to be alerted before Cramer buys or sells C? Learn more now.
The banks are accused of setting artificially high rates to their benefit. Antitrust suits carry the potential for triple monetary damages. Given this possibility, the banks may choose to settle but for large amounts. This episode will add to a growing distrust of financial services organizations. 
What is Libor?
The London Interbank Offered Rate or Libor is the interest rate that banks charge one another for loans in the London market. It is a benchmark for about $450 trillion of financial contracts worldwide that range from complex derivatives to basic products like student loans.
Libor acts as a reference and benchmark rate. Financial organizations can use it to establish the terms of a loan agreement. As a benchmark rate, it helps gauge the overall health of financial markets. Rates are suggested in 10 currencies that cover loans of different durations, ranging from overnight to 12 months.
Until January 2014, a London-based trade association, British Bankers' Association (BBA) administered and published the Libor. The Intercontinental Exchange Benchmark Administration (ICE) replaced BBA the following month largely to create more transparency in how organizations use Libor. ICE is a publicly traded network of exchanges and clearing houses for equity and commodity markets.
What is Libor Rigging?
The scandal has global repercussions since Libor impacts interest rates worldwide. Prior to 2007, Libor moved closely with the rates of treasury yield, but during 2007, it started showing greater volatility. Investigations by regulators revealed that banks tried to manipulate Libor to project financial soundness during the crisis.
The first Libor scandal post the 2008 world economic meltdown involved such major banks as Barclays, UBS, Rabobank and the Royal Bank of Scotland. These banks had a major market share in derivatives. By adjusting a few basis points, traders could easily earn millions in profits. That cost homeowners who as a result had to pay higher mortgage rates than they might have otherwise, and municipal governments that had money tied to the derivatives. 
Barclays was fined $435 million by UK and U.S. regulators in 2012 for attempting to manipulate Libor and Euro Interbank rates between 2005 and 2009. The same year, UBS paid $1.5 billion in a settlement. The Royal Bank of Scotland and Rabobank paid $612 million and $1.07 billion, respectively, in their 2013 settlements.
In 2013, the National Credit Union Administration filed a lawsuit against JPMorgan Chase & Co., Credit Suisse Group AG, UBS and 10 other international banks. The complaint was filed on behalf of five failed credit unions, which held tens of billions in investments that paid interest rates pegged to Libor.
Last year, Germany's Deutsche Bankpleaded guilty to Libor rigging and paid $2.5 billion to U.S. and European regulators, the largest Libor-related settlement in history. Last August, a London jury found the former UBS and Citibank trader Tom Hayes guilty of manipulating Libor rates from 2006 to 2010. Hayes became the first person to receive this type of conviction. A few weeks later, another London jury found brokers who allegedly conspired with Hayes innocent of rigging-related charges. 
Last November, two former Rabobank traders, Anthony Allen, and Anthony Conti, became the first two individuals receive convictions for Libor rigging-related activities in a U.S. court. The two British citizens received two and one-year sentences, respectively.
After Effects of Libor Rigging
As of May 2015, big banks had paid over $9 billion in fines and settlements related to Libor rigging. 
The UK government moved oversight of Libor from the BBA to the Intercontinental Exchange - ICE. Libor rates are now based on actual transactions for which the records are kept.
Still, the various Libor misdeeds and alleged mishandling will do little except further undermine confidence in major banks. 
This article is commentary by an independent contributor. At the time of publication, the author held no positions in the stocks mentioned.