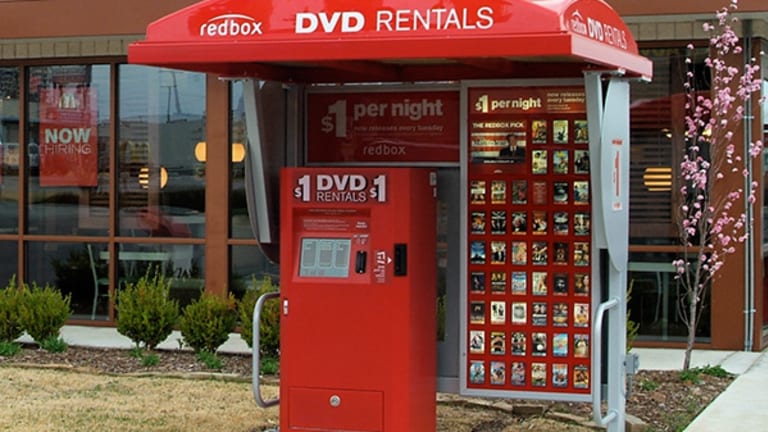 Could This Be the Worst Tech Stock for 2016?
Does the company behind Redbox have the wherewithal for a comeback, as some analysts suggest, or is it a toxic stock that's doomed? We get to the bottom of Outerwall.
Does the company behind Redbox have the wherewithal for a comeback, as some analysts suggest, or is it a toxic stock that's doomed? We get to the bottom of Outerwall.
Editor's Pick: Originally Published Monday, Dec. 21.
On Halloween night, an angry man punched a Redbox kiosk outside a Chicago Walmart Supercenter, breaking the display screen.
Maybe he didn't get his DVD; or maybe he was channeling the sentiments of investors toward Redbox and its parent company, Outerwall (OUTR) , which has seen a disastrous 2015.
But does Outerwall have what it takes to make a comeback in 2016? Or is it among the worst stocks to own right now? Let's find out.
OUTR
data by
In addition to Redbox, Outerwall's product portfolio consists of Coinstar coin-cashing machines and EcoATM, which dispenses dollars in return for unwanted personal electronics. But Redbox is Outerwall's biggest business by far, accounting for more than 80% of revenue. Any hit to Redbox has a huge impact on its parent -- alcohol-inspired punches notwithstanding.
Redbox has taken nothing but hits recently. On Oct. 7, Outerwall announced that it was reducing its 2015 full-year guidance due to Redbox's poor performance. Although the subsidiary has recorded improved revenue in the fourth quarter, Outerwall reported that Redbox had failed to live up to expectations, having "the worst theatrical box office in Redbox kiosks in four years" in the third quarter.
In addition, the company announced that Mark Horak will step down as president. Horak took the reins in March 2014 after nearly 20 years with Warner Bros. Home Entertainment. Despite his years of experience in the home entertainment industry, Horak couldn't bolster Redbox's business. During his tenure, the company was forced to shutter Redbox Instant, a video-streaming service in partnership with Verizon. Since Horak assumed the helm, more than 300 kiosks have been removed in the U.S. And in February 2015, the company completely pulled out of the Canadian market.
Outerwall lowered expectations for 2015 core earnings per share from continuing operations to between $7.65 and $8.15, down from previous guidance of $8.82 to $9.52. Revenue is now expected to be $2.17 billion to $2.19 billion, vs. the earlier estimate of $2.21 billion to $2.24 billion. In addition, Outerwall's debt-to-equity ratio for the most recent quarter is negative 408.20. Ouch.
On the news, Outerwall shares sank like a lead balloon, from $58.08 to $40.90 within three days, bringing the stock back to levels not seen since 2011. On Oct. 8, the day after the announcement, more than 2.5 million shares of Outerwall were traded, vs. the company's average daily trading volume of 506,870 shares. 
However, some analysts think this is the perfect opportunity to load up on Outerwall, stating that the stock's drop was an overreaction. Eric Wold of B. Riley even upgraded Outerwall to a buy recommendation, stating that this was an event he'd been anticipating.
However, don't be fooled into thinking Outerwall is going to bounce back from this recent slump. It's all part of an ongoing saga. Indeed, the 40% downtick pales in comparison to the fact that Outerwall stock has fallen from its 52-week high of $85.26 on July 21.
Redbox simply can't compete with other home entertainment delivery services such as Netflix, Apple and Amazon. The company first flourished as a response to Netflix's move toward film streaming. Back in 2011, Netflix announced that it would separate its streaming and mail-order video rental services, prompting more than 800,000 customers to cancel their subscriptions. (It backtracked.) But within four short years, Netflix's streaming service is even more popular than expected, and the distribution of physical DVD and Blu-Ray discs has dramatically declined.
Amazon followed suit with its Prime Instant Video service, and tech juggernaut Apple released its Apple TV streaming. And that's not to mention the niche streaming sites such as Fandor, which specializes in independent and foreign films, or CuriosityStream, which strictly offers documentaries. As of early 2015, an estimated 100 million people worldwide were streaming video on demand; that number has almost certainly continued to increase.
Old-fashioned video rentals simply can't keep up. And as that model comprises the lion's share of Outerwall's revenue stream, the company is quickly headed for a brick wall. Faced with crippling debt and fast-declining revenues, don't expect Outerwall to have a positive 2016.
As you can see, Outerwall is a stock to either avoid or sell. However, if you want to see a list of the absolute worst stocks you can own right now, I urge you to take a look at this report called 29 Dangerous Stocks: Sell Now! Inside, you'll see a full list of the market's most overvalued stocks and learn the process you can use to keep avoiding them in the future. Click here now for a copy.
This article is commentary by an independent contributor. At the time of publication, the author held no positions in the stocks mentioned.