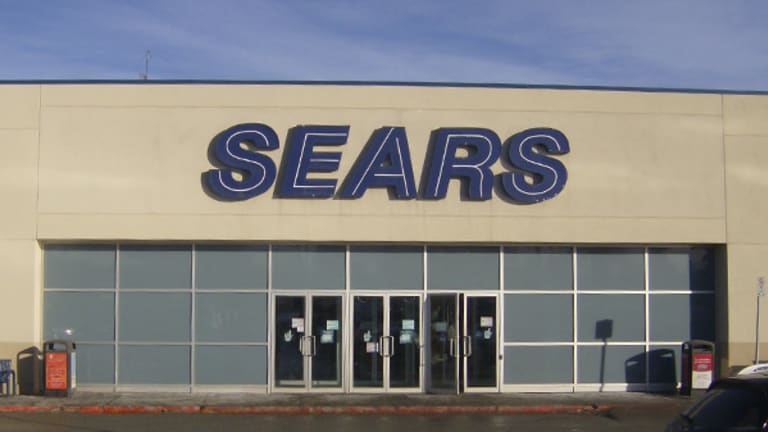 Could Sears Stores Eventually Disappear? Its CEO Suggests Yes
Sears reported another quarter of big-time losses Thursday, and its CEO said the retailer may have to shutter many of its stores in order to survive.
NEW YORK ( TheStreet) -- The hits just keep coming for Sears (SHLD) .
The beleaguered retailer capped off another year of staggering losses with a dismal holiday season. And now, its CEO and largest shareholder suggests it may have to virtually vanish from America in order to survive.
In November, Sears disclosed its intent to form a real estate investment trust that would own the best Sears and Kmart locations in the U.S., in effect transforming the retailer into a cash-collecting landlord.
On Thursday, Sears Chairman and CEO Eddie Lampert revealed that some of those locations could even cease operating as Sears or Kmart stores if better tenants could be found. 
"We believe that many locations can be re-purposed with or without Sears Holdings as an anchor, which would give the REIT the potential for value creation, as well as downside protection if Sears Holdings were unable to continue to operate certain stores profitably," Lampert said on a pre-recorded earnings call Thursday.
The comments from Lampert, who orchestrated the merger of Sears and Kmart in 2004, shed more light on his long-term vision for the company. The proposed REIT will include 200 to 300 Sears and Kmart stores out of the 1,725 that currently exist, and raise some $2 billion for a company that is hemorrhaging cash. 
The timing of the REIT formation -- it's expected to be completed by May or June -- would give Sears a badly needed capital injection that would allow it to fund holiday inventory purchases and basic capital expenditures. At the end of 2014, Sears was sitting on a mere $250 million in cash and equivalents.
But the future of those locations not selected for the REIT looks uncertain amid poor financial results stemming from fierce competition from rivals such as Wal-Mart (WMT) - Get Report , Target (TGT) - Get Report , Best Buy (BBY) - Get Report and Home Depot (HD) - Get Report . That group of retailers continues to transform modern-day retailing by doing things such as adding new electronics shops and expanding organic food offerings.
Last year, Sears shuttered 234 underperforming Sears and Kmart locations, which helped to raise cash through inventory liquidation sales while also reducing costs. Although Sears did not disclose its store closure plans for 2015 on Thursday, more are likely lurking in the wings as the retailer seeks to preserve the cash that will eventually arrive from the formation of the REIT.
In the meantime, Sears execs not so quietly trumpeted their turnaround of the company on Thursday. The extent of the turnaround depends on how one views financial analysis and the competitive environment, however.
Sears reported adjusted earnings before, interest, taxes and depreciation (EBITDA) of $125 million in the fourth quarter, a $213 million year over year improvement. On this adjusted basis, EBITDA for Kmart tallied $88 million vs. $40 million a year earlier. At Sears, its adjusted EBITDA clocked in at $37 million compared to a $52 million loss a year ago. Execs pointed to sales and profit success in the apparel category for Sears, while Kmart did well in both apparel and toys.
The raw numbers for the business painted a different picture, though.
Kmart's same-store sales declined 2% in the quarter owing to ongoing pressure on sales of consumer electronics, groceries and other household items. By comparison, Wal-Mart U.S. had a 1.5% same-store sales increase during the holidays, beating its guidance for at most a 1% rise. The world's largest retailer's food and household items business bounced back with new initiatives to ensure stocked shelves and food freshness.
Same-store sales at Sears fell 7% due to continued disappointing sales of consumer electronics, apparel and auto care products. Target, on the other hand, reported a stronger than expected 3.8% same-store sales increase for the holidays, led by mid-single digit percentage gains in the home and apparel departments.
Home Depot, which offers tools that compete with Sears' Craftsman brand and appliances that compete with Sears' Kenmore line, had a hearty 8.9% same-store sales gain for the fourth quarter. All three Home Depot's U.S. divisions exceeded their sales plans for the quarter, while all 19 of its U.S. regions realized mid-single digit same-store sales increases or better in the fourth quarter.
Sears' reported net loss was $159 million in the fourth quarter compared to a $150 million net loss a year earlier. For the year, the net loss was a dizzying $1.8 billion vs. $1.1 billion in 2014. The company's cash balance ended the year at $250 million, down from $1 billion a year ago.
This article is commentary by an independent contributor. At the time of publication, the author held no positions in the stocks mentioned.